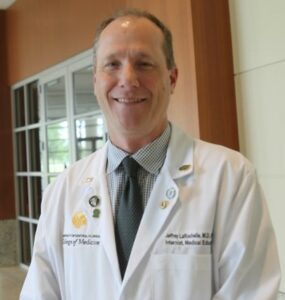 Welcome to the UCF College of Medicine's Academic Affairs homepage.
The Office of Academic Affairs provides oversight of the education curriculum and enables the success of students and faculty in teaching and learning, research, and creative expression. We are dedicated to advancing the academic mission, vision, and goals of the UCF College of Medicine and are committed to achieving the highest levels of academic excellence.

The patient for whom our physicians in training will provide care is our north star. We emphasize not just an understanding of medical knowledge, but of our learners ability to think critically; to be comfortable with uncertainty; to embrace complexity, and act with simplicity.
.
ACADEMIC AFFAIRS STAFF
ADMINISTRATIVE SUPPORT STAFF
Ken Staack, M.Ed.
Director, Academic Support Services
Ken.Staack@ucf.edu
Kim Martinez
Assistant Director, Pre-Clerkship Education
Kim.Martinez@ucf.edu
Gladielise Borges
Administrative Coordinator III
Gladielise.Borges@ucf.edu
Alina Warner
Administrative Assistant
Alina.Warner@ucf.edu
Hazel Baskett
Office Support Assistant
Hazel.Baskett@ucf.edu
ANATOMY LAB
Anatomy Lab Homepage

Jennifer Mark, M.A., BSHS
Director, Anatomical Facilities
Jennifer.Mark@ucf.edu
Heather Hargreaves
Academic Program Coordinator II
Heather.Hargreaves@ucf.edu
TBD
Anatomy Lab Technician
CLERKSHIPS
Third Year Clerkships Homepage
Fourth Year Clerkships Homepage
Elizabeth Webber, M.Ed.
Clerkship Administrator for Electives and Curriculum Projects
Elizabeth.Webber@ucf.edu
Internal Medicine/Family Medicine Clerkship
IM&FM Clerkship Homepage
Kim Esterline, M.A.
Clerkship Administrator I
Kimberly.Esterline@ucf.edu
Neurology Clerkship
Neurology Clerkship Homepage
Celia Linton-Walker, MHA
Clerkship Administrator I
Celia.LintonWalker@ucf.edu
OB-GYN Clerkship
OB-GYN Clerkship Homepage
Cynthia Teti, MD
Clerkship Administrator I
Cynthia.Teti@ucf.edu
Pediatrics Clerkship
Pediatrics Clerkship Homepage
Christopher Orengo
Clerkship Administrator I
Chris.Orengo@ucf.edu
Psychiatry Clerkship
Psychiatry Clerkship Homepage
Morayma Cubero
Clerkship Administrator I
Morayma.Cubero@ucf.edu
Surgery Clerkship
Surgery Clerkship Homepage
Katherine Newsum, B.A.
Clerkship Administrator I
Katherine.Newsum@ucf.edu
CLINICAL SKILLS AND SIMULATION CENTER (CSSC)
CSSC Homepage
Mary Ann Reiner
Standardized Patient Program Manager
Maryann.Reiner@ucf.edu
Henry Gibson
Standardized Patient Educator
Henry.Gibson@ucf.edu
Rebecca Beiler, M.S.
Simulation Education Specialist
Rebecca.Beiler@ucf.edu
Kenneth Bould
Simulation Tech Specialist
Kenneth.Bould@ucf.edu
Rhonda Anderson-Robinson, M.A.
Clinical Skills Lab Coordinator
Rhonda.Anderson-Robinson@ucf.edu
Noe Navarro
Simulation Lab Coordinator
Noe.Navarro@ucf.edu
COMMUNITY OF PRACTICE (CoP)
CoP Homepage

Angela Lucas
Academic Program Coordinator
Angela.Lucas@ucf.edu
FOCUSED INQUIRY AND RESEARCH EXPERIENCE (FIRE)
FIRE Homepage

Andrea Espina-Rey, MPH, CPH
Coordinator, Statistical Research
Andrea.EspinaRey@ucf.edu
Sweta Chalise, MPH, CPH
Coordinator, Statistical Research
Sweta.Chalise@ucf.edu
Shaheen Miller
Academic Program Coordinator
Shaheen.Miller@ucf.edu
Liz Gordian-Olmo
Administrative Assistant III
LizG@ucf.edu
INTERPROFESSIONAL EDUCATION (IPE)
IPE Homepage

Brenda Perez, M.A. CHI
Academic Program Coordinator
Brenda.Perez@ucf.edu
M1/M2 MODULES
M1 Module Homepage
M2 Module Homepage

Melinda Ragland
Academic Program Coordinator (M1)
Melinda.Ragland@ucf.edu
Philip Bellew, MBA
Academic Program Coordinator (M2)
Philip.Bellew@ucf.edu