Why UCF?
The UCF College of Medicine M.D. program provides students with exceptional educational and community opportunities. This video was produced at Match Day 2022, where graduating seniors learned where they would do their residency training.
Outstanding Student Resources
Experience
From the dean and faculty to the Admissions and Student Affairs offices and staff, the UCF College of Medicine has leaders who have come together to build a program like no other. We are committed to building a medical school for this century that will prepare students to practice medicine today and tomorrow. Members of this diverse and motivated group will teach and share their talents and experiences with you so you are prepared for your career.
Support
The College of Medicine faculty and staff offer support with the student's educational attainment and success in mind. The community's support for the College of Medicine is remarkable and will benefit future students as well.
Faculty
Excellent medical educators are experienced in the integrated, interactive, and small group teaching methods that support the curriculum style. The faculty consists of recognized scientists, educators, and clinicians.
Facilities
Our state-of-the-art, four-story Medical Education building is located in the Medical City complex of Lake Nona. The heart of this complex currently holds the College of Medicine Medical Education building, the Burnett Biomedical Sciences Research Building, UCF Lake Nona Hospital, Lake Nona Cancer Center, Nemours Children's Hospital, Orlando VA, and the Johnson & Johnson Human Performance Institute. The Medical City Complex will also include the UCF College of Nursing and additional research buildings. The College of Medicine medical school and the Medical City complex are surrounded by new commercial and housing areas, schools, and fitness trails. This is the only medical school in the nation that is the center piece of its own "Medical City."
Innovative Curriculum
The core curriculum includes the integration of the basic sciences with clinical cases and problem solving. All aspects of the curriculum include the most up-to-date teaching and learning methods and technologies, coupled with established techniques that are proven and effective. The core curriculum can be described as integrated, case-based, organ system-based, with modules that include interactive lectures, labs, small groups, online components, and simulations, all taught using multi- and interdisciplinary approaches.
Year One
Cellular Function and Medical Genetics
Structure and Function
Health and Disease
Psychosocial issues in Healthcare
Hematology and Oncology
Practice of Medicine I (throughout Year 1)
Focused Inquiry and Research Experience I (throughout Year 1)
Year Two
Cardiovascular and Pulmonary Systems
Endocrine and Reproductive Systems
Gastrointestinal and Renal Systems
Skin and Muscoskeletal Systems
Brain and Behavior
Practice of Medicine II (throughout year 2)
Focused Inquiry and Research Experience II (throughout year 2
Year Three
Following an orientation to the third year, students rotate through a set of required Core clerkships in internal and Family Medicine, Neurology, Obstetrics and Gynecology, Pediatrics, Psychiatry and Surgery. As part of the 12-week Surgery rotation, students have the opportunity to choose from a variety of surgical and other selective experiences in addition to six weeks of General Surgery. The third year culminates with a one-week capstone experience.
Year Four
The Fourth year is divided into eleven 4-week blocks: a required Acting Internship, a required Emergency Medicine selective, and six 4-week electives, four of which can be taken at other institutions. The remaining 4-week blocks can be used for additional electives, research, independent study, or residency interviews. Students finish the fourth year with a 1-week capstone experience to prepare for residency training; this includes a "hands-on" Boot Camp experience in their selected specialty.
College Class Data
| | |
| --- | --- |
| Matriculated | 120 |
| Average GPA | 3.85 |
| Average Science GPA | 3.81 |
| Average MCAT | 515 |
| Underrepresented in Medicine | 18 |
| Languages Spoken | 26 |
| Disadvantaged | 10 |
| Non-Florida Residents | 40 |
| Ph.D./MS | 4 |
To see historical data click HERE.
Campus Life
Medical school is tough work. So in addition to cutting-edge technology for learning, the UCF College of Medicine's campus features first-class locations for taking a break from studies. The campus includes a nature preserve and walking paths. Cyclists and runners enjoy the Lake Nona grounds throughout the day. The Medical Education building features a Student Lounge on the second floor, complete with a piano, pool table, ping pong, a television and a fully equipped kitchen. Across the hall from the Student Lounge is a gym with exercise equipment and free weights.
Student Involvement
Location
Location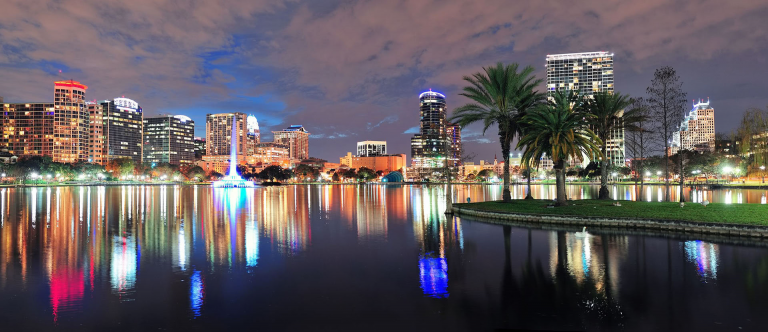 It's Orlando: An international entertainment destination in Central Florida that includes the University of Central Florida, one of the nation's largest schools. We are conveniently located less than 10 miles south of the Orlando International Airport and just minutes away from the most popular theme parks in the world.
Match Day