Dean's Society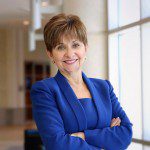 A Message From Dr. German

Dear friend,
Allow me to personally invite you to join a select group of supporters, including scientists, physicians and community leaders, known as the Dean's Society.
We're at an exciting time in our young medical school's history and we want you to be part of it. Through the Dean's Society, you'll have the opportunity to witness first-hand our newest initiatives in medical education, biomedical research, and patient care. You'll meet and network with other leaders who share your passion for medicine – from the laboratory bench to the patient's bedside.
Thank you for joining the Dean's Society. I'm sure you will find this collaboration to be both stimulating and rewarding as we work together to train the next generation of scientists and physicians.
See you at the next Dean's Society event!
Deborah C. German, M.D.
Vice President for Health Affairs
Dean, UCF College of Medicine
Dean's Society Benefits
$1,000
---
Silver
---
Invitations to Dean's Society exclusive events
---
Electronic recognition outside Dean's suite
---
Invitations to College of Medicine events
---
Dean's Society Newsletter
---
Receive COMmunique- an insider COM publication
---
Recognition in COM Annual Report
---
Website recognition
---
Recognition as President's Circle Member
---
$2,500
---
Gold
---
Invitations to Dean's Society exclusive events
---
Electronic recognition outside Dean's suite
---
Invitations to College of Medicine events
---
Dean's Society Newsletter
---
Receive COMmunique- an insider COM publication
---
Recognition in COM Annual Report
---
Website recognition
---
Recognition as President's Circle Member
---
Preferred seating at special events
---