UCF Lake Nona Medical Center

UCF Lake Nona Medical Center, a partnership academic hospital between the College of Medicine and HCA Healthcare. Located at 6700 Lake Nona Blvd., adjacent to the UCF College of Medicine in Orlando's Medical City, UCF Lake Nona Medical Center provides 24/7 emergency care and comprehensive inpatient and outpatient hospital services.
The full-service hospital features 64 inpatient beds, a 20-bed emergency department, four operating rooms, a cardiac catheterization lab, comprehensive imaging and laboratory services and six private birthing suites. Designed to meet the needs of the growing community, UCF Lake Nona Medical Center has room to expand to 80 beds and is designed for future growth up to 500 beds. The facility has invested in the latest technology to support superior quality care and patient safety, including systems to provide enhanced security, communication and experience as well as innovative patient care and treatment options.
Visit the Website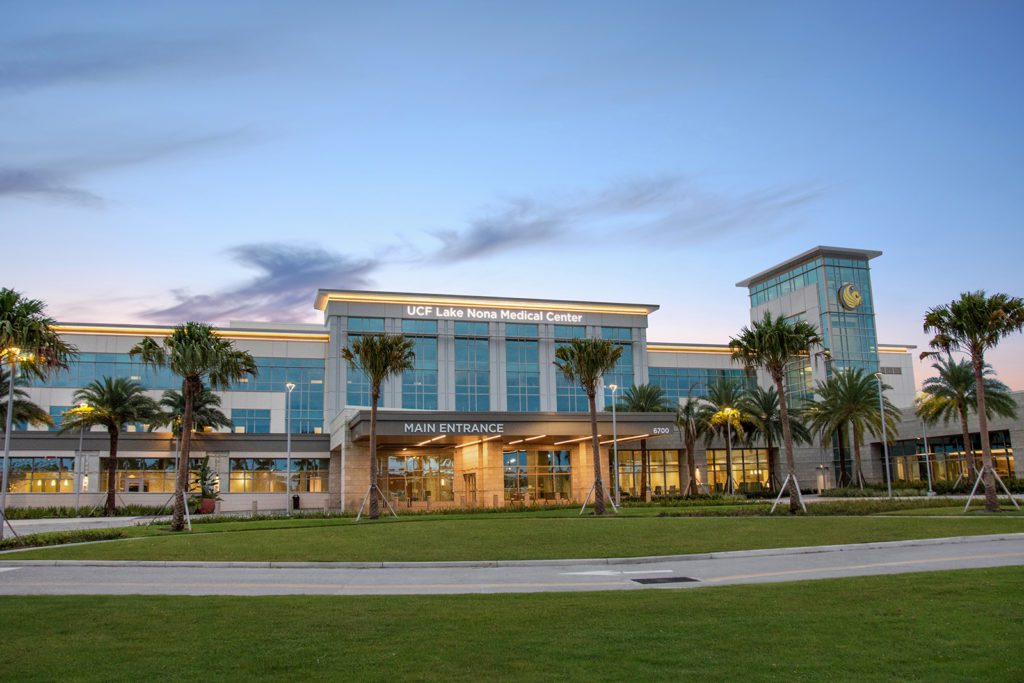 About The Hospital
The UCF Lake Nona Medical Center medical staff includes more than 250 physicians, including specialists in primary care, cardiology, colorectal surgery, general surgery, gastroenterology, orthopedic surgery, pulmonology, nephrology, OB/GYN, gynecologic oncology, infectious disease, nephrology, neurohealth sciences, spine and urology.
In addition to providing needed care to Lake Nona and surrounding communities in southeast Orlando and Osceola County, the academic hospital will be a learning site to train tomorrow's health leaders and support the work of UCF scientists who are discovering the newest and best treatments and cures for disease.
Location