Welcome
All travel for UCF business, academic credit, and service learning is currently cancelled due to the COVID-19 pandemic.
There are many ways to explore global health; you can surf the Internet, attend global health conferences, join a team on short-term international mission trips, or spend extended time studying in a foreign medical facility. This site is designed to help direct you to available resources for all these experiences. It is a work in progress, so by all means please send any information about trips, conferences, or other relevant information to Brenda Perez at Brenda.Perez@ucf.edu.
Welcome to our 2022 Global Health Conference
For more information and to register for the conference, please visit http://www.ucfglobalhealth.org
---
MedPACt donates to Pathlight HOME with funds raised during the 10th Annual Global Health Conference
2021 Virtual Global Health Conference On Pandemics Gets Record Number of Attendees
COLLEGE OF MEDICINE GLOBAL HEALTH MEDICAL STUDENTS
BY CHRISTIN SENIOR | FEBRUARY 1, 2021 3:22 PM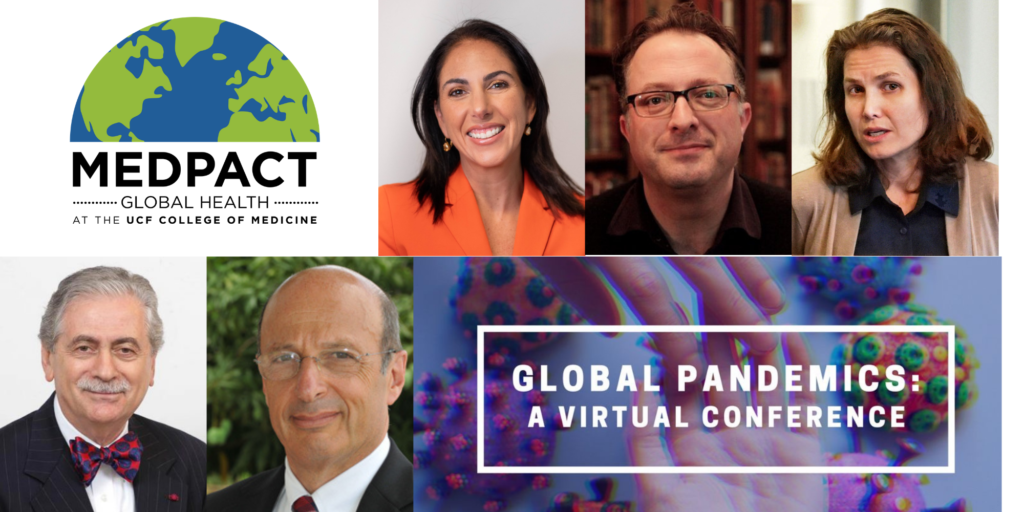 "Think globally. Act locally." These are the words infectious disease expert Dr. Lilian Abbo said guided her pandemic response efforts at Miami's Jackson Health System – the largest county health system in Florida.
"The reality in Florida will be very different than the reality in Colombia, or in Africa or in Europe," Dr. Abbo said. "You really need to understand where you are — what can you work with, what are your resources, and how can you act quickly. But at the same time thinking of what's going on all over the world."
Dr. Abbo shared her experiences on the front lines of COVID-19 as the keynote speaker at the tenth annual UCF MedPACt Global Health Conference which drew a record number – over 260 — attendees this year. Organized by MedPACt (Medical Students Providing Across Continents), the conference was held virtually because of the pandemic on Jan. 16,
Dr. Abbo chronicled her experiences from preparing for local cases in Miami before the virus was first detected in the U.S. on January 21, 2020, to treating patients including her 84 year-old uncle, a rheumatologist, who died from the virus. She told attendees to never underestimate a pandemic, follow the science, and to do their part in addressing healthcare disparities that have caused underserved populations to suffer dramatically worse outcomes from COVID-19.
"This pandemic has disproportionately affected people with lower income, in particular, people of color, like black African Americans and Latinos with limited access to healthcare," Dr. Abbo said. "Global access to healthcare is needed, and this is one of the greatest challenges for all of you as future doctors and specialists. I trust that many of you will come with innovations to really close these gaps and make this better."
This year's global health event drew interdisciplinary healthcare students, faculty, practitioners and volunteers from all over the U.S., including Virginia, New York, Georgia and Michigan.
Though virtual, the conference maintained many of its traditional features, including small breakout workshops on topics such as how adolescents are coping during the pandemic, contract tracing and the importance of taking individual responsibility to fight COVID-19. Panelists included Dr. Jennifer Prah Ruger, a leading scholar of global and domestic health policy and public health, Dr. Graham Mooney, an associate professor of the history of medicine at Johns Hopkins University School of Medicine, Dr. Benjamin Sachs, a senior lecturer at Harvard Medical School, and Dr. Eliot Sorel a physician and global health leader.
"The entire experience of going from planning an in-person conference last year to making it virtual was quite the journey to see unfold," said Aaisha Gulani, second-year UCF medical student and conference co-chair. "It was like throwing darts in the dark — we had no idea what to expect of our attendees and if the pandemic would even be a relevant enough topic come this January."
"Global access to healthcare is needed, and this is one of the greatest challenges for all of you as future doctors and specialists."

Dr. lillian abo, infectious diseases chief
Gulani explained how the team assembled volunteers and planned the entire conference via Zoom meetings. Students worked with the College of Medicine's Information Technology and Educational Technology departments to create a virtual platform that could host the conference and maintain traditional features like interactive workshops and poster presentations.
Dr. Judy Simms-Cendan, OB-GYN professor and faculty adviser to MedPACt, believes the challenges of staging a virtual conference paid off in terms of the number of attendees who were able to participate from their homes all across the U.S.
"I am super-proud of the students, this year more than ever, in putting together such a strong and relevant conference with a record number of attendees," she said. "The medical students fully utilized the virtual platform to host the interactive panel discussions and run breakout rooms for networking round tables and workshops. It's impressive to see how quickly they completely adapted the conference."
The conference also had a record 23 research abstract submissions, allowing organizers to select three virtual "podium" presentations as well as several poster presentations. Viewers' choice awards were done through surveys, which created more engagement with scientific sessions than in previous years.
The event's $1,500 in proceeds will be donated to Pathlight HOME, a nonprofit organization chosen that provides permanent housing and economic opportunities for homeless and low-income individuals in Central Florida.
"This conference is a four-way win," said Dr. Simms-Cendan. "The students learn how to put on a truly professional conference. The organizers and attendees have a deep dive into a significant global health topic in a way not covered in curriculum or the media. The proceeds benefit a truly important charity providing housing for the homeless, and the student organizers benefit from feeling able to tangibly help a truly needy population."
MedPACt (Medical Students Providing Across Continents) is an organization dedicated to providing education and mentoring for students to become actively engaged within communities of need both locally and abroad, and to promote awareness and participation in improving the health-related needs of people throughout the world.
The goals of MedPACt are to:
Increase awareness of the needs of medically underserved local and global human populations.
Serve communities and populations by addressing health-related needs and promoting personal well-being through health education in a sustainable, cooperative way.
Provide mentoring and education to the student community relating to global and local medical needs.
Develop, improve and promote sustainable relationships, goals, and ideas that seek to actively serve health-related needs.
Provide an open, collegial, and supportive environment in which students can become culturally enriched.
If you have any questions related to MedPACt, please reach out to:
Sarah Hay, Board Executive Director (sarahhay@knights.ucf.edu)
Carolyn Rapp, Co-service Director (cdayrapp@knights.ucf.edu
Deepti Singam, Co-service Director (dsingam@knights.ucf.edu
Ways to get involved:
Join us virtually to improve your Spanish with speaker seminars, practice with your fellow classmates, clinical skill encounters and even a mentor/mentee program with UCF Undergrads. All levels are welcome!
Please reach out to Thomas Knapp at thomasknapp@Knights.ucf.edu, or to Kailee Hernandez at kaileeh@knights.ucf.edu for dates and locations for the next SLH.
MedPACt's Global Health Conference is an annual medical student run conference geared towards health professionals like medical students, nursing students, pharmacy students, and anyone who is interested in the topic of global health. Topics of previous years have included tropical diseases, maternal and child health, refugee health, and disaster relief.
Since July 2016 MedPACt and the Farmworker Association of Florida have collaborated to provide health clinics to a vulnerable farmworker population. Our pop-up clinics provide services from a range of specialties including internal medicine, pediatric, ophthalmology, nephrology, obstetrics/gynecology, dermatology, and physical therapy. Our volunteers include faculty and students from various disciplines, including nursing, pharmacy, physical therapy, occupational health, social work, nutrition, and chaplaincy.
The Yantalo Clinic facilitates medical services, research, and education for the rural community of Yantalo, Peru. Since its completion in 2014, it has hosted interdisciplinary teams from numerous sites in the US. Our interdisciplinary team was the first to introduce broad primary care, physical therapy, and adult surgery services and it has expanded into a team of students and professionals from the disciplines of Obstetrics and Gynecology, General Surgery, Internal Medicine, Pediatrics, Urology, Physical Therapy, Social Work, Nursing, and Pharmacy.
Learn more about the Yantalo Peru Foundation here.
Development and Research
Help promote sustainable and ethical global health initiatives through implementation of additional MedPACt projects such as:
Electronic Health Record
AMSA/IFMSA Research Exchange