Leadership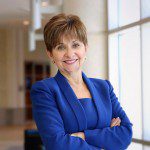 At UCF we know that every student, faculty and staff member comes to us with a dream for the future. Our goal is to help each person build that dream from day one. We seek individuals with inquiring minds and a pioneering, adventuring spirit — who wish to make a difference in the lives of others.
The power to make a difference and effect change lies in those who have passion, compassion and ambition to achieve their dreams. These are individuals who are driven to be part of something greater than themselves. This spirit describes our culture at the UCF College of Medicine as we strive for inclusive excellence in all we do.
Our missions include education, research, healthcare and community engagement. We recognize that we are stronger and better when we work together. Justice, equity, diversity and inclusion are core values integral to our mission. By embracing our differences, we reflect the communities we serve and are one step closer to ending healthcare disparities and achieving health for all. Our work to promote health equity and social justice is applied to all missions and is integral to the achievement of excellence.
Partnership and collaboration are demonstrated in our words and our actions, as hallmarks of our culture. We welcome partnerships in all missions and know that our community benefits when we work together and leverage the strengths of many institutions. Our hospital and cancer center are two examples of many such partnerships.
The UCF College of Medicine is a young medical school. With an extraordinary faculty and staff, an engaged community and our students' inquisitive minds, we have created innovative programs that are emerging as a models of 21st century medical and biomedical education. As part of UCF's Academic Health Sciences Center, we are committed to transforming healthcare through a new model of interdisciplinary patient care, research and education.
We are an innovative, metropolitan medical school and invite you to explore and see why the UCF College of Medicine is like no other. Whatever your background, interest or passion, we are the place to build your dream.
Deborah C. German, M.D.
Vice President for Health Affairs
Dean, UCF College of Medicine
College of Medicine
Leadership
Deborah German, M.D.
Vice President for Health Affairs and Dean
LOCATION:
College of Medicine, 3rd Floor
Danny Cavallo
Associate Vice President of Administration and Finance, Chief Financial Officer
Stephen Cico, MD, MEd
Associate Dean, Graduate Medical Education and Professor of Emergency Medicine and Pediatrics
Jane S. Gibson, Ph.D.
Associate Dean for Faculty Affairs, Chair, Clinical Sciences, Professor of Pathology,
LOCATION:
College of Medicine, 4th Floor
Griff Parks, Ph.D.
Associate Dean, Research, Director, Burnett School of Biomedical Sciences, Professor