Leadership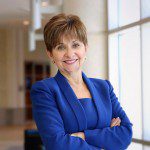 It is my belief that every student comes to medical school with a dream for the future. At UCF we will help each student build that dream from day one. We seek students with a pioneering spirit — a real sense of curiosity and inquiry — who wish to make a difference in the lives of others.
The power to make a difference and effect change lies in those who have passion, compassion and ambition. These are individuals who are driven to be part of something greater than themselves. This spirit describes our faculty and our culture at the UCF College of Medicine as we strive for excellence in research, education and medical care.
I went to medical school because I had a dream. With the teaching experience of our faculty, the wisdom of our community leaders and our students' inquisitive minds, we offer innovative programs that promise to be a model for medical and biomedical education in the 21st century. We invite you to explore and see why the UCF College of Medicine is like no other. It's the place to build your dream.
Deborah C. German, M.D.
Vice President for Health Affairs
Dean, UCF College of Medicine
Deborah German, M.D.
Vice President for Health Affairs and Dean
LOCATION:
College of Medicine, 3rd Floor
Danny Cavallo
Associate Vice President of Administration and Finance, Chief Financial Officer
Diane D. Davey, M.D.
Associate Dean, Graduate Medical Education, Professor of Pathology
LOCATION:
College of Medicine, 4th Floor
Jane S. Gibson, Ph.D., Chair
Chair, Clinical Sciences, Professor of Pathology, Associate Dean for Faculty Affairs
LOCATION:
College of Medicine, 4th Floor