Orlando Veterans Affairs Medical Center
The Orlando VA Medical Center, serving an area of nearly 90,000 veteran patients in East Central Florida, is one of seven members of the VISN 8 Healthcare System. The Orlando VA Medical Center includes the Orlando VA Medical Center, the Community Living Center, the Residential Rehabilitation Program, the Viera Outpatient Clinic, the Daytona Outpatient Clinic, and four Community Based Outpatient Clinics located in Clermont, Kissimmee, Leesburg, and Orange City. The East Central Florida veteran population is slated for a new hospital to be completed in 2012. This much needed facility will make it easier for east central Florida veterans to access VA's world-class medical center and relieve the burden of traveling long distances for their inpatient care.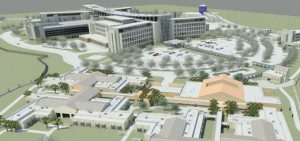 The mission of the Orlando VA Medical Center is to honor America's veterans by providing exceptional health care that improves their health and well-being.
Central Florida is home to nearly 400,000 veterans, 90,000 of whom are seen at the current Orlando VA Medical Center every year. Comprised of a Nursing Home Care Unit, the Domiciliary and Rehabilitation Program, the Viera and Daytona outpatient clinics, and three Community Based Outpatient Clinics in Leesburg, Kissimmee, and Sanford, the VA Center provides a wide range of services to veterans throughout the region. Striving to honor veterans by providing exceptional healthcare, the VA Center has proposed a new, $560 million 134-bed hospital to join us in the medical city. As our neighbor and partner, the VA Medical Center will be a resource for patient care and research and a rich opportunity for exposure to health and public affairs through its veteran's benefits office.
Educational Opportunities
The Orlando VA Medical Center's partnership with the UCF College of Medicine is shared through our partnerships with the Orlando Regional Medical Center and the Florida Hospital Network. As a teaching hospital, the center will be a state-of-the-art environment that will provide a full range of services and educational opportunities while also fostering a philosophy of medical service as an empathetic enterprise.
The VA clinic provides a number of ambulatory services that help support the undergraduate medical education curriculum. UCF medical students participate in the following modules and clerkships at the VA:
Practice of Medicine 1
Practice of Medicine 2
Psychiatry
For more information, please visit www.orlando.va.gov.