Bay Pines
The Bay Pines VA Healthcare System (BPVAHCS) is a level 1A, tertiary care facility. Originally opened in 1933, the medical center is located on 337 acres situated on the Gulf of Mexico approximately eight miles northwest of downtown Saint Petersburg, FL. Co-located on the medical center campus are a VA Regional Office, National Cemetery, and Office of the Inspector General field office. This area is part of Tampa Bay, the second most populated metropolitan area in the state.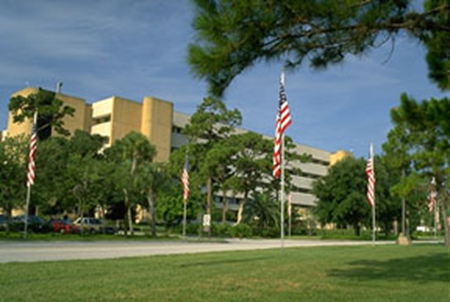 About The Hospital
The BPVAHCS operates nine facilities to include the main medical center located in Bay Pines and outpatient clinics located in Bradenton, Cape Coral, Naples, Palm Harbor, Port Charlotte, Sarasota, St. Petersburg, and Sebring. The medical center and its outpatient clinics serve Veterans residing in 10 counties in central southwest Florida to include Charlotte, Collier, Desoto, Hardee, Highlands, Hillsborough, Lee, Manatee, Pinellas and Sarasota. Every year, the organization serves more than 100,000 Veterans while providing a full range of high quality medical, psychiatric, and extended care services in outpatient, inpatient, residential, nursing home, and home care settings. The system is the 4th busiest VA healthcare system in the country in regards to patients treated or served.
In 2013, the medical center was renamed in honor of the late U.S. Congressman C.W. Bill Young of Florida's 13th Congressional District, a staunch supporter of Veterans and a frequent visitor to the facility. Services provided include: inpatient acute care (general medicine/surgery, psychiatry, and rehabilitation); residential programs (community living center, hospice, palliative care, stress treatment, homeless Veterans and substance abuse treatment); primary care; extensive specialty care; outpatient surgical services; OEF/OIF/OND program (Polytrauma level III); home and community care; homeless Veterans care; women Veterans care; and various ancillary and support services. Mental health services are available at all points of care. The facility also offers education and research. The healthcare system is fully accredited by The Joint Commission, Commission on Accreditation of Rehabilitation Facilities, and several other nationally recognized accrediting organizations. Among the healthcare system's many awards and accolades the organization was recognized nationally as a Top Performer on Key Quality Measures by The Joint Commission (2012 and 2013), and was named a Cornerstone Recognition Award gold winner by the VA National Center for Patient Safety for the last six years.