Visiting the Library
The Harriet F. Ginsburg Health Sciences Library at Lake Nona is a new state-of-the-art 12,300 square feet facility with 8,000 square feet devoted to study space. It features small and medium group study areas, reading spaces, 8 public computers, an information commons as well as reference and special exhibits areas. The library is located on the second floor of the four-story Medical Education building and provides support for health care, education, and research on the Health Sciences campus and in the medical city.
Building and Library Hours
The Health Sciences Library is open to guests* from 8 a.m. to 4:30 p.m. Monday through Friday, excluding certain holidays. Please enter through the front doors of the piazza and speak with the receptionist at the circular desk located on the first floor to be issued a guest pass before proceeding upstairs to the library.
*Guests include anyone other than: UCF College of Medicine medical students, UCF College of Medicine staff, and UCF College of Medicine full-time teaching faculty.
Parking
Visitor parking is available in our on-site lot just south of the College of Medicine medical education building. Students visiting from the UCF Main Campus possessing green Student "D" parking decals may also utilize the student parking spaces.
Accessibility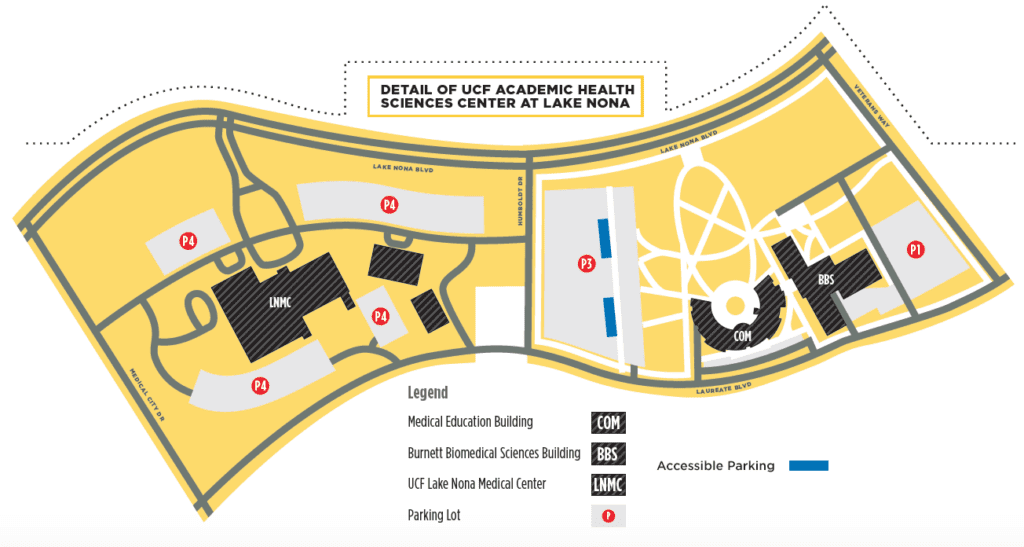 Accessible parking spaces near the medical education building are available in the P3 parking lot. To enter the building, please proceed from the parking lot towards the building and enter through the front doors of the piazza. Patrons who use a wheelchair or other device for mobility can reach the front doors by utilizing one of two accessible walkways located outside of the building. All entrances into the medical education building – including the front doors — are accessible entrances.
After speaking with the receptionist at the circular desk located on the first floor to receive a guest badge, elevators can be found down the hall to your left.
Learn more about the Library's Accessibility Policies and Services.
Map & Driving Directions
The UCF Health Sciences Campus is located at 6850 Lake Nona Blvd, in the medical city at Lake Nona. UCF shuttle service between the health sciences campus and main campus is available Monday through Friday.
Safety Information
UCF Campus Police and Community Service Officers patrol daily on the Health Sciences Campus. In the case of emergency, please dial 911 on your phone or contact police via one of the "Blue Light" Police Emergency Phones located on campus.
For non-emergencies and Safe Escort Patrol Services, please call 407.823.5555