Scholarly Activity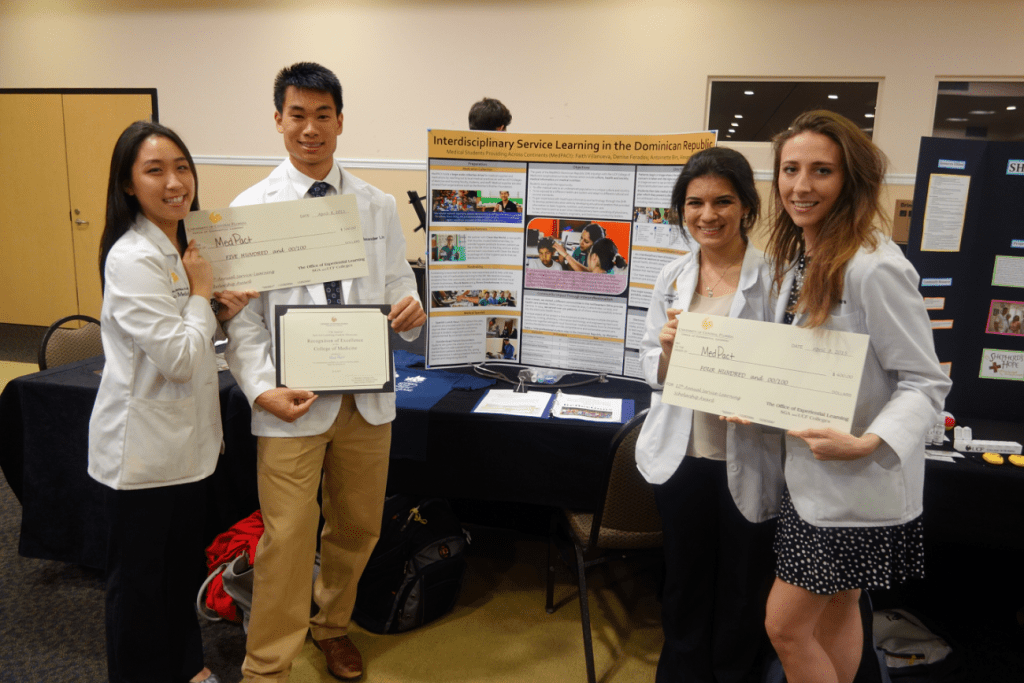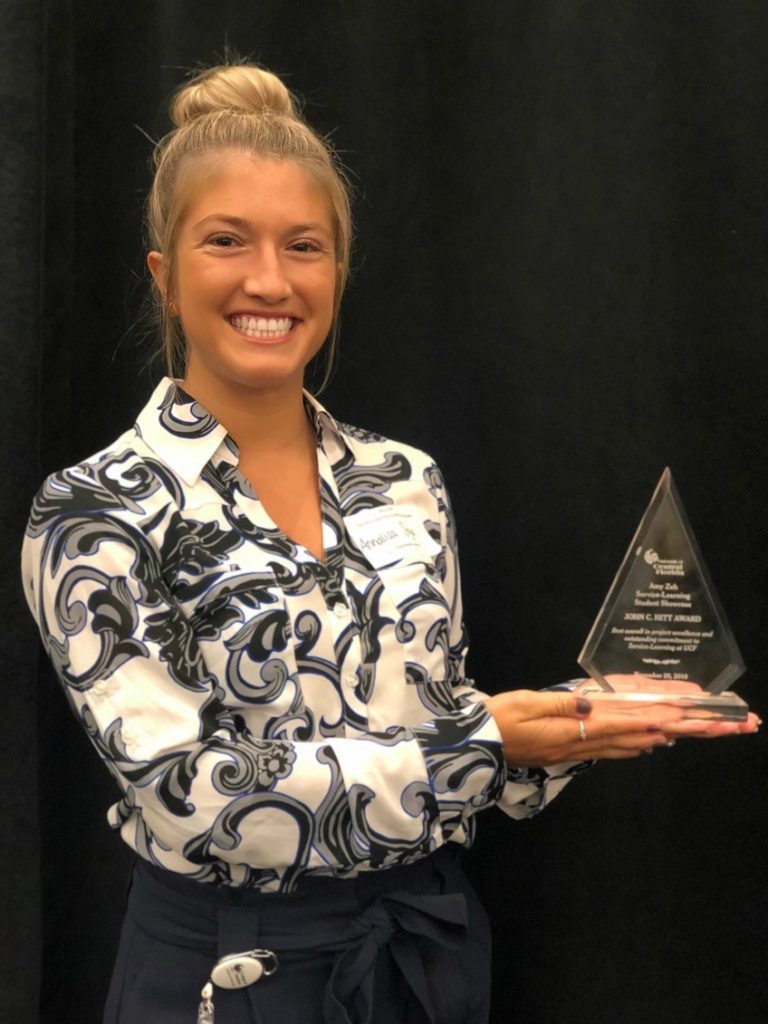 MedPACt Posters
Dr. Judith Simms-Cendan, Annalisa Sega, Alexia Bossan, Alexander Gartland, Vincent Cendan, Dang-Khoa Nguyen,  David Gittess, Justin Chacko, Matthew Abrams. "Improving Student EHR Fluency: Utilizing Small Group Interactive Learning to Better Prepare Students to Volunteer at Student-Run Clinics."
Dr. Judith Simms-Cendan, Bossan AM, Daines B, Cendan VJ, Gittess DA, Sega AG, Abrams M, Sweeney B, Gartland AJ, Eckert T, Chaco J, Nguyen DK, Wright RR. "A Student-Run Free Clinic For The Farmworker Population of Apopka, Florida: An Interdisciplinary Model."
Dr. Judith Simms-Cendan, Talia Helman, Zach Helm, "A Model for the Sustainable Expansion of Global Family Medicine"
Dr. Judith Simms-Cendan, Yunfai Ng, Chavi Rehani, "An Interdisciplinary Approach to Healthcare and Education in Yantalo, Peru"
Dr. Judith Simms-Cendan, Zach Helm, Chavi Rehani, Bradford James, "Longitudinal Medical Service Learning in Yantalo Peru"
Dr. Judith Simms-Cendan, Nathaniel Roddenberry, Kylee Crate, Kathy Dong, "Addressing Healthcare Needs through Interprofessional Service Learning in Yantalo, Peru"
Dr. Judith Simms-Cendan, Priya K. Patel, Alexander Diaz, Sienmi Du, Vignesh Vudatha, Angela Sterling, Michelle McGee, Michael Mankbadi, "Addressing Healthcare Needs in Apopka, Florida Through Interprofessional Service Learning"
Dr. Judith Simms-Cendan, Irwin-Weyant M, Locklear J, Bui M, Driscoll J, Everett L, Patel A, Sellers S, Symansky P, "How to Provide Holistic Preventative Care for a Resource Limited Patient Population in Apopka, FL"
Dr. Judith Simms-Cendan, Morgan Irwin-Weyant, Carlos Walker, Sirikanya Sellers, Paul Symansky, Jenna Driscoll1, Lauren Everett, Jacklyn Locklear, Arjun Patel, "An Interdisciplinary Approach to Prescription Fulfillment as a Quality Control Measure for a Student-Run Free Clinic in Apopka, FL"
Dr. Judith Simms-Cendan, Jenna Driscoll, Jacklyn Locklear, Arjun Patel, Melanie Bui, Lauren Everett, Morgan Irwin-Weyant, Sirikanya Sellers, Paul Symansky, Alexander Diaz, Priya K. Patel, Sienmi Du, Vignesh Vudatha, Angela Sterling, Michelle McGee, Michael Mankbadi, "Applying Interprofessional Global Health Principles to a Local Student-Run Free Clinic to Address the Health Care Needs in Apopka, Florida"
Dr. Judith Simms-CendanLaure Everett, Paul Symansky, Melanie Bui, Jenna Driscoll, Morgan Irwin-Weyant, Jacklyn Locklear, Arjun Patel, Sirikanya Sellers, "Advancing Global Health Education and Service through Utilizing Simulations and Workshops"
Dr. Judith Simms-Cendan and Arjun Patel, "From Global to Local: Development and Utilization of a Local Student- Run Free Clinic to Provide Interprofessional, Cultural, and Clinical Global Health Education for Medical Students"
Dr. Judith Simms-Cendan, Faith Villanueva, Denise Feradov, Antoinette Birs, Alexander Lim, "Interdisciplinary Service Learning in the Dominican Republic"
Dr. Judith Simms-Cendan, Alexander Lim, Sara Williams, Erin Kane, Megan Vu, Faith Villanueva, Antoinette Birs, Adrian Lewis, "Electronic Health Record Integration in an Interdisciplinary Short Term Medical Service Trip to the Dominican Republic"
Dr. Judith Simms-Cendan, Neesha Patel, Wendy Carcamo, and Eric Jorge, "Interdisciplinary Service Learning in the Dominican Republic"
---
KNIGHTS Clinic Accomplishments
AWARDS AND HONORS
National
Innovation Award for Healthcare Provider Training and Education recognizing health professional training programs that are ahead of the curve in providing nutrition, physical activity and obesity counseling education to their students – from the Alliance for a Healthier Generation, the Bipartisan Policy Center, and the American College of Sports Medicine – 2017 (This is a national award that was handed to us by President Clinton)
Our clinic performance contributed to the recognition of Grace Medical Home (the clinic which we partner with for patient care) as a Level 3 (the highest level of quality) for Systematic Use of Patient-centered, Coordinated Care Management Processes by the National Committee for Quality Assurance
Regional
Third place for Florida Campus Compact's 2017 Campus-Community Partnership Award 9/20/2017 "Florida Campus Compact (FL|CC) is a network of college and university presidents and their institutions, who affirm the value of local partnerships and engagement pedagogies as contributors to a quality education that yields civic minded career-ready graduates"
Local
Graduate Leadership Scholarship – November 17, 2017, University of Central Florida, Orlando, FL ($400)
Sustainability: Economic Scholarship – November 17, 2017, University of Central Florida, Orlando, FL ($400)
Capacity Building Scholarship – November 17, 2017, University of Central Florida, Orlando, FL ($400)
Pedagogical Value – November 17, 2017, University of Central Florida, Orlando, FL ($200)
Peer Choice – November, 2017, University of Central Florida, Orlando, FL ($400)
Community Impact – November 17, 2017, University of Central Florida, Orlando, FL ($200)
Enhancement of Civic Responsibility – November 17, 2017, University of Central Florida, Orlando, FL ($200)
Technological Integration award – April 12, 2017, University of Central Florida, Orlando, FL ($200)
Peer choice scholarship – April 12, 2017, University of Central Florida, Orlando, FL ($400)
Graduate innovative project scholarship – April 12, 2017, University of Central Florida, Orlando, FL ($400)
Capacity building scholarship – April 12, 2017, University of Central Florida, Orlando, FL ($400)
Economic Sustainability Scholarship – April 12, 2017, University of Central Florida, Orlando, FL ($400)
Excellence in the College of Medicine Scholarship – April 12, 2017, University of Central Florida, Orlando, FL ($500)
Graduate Engagement Scholarship and College Education Scholarship, 2016, University of Central Florida, Orlando, FL ($300)
Graduate Innovative Project scholarship, 2016, University of Central Florida, Orlando, FL ($300)
Graduate Leadership Scholarship Award, 2016, University of Central Florida, Orlando, FL ($300)
Graduate Studies Award, 2016, University of Central Florida, Orlando, FL ($300)
PEER-REVIEWED PUBLICATIONS
Anand A, Wagner C, Kong S, et al. Griffith E, Harimtepathip P, Baker KK, Rineer S, Simms-Cendan J, Pasarica M. Improving Screening for Latent Tuberculosis Infection in a Student-run Free Clinic. Cureus (April 16, 2018) 10(4): e2488. doi:10.7759/cureus.2488
Brown A, Ismail R, Gookin G, Hernandez C, Logan G, Pasarica M. The effect of medical student volunteering in a student-run clinic on specialty choice for residency. Cureus. 2017 Jan 9;9(1):e967. https://doi.org/10.7759/cureus.967
Pasarica M, Combs K, Lee J, Guevara A. An innovative education on the core competency "systems-based practice": Performing quality improvement projects in a student-run free clinic. Medical Science Educator. (2017) 27: 3. https://doi.org/10.1007/s40670-016-0354-4 (This is the official journal of the International Association for the Medical Science Educators, RG Impact factor 0.21; Article was downloaded 65 times)
Lu K B, Thiel B, Atkins C A, Deasai A, Botwin A, Pavlov MR, Simms-Cendan J, Pasarica M- Satisfaction with Healthcare Received at an Interprofessional Student-run Free Clinic: Invested in Training the Next Generation of Healthcare Professionals. Cureus 10(3): e2282. https://doi.org/10.7759/cureus.2282
Lee JS, Combs K, KNIGHTS Research Group 2016, Pasarica M. Improving Efficiency While Improving Patient Care in a Student-Run Free Clinic J Am Board Fam Med. 2017 Jul-Aug;30(4):513-519. https://doi.org/10.3122/jabfm.2017.04.170044 (Impact Factor: 1.955. cumulative 5 year impact factor:2.249)
Feradov DF, Saikaly SK, Kacheria SA, Pasarica M- A Crucial lesson in patient safety: The importance of communication between providers. The Journal of Family Practice. In-press October 30, 2016. (Impact Factor: 0.658)
Birs A, Liu X, Nash B, Sullivan S, Garris SN, Hardy M, Lee MW, Simms-Cendan J, Pasarica M. Medical Care in a Free Clinic: A Comprehensive Evaluation of Patient Experience, Incentives, and Barriers to Optimal Medical Care with Consideration of a Facility Fee. Cureus. 2016 Feb 19;8(2):e500. https://doi.org/10.7759/cureus.500 (This is an open-access, pub-med indexed medical journal)
PEER-REVIEWED PRESENTATIONS
Quality improvement projects while at UCF (performed by students under supervision and guidance at the KNIGHTS student-run free clinic).
Impact: Students became proficient in performing quality improvement projects, and increased their scholarly output, which increased their chances for successful matching in the residency of their choice.
International student conference – Society of Student-Run Free Clinics Conference Annual Conference where every year multiple countries are represented. In 2018, 96 clinics participated from 4 countries.
Thompson A*, McCann A*, Bomar A*, Thompson Z*, Crate K*, Vasavada R*, Pasarica M – Poster: The KNIGHTS clinic: Improving patient contact and clinic scheduling using CareMessage – Society of Student-Run Free Clinics Conference Annual Conference – March 1-3, 2019, Kansas City, MO.
Crate K*, Sun T*, Scagllioni C*, Pasarica M – Poster: The KNIGHTS clinic: Improving community awareness of a student-run free clinic through social medical promotion and user-friendly website revisions – Society of Student-Run Free Clinics Conference Annual Conference – March 1-3, 2019, Kansas City, MO.
Thompson Z*, Martin A*, Bala S*, Thompson A*, Pasarica M – Poster: Reducing patient wait times at KNIGHTS clinic – Society of Student-Run Free Clinics Conference Annual Conference – March 1-3, 2019, Kansas City, MO.
Bomar A*, Thompson A*, McCann A*, Anand A*, Baker A*, Crusse E*, McElroy M*, Pasarica M – Poster: The role of a quality improvement board position in improving care at a student-run free clinic through the Plan-Do-Study-Act model – Society of Student-Run Free Clinics Conference Annual Conference – March 1-3, 2019, Kansas City, MO.
Cozart A*, Innes-Gawn T*, Pasarica M – Poster: Improving volunteer experience and satisfaction at the KNIGHTS clinic – Society of Student-Run Free Clinics Conference Annual Conference – March 1-3, 2019, Kansas City, MO.
Turnbull L, Patel S,…, Pasarica M – Poster: Accessibility through analytics: A needs assessment utilizing website behavior data to increase the usability of student-run clinic websites – Society of Student-Run Free Clinics Conference Annual Conference – February 11, 2018, Omaha, NE.
Nasir A,…, Pasarica M – Poster: Analyzing Financial Value of Student Run Free Clinics -Society of Student-Run Free Clinics Conference Annual Conference – February 11, 2018, Omaha, NE
Acevedo M, Sowers A,…, Pasarica M – Poster: How We Obtain Funds For Our Student Run Free Clinic and Manage Our Budget-Society of Student-Run Free Clinics Conference Annual Conference – February 11, 2018, Omaha, NE
Thompson Z , Chowdhury R,…, Pasarica M – Poster: Improving Clinic Efficiency: Implementation of a intake team to make transition of patient care more efficient -Society of Student-Run Free Clinics Conference Annual Conference-February 11,2018, Omaha, NE
Toselli N, Russin M,…, Pasarica M – Poster: Improving Positive Behavior Change Using Frequent Follow-up and SMART Goals at a Student Run Clinic -Society of Student-Run Free Clinics Conference Annual Conference – February 11, 2018, Omaha, NE
Taddeo M, Burger M,…, Pasarica M – Poster: Improving Research Coordination at a Student Run Free Clinic -Society of Student-Run Free Clinics Conference Annual Conference – February 11, 2018, Omaha, NE
Hushla D,…, Pasarica M – Poster: Improving Screening Rates using Patient Contact Protocol to Better the Quality of Preventative Care – Society of Student-Run Free Clinics Conference Annual Conference – February 11, 2018, Omaha, NE
Kruger C, Groenewald S,…, Pasarica M – Poster: Improving the First-Year Medical Student Experience in a Student-Run Clinic – Society of Student-Run Free Clinics Conference Annual Conference – February 11 2018, Omaha, NE
Lee S, Sagheer H,…, Pasarica M – Poster: Needs Analysis Directed Quality Improvement through Physician Volunteer Responses – Society of Student-Run Free Clinics Conference Annual Conference – February 11, 2018, Omaha, NE
Kruger C, Groenewald S,…, Pasarica M – Poster: Quantitative Assessment Versus Perceived Rate of Volunteer Replacement Rates in a Student Run Clinic – Society of Student-Run Free Clinics Conference Annual Conference – February 11, 2018, Omaha, NE
Lee S, Sagheer H,…, Pasarica M – Poster: Quality Improvement Methods for Effective Physician Recruitment and Staffing in a Student-Run Free Clinic – Society of Student-Run Free Clinics Conference Annual Conference – February 11, 2018, Omaha, NE
Jemison L, Rendon R,…,Pasarica M – Poster: Reducing Healthcare Disparities between English-Speaking and Non-English-Speaking Patients in a Student-Run Free Clinic – Society of Student-Run Free Clinics Conference Annual Conference – February 11, 2018, Omaha, NE
Hennick T, Day J,…,Pasarica M – Poster: Tracking Unavailable Medication and Implementing Medication Education to Improve Inventory and Patient Understanding in a Student-Run Free Clinic – Society of Student-Run Free Clinics Conference Annual Conference – February 11, 2018, Omaha, NE
Logan G, Baker K,…,, Pasarica M – Poster: Improving Screening for Latent Tuberculosis Infection (LTBI) in a Student-Run Free Clinic – Society of Student-Run Free Clinics Conference Annual Conference – February 11 2017, Anaheim, CA
Rizzo J, Tran J, …, Pasarica M – Poster: Improving Student Education and Community Involvement in a Student-run Free Clinic. – Society of Student-Run Free Clinics Conference Annual Conference – February 11 2017, Anaheim, CA
Hite K, Schlig M, …, Pasarica M – Poster: Improving Patient Lifestyle Habits, Education, and Screenings in a Student Run Free Clinic. – Society of Student-Run Free Clinics Conference Annual Conference – February 11 2017, Anaheim, CA
Luo Y, McGee M, …, Pasarica M – Poster: Trial of Quality Improvement for Managing and Recruiting Volunteers at a Student-Run Free Clinic. – Society of Student-Run Free Clinics Conference Annual Conference – February 11 2017, Anaheim, CA
Otaguro L, Skinner C, …, Pasarica M – Poster: Trial for Quality Improvement on Patient Scheduling in a Student Run Free Clinic – Society of Student-Run Free Clinics Conference Annual Conference – February 11 2017, Anaheim, CA
Murphy E, Koochakzadeh S, …, Pasarica M – Poster: Preventing Expiration of Underutilized Medication via Targeted Pharmaceutical Donations- Society of Student-Run Free Clinics Conference Annual Conference – February 11 2017, Anaheim, CA
Mankbadi M, Dai C, …, Pasarica M – Poster: Quality Improvement for Physician Scheduling, Physician Recruitment, and Related Patient Care in a Student-Run Free Clinic – Society of Student-Run Free Clinics Conference Annual Conference – February 11 2017, Anaheim, CA
Eriksson S, Liu A, …, Pasarica M – Poster: Improving Laboratory Efficiency and Patient Communication in a Student-Run Free Clinic – Society of Student-Run Free Clinics Conference Annual Conference – February 11 2017, Anaheim, CA
Baker K, Rineer S, …, Pasarica M – Poster: KNIGHTS clinic: Quality Improvement in Clinic Management and Efficiency- Society of Student-Run Free Clinics Conference Annual Conference – January 30, 2016, Phoenix, AZ
Combs K , Goldberg M, …, Pasarica M – Poster: KNIGHTS clinic: Improving Patient Lifestyle Habits and Education-Society of Student-Run Free Clinics Conference Annual Conference – January 30, 2016, Phoenix, AZ
All S, Cox K, …, Pasarica M- Poster: KNIGHTS clinic: Trial for Quality Improvement for EMR- Society of Student-Run Free Clinics Conference Annual Conference – January 30, 2016, Phoenix, AZ
Atkins C, Lee J, …, Pasarica M – Poster: KNIGHTS clinic: trial of quality improvement for physician scheduling and related patient care- Society of Student-Run Free Clinics Conference Annual Conference – January 30, 2016, Phoenix, AZ
Simpson M, Patel P, …, Pasarica M – Poster: KNIGHTS clinic: Trial of quality improvement of coordination in patient follow-up care – Society of Student-Run Free Clinics Conference Annual Conference – January 30, 2016, Phoenix, AZ
Villanueva F, McLellan A , …, Pasarica M – Poster: The KNIGHTS Clinic funded by the Diebel Legacy Fund at Central Florida Foundation – trial of quality improvement for laboratory procedures and preventive medicine – Society of Student-Run Free Clinics Conference Annual Conference – January 30, 2016, Phoenix, AZ
Thiel B , Lu K , …, Pasarica M – Poster: Trial of quality improvement for managing and recruiting volunteers – Society of Student-Run Free Clinics Conference Annual Conference – January 30, 2016, Phoenix, AZ
Povlow M , Pandya J , …, Pasarica M – Poster: KNIGHTS clinic – Multifactorial Improvement to Dispensary Techniques – Society of Student-Run Free Clinics Conference Annual Conference – January 30, 2016, Phoenix, AZ
Brown A, Ismail R, Gookin G, Logan G, Hernandez C, Pasarica M- Poster: The Effect of Medical Student Volunteering in a Student Run Clinic on Specialty Choice- Society of Student-Run Free Clinics Conference Annual Conference – January 30, 2016, Phoenix, AZ
National conferences
Liu X, Birs A, …, Pasarica M – Poster: Patients Receiving Care in the Free Clinic: Evaluation of Their Economic Resources, Health Concerns and Most Valued Services – American Association of Physicians of Indian Origin, 33rd annual conference – June 20, 2015, Orlando, FL
Liu X, Birs A, Nash B, Sullivan S, Garris SN, Hardy M, Lee MW, Simms-Cendan J, Pasarica M – Poster: Primary medical care in a free clinic: identifying incentives and barriers for optimal medical care – American Academy of Family Physicians Experience (FMX) – September 29, 2015, Denver, CO
Birs A, Liu X, …, Pasarica M – Oral presentation: Medical Care in a Free Clinic: Medical and Financial Outcomes, and Attitude towards Paying a Facility Fee – American Association of Physicians of Indian Origin, 33rd annual conference – June 20, 2015, Orlando, FL (abstract selected for the student research competition)
Regional conferences
Vasavada R*, Smerin *, Pasarica M – Poster: Assessing KNIGHTS Clinic Patient Satisfaction to Determine Appropriate Quality Improvement Measures – University of Miami Miller School of Medicine's DOCS Community Health Leadership Conference – December 7, 2018, Miami, FL
Coyle E*, Csortan A*, Macauley E*, Mikhail T*, Pasarica M – Oral Presentation: The Effects of Spatial and Organizational Interventions on Efficiency of KNIGHTS Clinic – University of Miami Miller School of Medicine's DOCS Community Health Leadership Conference – December 7, 2018, Miami, FL
Bomar A*, Pasarica M – Poster: Monitoring Care through the CMS Core Consensus Primary Care Electronic Clinical Quality Measures – University of Miami Miller School of Medicine's DOCS Community Health Leadership Conference – December 7, 2018, Miami, FL
Thompson A*, McCann A*, Pasarica M – Oral Presentation: The KNIGHTS Clinic: Improving Patient Contact And Clinic Scheduling Using CAREMESSAGE- University of Miami Miller School of Medicine's DOCS Community Health Leadership Conference – December 7, 2018, Miami, FL
Baker A*, Crouse A*, Bala S*, Pasarica M – Poster: Improving Tracking of Patient SMART Goals Attainment at Student-Run Free Clinic – University of Miami Miller School of Medicine's DOCS Community Health Leadership Conference – December 7, 2018, Miami, FL
Thompson Z* , Pasarica M – Poster: Optimizing Patient Flow at Student Run Free Clinic – University of Miami Miller School of Medicine's DOCS Community Health Leadership Conference – December 7, 2018, Miami, FL
Prock H*, Kujak M *, Pasarica M – Poster: Quality Improvement Methods for Effective Physician Scheduling in a Student-Run Free Clinic – University of Miami Miller School of Medicine's DOCS Community Health Leadership Conference – December 7, 2018, Miami, FL
Taddeo M*, Burger M*,Pasarica M – Poster: Improving Research Coordination at a Student Run Free Clinic -Community Health Leadership Conference – December 8, 2017, Miami, FL
Toselli N*, Russin M*,Pasarica M – Oral presentation: Improving Positive Behavior Change Using Frequent Follow-up and SMART Goals at a Student Run Clinic- Community Health Leadership Conference – December 8, 2017, Miami, FL
Chen J, Lesch H, …, Pasarica M – Poster: Providing Comprehensive Care for Patients in Student-Run Free Clinic – University of Miami Miller School of Medicine's DOCS Community Health Leadership Conference – March 11, 2017, Miami, FL
Birs A, Liu X, …, Pasarica M – Poster: Medical care in a free clinic: a comprehensive evaluation of patient experience, incentives and barriers for optimal medical care – Florida Academy of Family Physicians Spring Forum – April 23,2015, Orlando, FL
UCF conferences
Scaglione C, Pasarica M- Oral presentation: Trends in weight, weight perception, weight loss desire and weight loss practices: A study performed in over 20,000 US college students across 5 years – FIRE conference at UCF College of Medicine-February 22, 2018, Orlando, FL
Turnbull L, Patel S,…, Pasarica M – Poster: Accessibility through analytics: A needs assessment utilizing website behavior data to increase the usability of student-run clinic websites- Service Learning Student showcase at University of Central Florida- November 17, 2017, Orlando, FL
Nasir A,…, Pasarica M – Poster: Analyzing Financial Value of Student Run Free Clinics — Service Learning Student showcase at University of Central Florida- November 17, 2017, Orlando, FL
Acevedo M, Sowers A,…, Pasarica M – Poster: How We Obtain Funds For Our Student Run Free Clinic and Manage Our Budget- Service Learning Student showcase at University of Central Florida- November 17, 2017, Orlando, FL
Thompson Z , Chowdhury R,…, Pasarica M – Poster: Improving Clinic Efficiency: Implementation of a dedicated intake team to make transition of patient care more efficient – Service Learning Student showcase at University of Central Florida- November 17, 2017, Orlando, FL
Toselli N, Russin M,…, Pasarica M – Poster: Improving Positive Behavior Change Using Frequent Follow-up and SMART Goals at a Student Run Clinic – Service Learning Student showcase at University of Central Florida- November 17, 2017, Orlando, FL
Taddeo M, Burger M,…, Pasarica M – Poster: Improving Research Coordination at a Student Run Free Clinic – Service Learning Student showcase at University of Central Florida – November 17, 2017, Orlando, FL
Hushla D,…, Pasarica M – Poster: Improving Screening Rates using Patient Contact Protocol to Better the Quality of Preventative Care – Service Learning Student showcase at University of Central Florida – November 17, 2017, Orlando, FL
Kruger C, Groenewald S,…, Pasarica M – Poster: Improving the First-Year Medical Student Experience in a Student-Run Clinic – Service Learning Student showcase at University of Central Florida – November 17, 2017, Orlando, FL
Lee S, Sagheer H,…, Pasarica M – Poster: Needs Analysis Directed Quality Improvement through Physician Volunteer Responses – Service Learning Student showcase at University of Central Florida – November 17, 2017, Orlando, FL
Kruger C, Groenewald S,…, Pasarica M – Poster: Quantitative Assessment Versus Perceived Rate of Volunteer Replacement Rates in a Student Run Clinic- Service Learning Student showcase at University of Central Florida – November 17, 2017, Orlando, FL
Lee S, Sagheer H,…, Pasarica M – Poster: Quality Improvement Methods for Effective Physician Recruitment and Staffing in a Student-Run Free Clinic – Service Learning Student showcase at University of Central Florida – November 17, 2017, Orlando, FL
Jemison L, Rendon R,…,Pasarica M – Poster: Reducing Healthcare Disparities between English-Speaking and Non-English-Speaking Patients in a Student-Run Free Clinic – Service Learning Student showcase at University of Central Florida- November 17, 2017, Orlando, FL
Hennick T, Day J,…,Pasarica M – Poster: Tracking Unavailable Medication and Implementing Medication Education to Improve Inventory and Patient Understanding in a Student-Run Free Clinic – Service Learning Student showcase at University of Central Florida – November 17, 2017, Orlando, FL
Groenewald S, Kruger C, …, Pasarica M – Poster: Increasing Volunteer Participation Through Focused Intervention at a Student-Run Free clinic – Service Learning Student showcase at University of Central Florida – April 12, 2016, Orlando, FL
Chowdhury R, Thompson Z, …, Pasarica M – Poster: Providing comprehensive care for patients in a student-run free clinic- Service Learning Student showcase at University of Central Florida – April 12, 2016, Orlando, FL
Taddeo M, Burger M, …, Pasarica M – Poster: Improving research coordination and productivity in a student run free clinic- Service Learning Student showcase at University of Central Florida – April 12, 2016, Orlando, FL
Lee S, Sagheer SH, …, Pasarica M – Poster: Enhancement of volunteer scheduling, recruitment and patient care in a collaborative interdisciplinary clinic- Service Learning Student showcase at University of Central Florida – April 12, 2016, Orlando, FL
Logan G, Baker K, …, Pasarica M – Poster: Improving Screening for latent tuberculosis in a primary care setting- Service Learning Student showcase at University of Central Florida – April 12, 2016, Orlando, FL
Hennick T, Day J, …, Pasarica M – Poster: Tracking medication usage and needs to improve inventory in a student run free clinic – Service Learning Student showcase at University of Central Florida – April 12, 2016, Orlando, FL
Russin M, Toselli N, …, Pasarica M – Poster: KNIGHTS clinic improving patient lifestyle habits, education and screening – Service Learning Student showcase at University of Central Florida – April 12, 2016, Orlando, FL
Cheeseman G, Thompson A, …, Pasarica M – Poster: Improving patient scheduling in a student run free clinic setting – Service Learning Student showcase at University of Central Florida- April 12, 2016, Orlando, FL
Luo Y, McGee M, …, Pasarica M – Poster: Trial of Quality Improvement for Managing and Recruiting Volunteers at a Student-Run Free Clinic – Focused Inquiry and Research Experience at UCF College of Medicine Annual Conference – March 23, 2017, Orlando, FL
Chen G, Lesch H, …, Pasarica M – Poster: KNIGHTS clinic: Quality Improvement in Clinic Management and Efficiency – Service Learning Student showcase at University of Central Florida- April 14, 2016, Orlando, FL
Anand A, Griffith E, …, Pasarica M, Simms-Cendan J – Poster: KNIGHTS clinic: Trial for Quality Improvement for EMR- Service Learning Student showcase at University of Central Florida – April 14, 2016, Orlando, FL
Dai C, Mankbadi M, …, Pasarica M, Simms-Cendan J – Poster: KNIGHTS clinic: trial of quality improvement for physician scheduling and related patient care – Service Learning Student showcase at University of Central Florida- April 14, 2016, Orlando, FL
McGee M, Luo Y, …, Pasarica M – Poster: Trial of quality improvement for managing and recruiting volunteers – Service Learning Student showcase at University of Central Florida – April 14, 2016, Orlando, FL
Brown A, Ismail R, Gookin G, Logan G, Hernandez C, Pasarica M – Poster: Choosing a primary care residency: could this choice be stimulated by volunteering in a student run free clinic? Poster Presentation – American College of Physicians Florida Chapter Annual Residents & Medical Students Meeting, April 9, 2016, Orlando FL
Brown A, Ismail R, Gookin G, Logan G, Hernandez C, Pasarica M – Poster: Choosing a primary care residency: could this choice be stimulated by volunteering in a student run free clinic? Poster Presentation – Florida Academy of Family Physicians Spring Forum, April 8, 2016, Orlando FL
Brown A, Ismail R, Gookin G, Logan G, Hernandez C, Pasarica M – Poster: The Effect of Medical Student Volunteering in a Student Run Clinic on Specialty Choice – Focused inquiry and research experience Annual Conference at UCF College of Medicine, March 23,2015, Orlando FL
Ismail R, Brown A, Gookin G, Logan G, Engel E, Hernandez C, Pasarica M – Poster: The Impact on Volunteering in a Student Run Free Clinic on Academic Performance – Focused inquiry and research experience Annual Conference at UCF College of Medicine, March 23, 2015, Orlando FL
Bhattal G, Birs A, …, Pasarica M – Poster: KNIGHTS Clinic at UCF College of Medicine – Service Learning Student showcase- 2015, Orlando, FL