Ethics & Humanities
Medical ethics seeks to teach a method of inquiry. In this innovative curriculum, students move from basic ethic principles to a critical thinking framework in order to apply their skills and knowledge in topics and cases relevant to the human body, systems-based or clerkship curriculum.
Director:
Luciana Garbayo, M.D., Ph.D.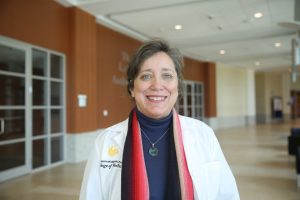 Learning objectives:
Identify medical ethics issues and dilemmas in clinical, research and public health contexts.
Recognize and self-identify values, beliefs, bias, prejudices, heuristics and institutional medical culture that may impact medical judgment, professional behavior, and patient/population health outcomes.
Navigate medical uncertainty ethically by differentiating between personal belief and professional opinion in patient-physician shared decision-making.
Use intellectual and humanistic tools to improve both scientific and ethical reasoning & understanding in order to prevent or mitigate medical error; uphold or improve standards of medical practice within learning health systems.
Act with an empathic attitude and in a compassionate, altruistic manner with patients at all times, displaying recognition of the patients' humanity, vulnerability and centeredness in the process of shared decision-making and medical care.
Utilize self-reflection, emotional self-regulation and moral creativity to recognize and treat patients' experience of disease and illness.
Engage effectively in ethical dialogue and ethical cooperative practices with patients, interprofessional teams, colleagues and community at large.
Integrate the ethical and scientific dimensions of one's medical professional identity, where medical recommendations should be considered both from a scientific standard and ethical standard.
Participate actively and systematically in improving the ethical environment in one's professional setting including educational, clinical, research and public health.
Through thoughtful integration of human experience overtime, become a 'good doctor', who can understand and act at the highest ethical, scientific and procedural standards of the medical profession.
Humanities integration examples include Narrative Medicine and Arts in Medicine.