College of Medicine

Students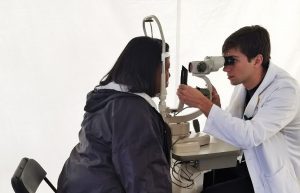 For the last eight years, 48 year-old teaching assistant Alfreda Ryles has traveled over 90 miles from Tampa to attend the Zora Festival of the Arts in Eatonville, FL.  Whenever she visits, she makes it a priority to stop by the UCF College of Medicine booth to receive her health screening.
"I go to my doctor regularly, I know what's wrong with me," Ryles said. "But when I see these young people here, these children are our future, and I just feel like they need to learn by working on real people."
Ryles was one of approximately 40 attendees who received free health checks from UCF College of Medicine students who volunteered at the annual Zora festival in January.
For Ryles, her visit to the health booth is more than receiving a free screening. It is about playing her part in helping to train future doctors.
"We need to try to work with them now and encourage them, especially in the medical field, because that's a hard field to work in right now," she said. "When we get to 60 or 80 years old, they are the ones who are going to be taking care of us and we want them to be proficient."
This is the sixth year that UCF's medical students have offered complimentary health screenings at  Zora –  a three-day cultural festival that celebrates the art, culture and history of Eatonville. The town is the oldest incorporated African-American municipality in the U.S. and the hometown of writer, folklorist, and anthropologist Zora Neale Hurston. The medical school's Council for Diversity and Inclusion helps sponsor Zora and organizes the health screenings for the medically underserved community.
Ryles commended the College of Medicine for its continued presence at the festival, allowing persons to get free health checks who may not otherwise have access.
"They were very professional and seemed so eager to learn and to work with the community," she said. "I thought they did a really good job and to give up a Saturday, that's just wonderful."
Student volunteers conducted health screenings including blood sugar, blood pressure, height, weight and body mass index (BMI) checks. They were assisted by five high school students from the Jones High School medical magnet pipeline program.
A second group conducted eye screenings under the supervision of Dr. Roger Rath, assistant professor of ophthalmology.  For the first time at the festival, the group conducted comprehensive eye exams using a slit-lamp, which gives a microscopic view of the eye to better identify eye diseases such as glaucoma.
"I have always been very passionate about community health and medical outreach," said Bryan Thiel, a third-year student who helped conduct eye-screenings. "Since arriving at UCF COM I've joined groups dedicated to improving of local and global health like MedPACT and KNIGHTS Clinic. I want to be involved in this type of work when I start my career, so I am happy to devote my free time to volunteering at opportunities like this."
Post Tags