Burnett School

Cancer Division

Cardio-Metabolism Division

College of Medicine

Faculty News

Infectious Disease Division

Neurodegenerative Division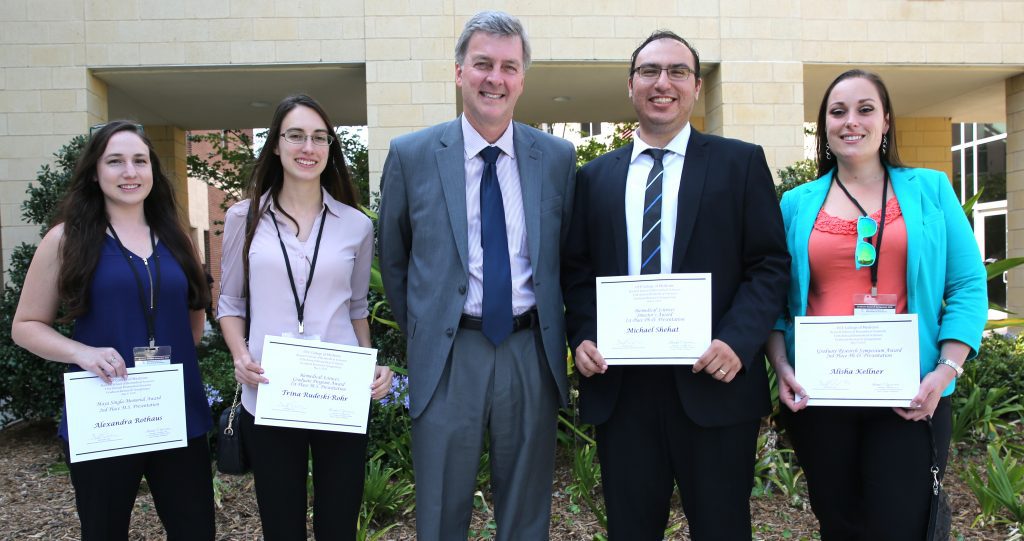 Sayf Hassouneh's passion for research and inquiry have motivated him for as long as he can remember. Today, he is living his childhood dream as a young scientist trying to find a better treatment for Crohn's disease.
"Since I was a young kid, I was always the one that kept asking 'why?'" he said, "And I think it just stuck with me throughout high school and has led me here."
Hassouneh was one of 16 graduate students at the College of Medicine's Burnett School of Biomedical Sciences who presented their medical research at the school's 13th Annual Graduate Research Symposium May 9.
In his opening remarks, guest speaker Dr. John Weishampel, associate dean of the College of Graduate Studies, praised the event for giving young researchers experience in publicly presenting their findings.
"One of the most important components of science is conveying it, because you have to explain the importance of it and why it needs to be funded," he said. "So this is sort of a test for you, because we want you to share with the broader community the great things you're doing and how UCF is helping you get to that place you want to go."
The event's organizer, Burnett School faculty member Dr. Kai McKinstry, lauded the quality of the research presented and said the event also allowed students to learn what their colleagues are doing across the Burnett School's research divisions.
"My old Ph.D. professor once told me that science is a symphony and we each play our own instrument. So this symposium brings together students doing diverse research projects, so that they can each see what each other is working on and how it meshes into the bigger whole," he said.
Students presented research on screening, preventing and treating diverse health issues including Crohn's disease, acid reflux, influenza and prostate cancer.
Hassouneh has been working with research mentor Dr. Saleh Naser, an infectious disease specialist at Burnett, since his sophomore year of high school when he worked in the lab as intern. Today, he is studying genetic mutations in Crohn's disease patients to determine why some patients don't respond to treatments. He hopes his study will help develop more affordable, individualized treatments for patients.
"Without research there is no innovation, we would remain stagnant," said Hassouneh, a second-year master's student.
Master's student Alexandra Rothaus won second place in the master's category for her study on how acid reflux disease injures tissue and that damage's link to cancer.
"A lot of my family members have acid reflux so it was somewhat a personal decision to study this," she said. "Also, my background is in veterinary medicine and I saw a lot of this in my patients."
Rothaus collaborated with research mentor Dr. Claudia Andl, a Burnett School cancer researcher, to see how tissue regeneration after acid reflux disease can cause mutations during DNA replication, which may lead to cancer.
"So ultimately in the clinical aspect we can use these markers to be better able to help patients understand what's happening and be able to detect it earlier," she said.
Presentations were judged by Burnett School faculty and guest judge Dr. Qun Huo, associate professor in the College of Sciences' Department of Chemistry. Winners in the Ph.D. and Masters categories received monetary awards made possible through the Annie Oakley Fund, the Burnett Family Fund and Burnett School faculty.
The 2018 winners are:
First Place Master's – Biomedical Sciences Graduate Program Award
Trina Rudeski-Rohr (Mentor: Dr. Ella Bossy-Wetzel)
"OPA1 is regulated by Lys228 Acetylation"
Second Place Master's – Maya Singla Memorial Award
Alexandra Rothaus (Mentor: Dr. Claudia Andl)
Investigating the changes in quiescence in oral and esophageal tissues in response to injury
First Place Ph.D. – Biomedical Sciences Director Award
Michael G Shehat (Mentor: Dr. Justine Tigno-Aranjuez)
"Involvement of RIP2 in signaling mediated through the FcγR
Second Place Ph.D. – Biomedical Sciences Graduate Symposium Award
Alisha Kellner (Mentor: Dr. Ken Teter)
"Hsp90 and Hsc70 Binding Sites in the Cholera Toxin A1 Subunit Reveal the Sequence of Interactions for Toxin Translocation to the Cytosol"
Post Tags
Burnett

Kai McKinstry

Research

symposium