Burnett School

College of Medicine

Faculty News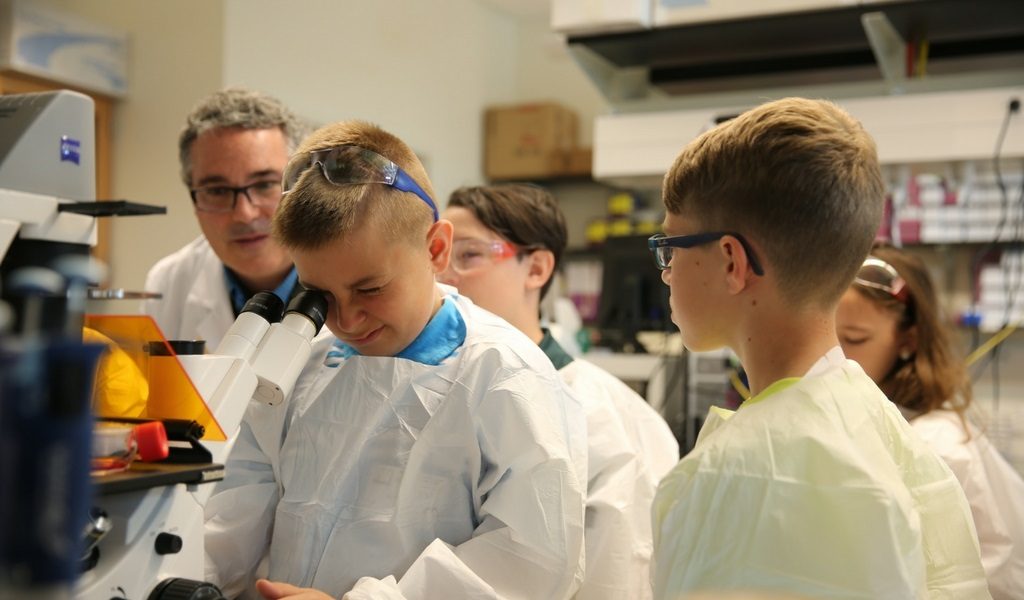 Ten year-old Sammy De La Espriella was amazed to find white and blue dots in his cells after viewing a sample taken from his cheek under a microscope. His classmate, Alana Nabinett, concluded that her classroom's doorknob was "pretty clean," as the sample she tested had very little bacterial growth.
The young scientists were among a group of fourth and fifth grade students in the gifted education program at North Lake Park Community School who had a day of discovery in the labs at the Burnett School of Biomedical Sciences on March 31.
The students were hosted by husband and wife medical school researchers, Drs. Travis and Mollie Jewett, both associate professors and infectious disease specialists. Their 10 year-old son, Casey is a part of the class.
Donning lab coats, goggles and gloves, the students played scientist for a day, getting an up-close look at microorganisms from samples they collected.
Tracy Mendoza, a gifted education teacher at North Lake Park, said the students are currently studying cells in their introduction to microbiology module, and the field trip was all about bringing their lessons to life.
"At this age, I want their learning to be more interactive than just reading a textbook or looking at a smartboard," Mendoza said. "I've been teaching them about nucleus and DNA, and they've seen drawings and pictures, but there is nothing like having their cheeks scraped and looking at their own nucleus in their own cells."
In Dr. Travis Jewett's lab, the students took turns viewing their own cells under a microscope in a swab taken from their inner cheek. "I really see it as trying to train the next generation of scientists," Dr. Jewett said. "We wanted to bring to life what they have been learning in the classroom. They were able to see actual cells that came from their bodies and identify the nucleus where their DNA is. So it really makes it an exciting experience."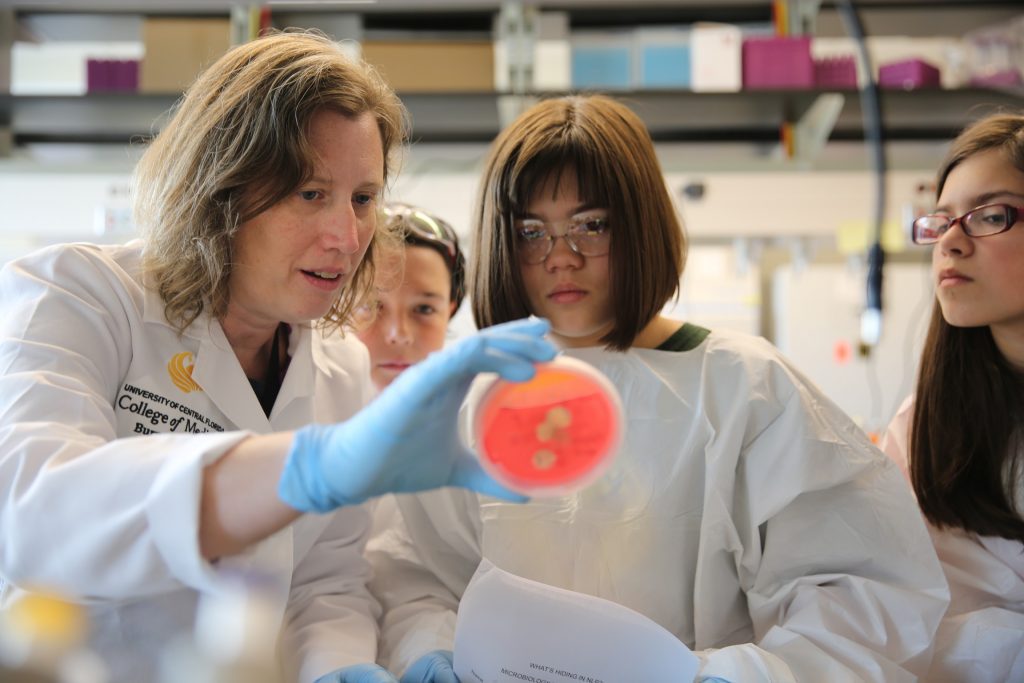 Next door, in Dr. Mollie Jewett's lab, the students viewed bacteria cultures in samples they had collected two weeks earlier from various surfaces around their school. They used sterile cotton swabs to scrape their classroom carpet, the boys' bathroom, water fountain and even the principal's computer mouse. The samples were placed in bacterial agar plates – a nutrient compound that facilitates bacterial growth – and then sent to Dr. Mollie Jewett's lab for two weeks. The students were excited to see what areas of their schools were the biggest sources of microorganisms.
The students also did an experiment with the school secretary's desk, where they took a swab before and after cleaning it with a popular brand of disinfecting wipes.
"We were actually surprised at the results. Visually, the sample we collected after wiping had about 95 percent less bacteria," Mendoza said.
Students also got the chance to view borrelia burgdorferi, the tick-borne bacteria that cause Lyme disease and can be spread though tick bites. Dr. Mollie Jewett's research focuses on the mechanism the bacteria need to survive as a way to prevent and treat Lyme disease.
"It was a wonderful opportunity for Travis and I to share our passion for microbiology research with the children and to be inspired by their questions and their eagerness to learn new things," she said. "It is amazing to witness their creative out of the box thinking and know that they are our next generation of innovators. The experience was very rewarding for me and it was a particular joy to be able to share it with my son, Casey."
Mendoza said the field trip helped instill a spirit of investigation and discovery in her young scientists.
"This has been a great activity for them and we really appreciate the opportunity the Jewetts have provided for us to visit UCF," Mendoza said. "When a community comes together to educate our children, it makes a lesson meaningful. It has really exceeded our expectations and this is a day the students will never forget."
Post Tags