Burnett School

College of Medicine
In an effort to celebrate the College of Medicine's diverse and inclusionary values, the medical school has begun a "Who We Are" campaign highlighting faculty, staff and students. "Who We Are" posters went up the first week of school and highlight participants cultural and demographic backgrounds, what they value about diversity and inclusion and how they practice it.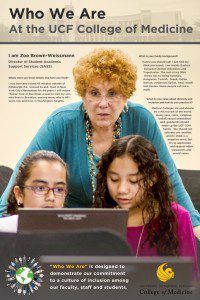 Dr. Lisa Barkley, assistant dean of diversity and inclusion, said the effort is a "social norming campaign," to illustrate that people's unique backgrounds and perspectives are part of the foundational culture of the College of Medicine. "As people learn more about each other, we hope they will celebrate our differences and see that despite our differences we have core values at heart," she said.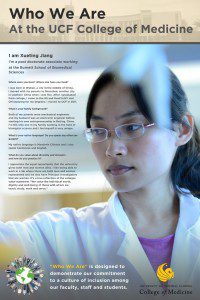 The first colleagues highlighted were Zoe Brown-Weissmann, director of Student Academic Support Services (SASS), Dr. Alvaro Estévez, associate professor at the Burnett School of Biomedical Sciences, Class of 2017 medical student Khadijah Fergiani, Post Doctorate Associate Xueting (Tina) Jiang and Soraya Smith, director of Student Services and Service Learning. Dr. Barkley said the college's Council on Diversity and Inclusion hopes to feature new colleagues every month.
On her poster, Brown-Weissmann answered a question on her background this way: "Funny you should ask! I just had my DNA processed. I am mainly Eastern European Jewish (Ukranian), and Yugoslavian. The rest of my DNA shows ties to being Austrian, Hungarian, Turkish, Greek, Italian, Iberian, Jordanian, Syrian, Iraqi, Israeli, and Iranian."
On his poster, Dr. Estévez said he valued diversity of opinions, adding "Inclusion is remembering those things that make us the same.  I think that when we all fight for a common goal, diversity become a rich source of resources to achieve these goals."
Post Tags