College of Medicine

Philanthropy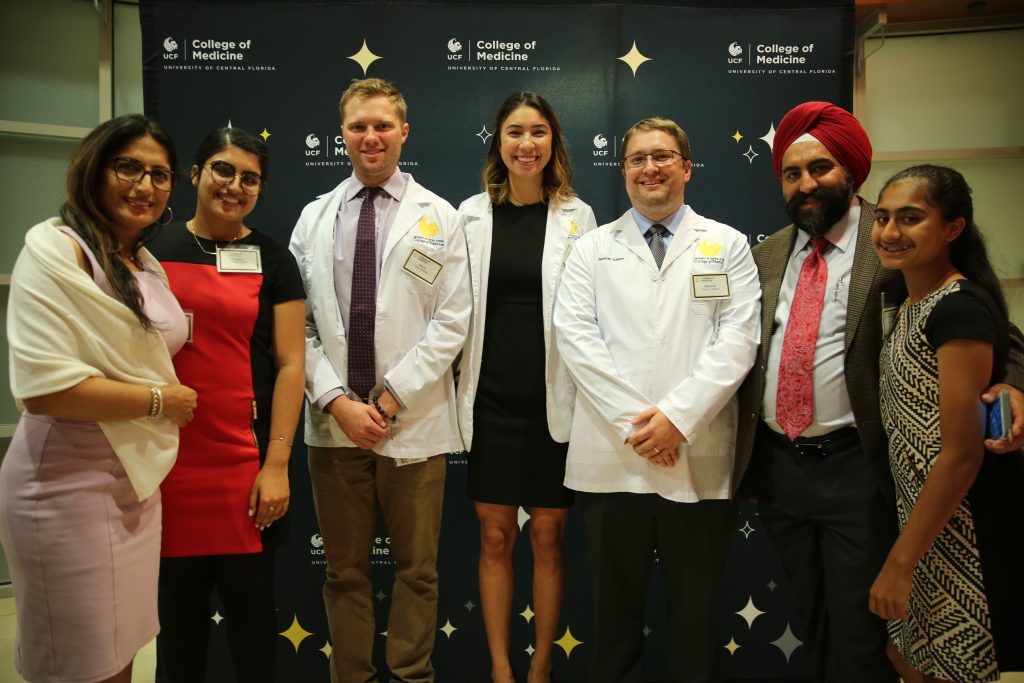 For Irina Tardif, the donor who helped make her dream of becoming a doctor a reality is now more than a name in a scholarship letter. Recently, Tardif and 35 other medical students shook hands, listened to life stories, and thanked the people who had donated funds for their education.
The College of Medicine hosts the annual Scholarship Reception so donors and the students they support develop a personal connection.
"Your gifts have power, they create a ripple effect," Dr. Deborah German, vice president for health affairs and dean told the donors. "They help us bring great students here, allow us to train them and when they graduate, they help patients, they help their families and they build communities. So the power of your gift goes beyond that individual student."
Tardif knows that ripple effect first hand. "My husband lost his job right around the time I began medical school and as a mother of a five year old, I began to think medical school would not be possible," said Tardif, a first-year medical student who was born and raised in Russia.
"This scholarship has helped me with medical school and housing expenses and so far I have not had to take a loan for my tuition. So meeting my donor and being able to say thank you in person really gives me a sense of gratification and motivates me to want to give back in the future."
Donors said meeting their scholarship recipient makes their gift more meaningful. Dr. B. P. Sodhi, physician turned real estate developer said he felt inspired after meeting three UCF medical students he supported.
"We read about the medical school and its initiatives, but now we feel more connected when we are able to come here and see the students," he said. "Hearing their stories really gave me a flashback to my days as a frugal international student getting my M.D. in North Carolina, so I understand the need and I'm truly honored to be able to assist."
First-year medical student Lindsey Owens is one of the recipients of the Sodhi Family M.D. Scholarship. She said the event was a unique experience that allowed her to convey her gratitude to her donors face-to-face.
"Most have us have received scholarships before and we're always very grateful for it but we don't always get to put a face to the name," she said. "Today we got to meet our donors, hear their stories and find out why they felt inspired to give back and thank them."
"As medical students, we're already under a lot of pressure with classes and exams, so having not to worry about financial stress is definitely a relief," she added. "I have a brother who is also going through college, so it really helps lighten the load on my parents. So any help these donors give to us is really appreciated."
Kevin Petersen, Class of 2021 Student Council president, was one of two students who spoke at the reception on behalf of the scholarship recipients.
"As donors, you are not only investing in the UCF College of Medicine," Petersen told the crowd. "You're investing in the future of medicine. You're investing today in the young professionals that will impact, innovate and forge a healthier tomorrow."
Post Tags