College of Medicine

Communique

Diversity

Faculty News

Philanthropy

Student Affairs

Students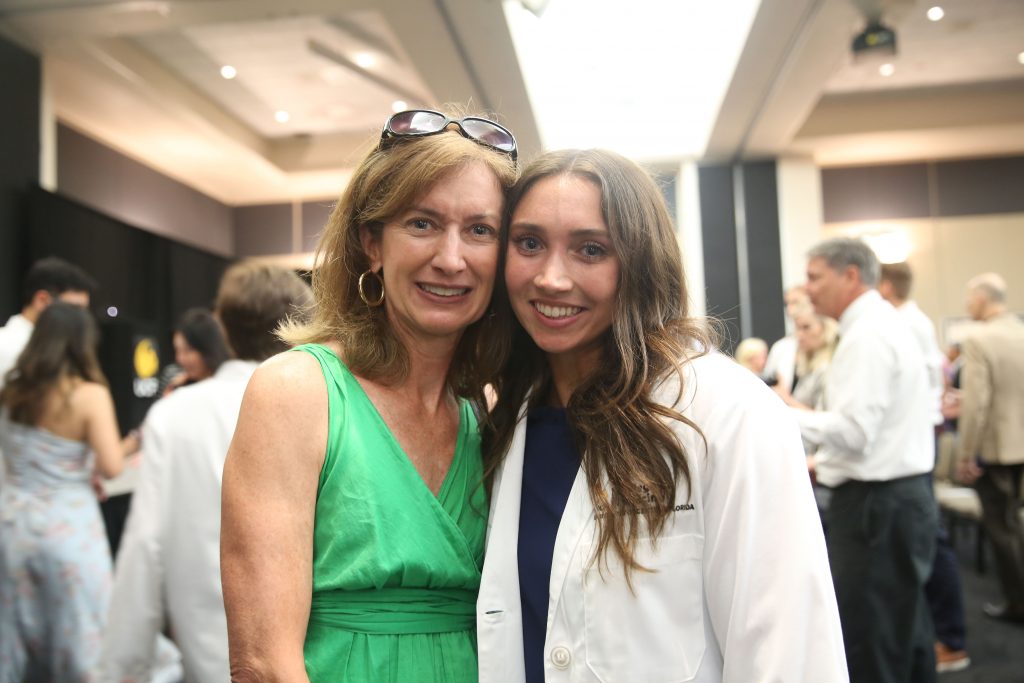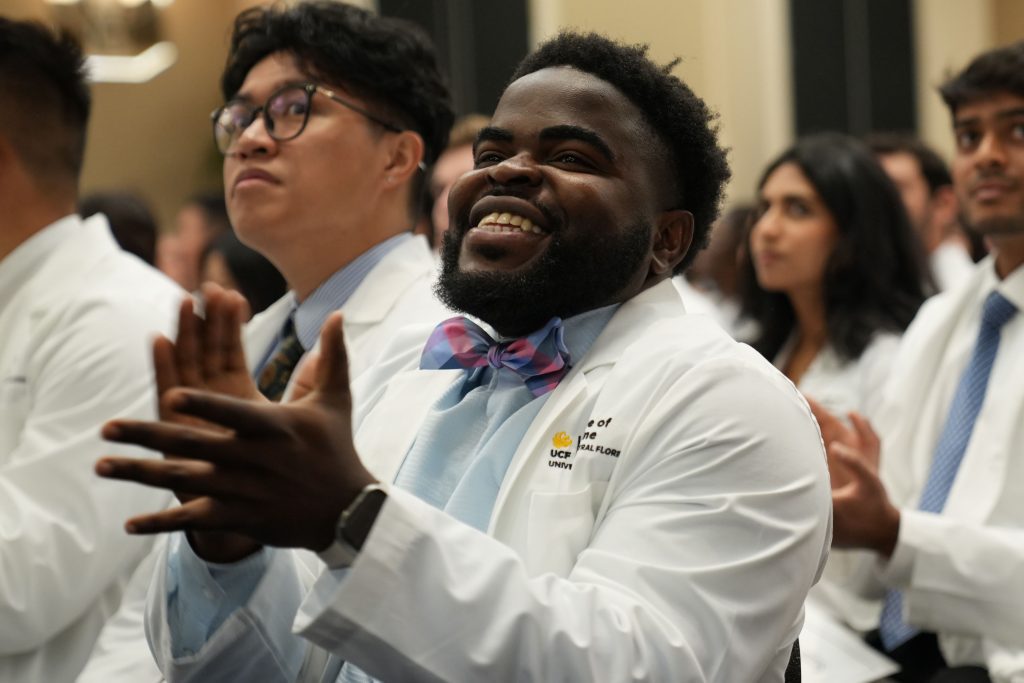 She was a professional ballerina; he survived an earthquake in Haiti. And on Monday, both promised to become one of "The Good Doctors" as the UCF College of Medicine held its 15th White Coat Ceremony, welcoming first-year medical students as colleagues in patient care.
120 M.D. students – including former ballerina Ellie Borick and earthquake survivor Jean Woody Luxama – celebrated their first day of medical school at UCF, a place University President Alexander Cartwright described as having "a sense of optimism…guided by compassion and a desire to make an impact that is unique in higher education."
The new students were chosen from 4,953 applicants and in addition to UCF graduated from universities including Brown, Columbia, Emory, Johns Hopkins, UCLA and Yale. Ten have master's degrees, two have doctoral degrees and one is a military veteran. Almost 75 percent conducted research before they ever entered medical school – in topics that include cancer, diabetes, stroke, HIV and sickle cell anemia.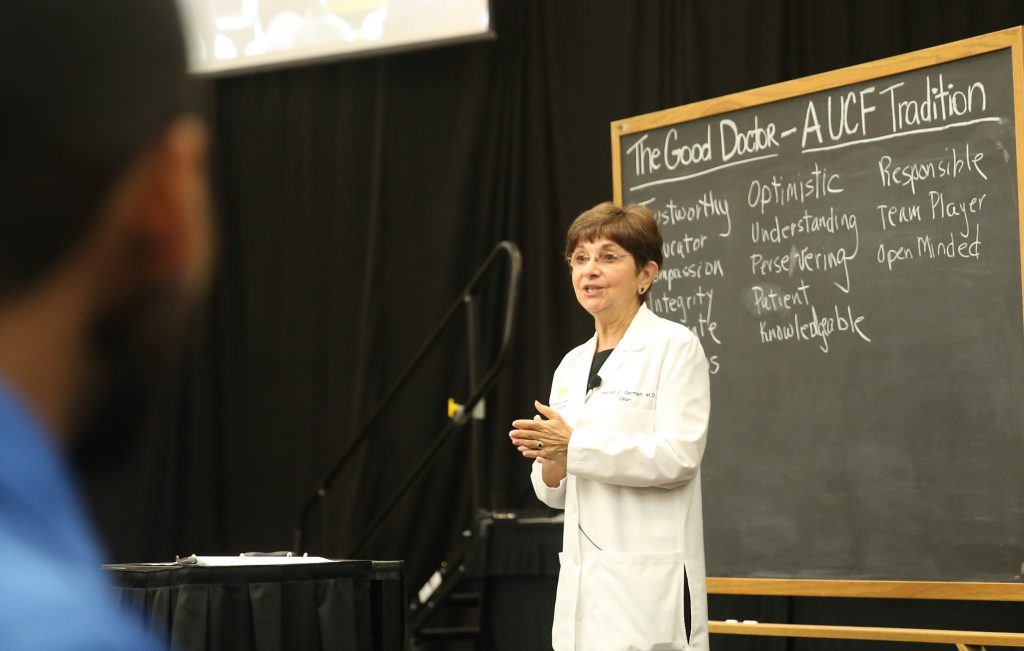 "Students, today you become part of this community, part of this pioneering young medical school committed to preparing doctors to face today's healthcare challenges by always putting their patients first," said Dr. Deborah German, vice president for health affairs and founding dean.
Dr. German's White Coat tradition is teaching new students their first class, called "The Good Doctor – A UCF Tradition." She asks them to imagine the person they love most in the world is seriously ill with an undiagnosed condition. What traits do they want their loved one's physician to have? Students suggest characteristics that Dr. German writes on a blackboard that stays on display in the medical school atrium during the entire academic year. "The Good Doctor" board is considered a contract between students and their faculty, community and each other.
The Class of 2027 came up with 35 traits, including trustworthy, optimistic, diverse, wise, passionate, humble, knowledgeable, committed and moral.
"All of you are worthy of the challenge that lies ahead," Dr. German told the new class. "With the guidance of the faculty and your own hard work, you will become 'The Good Doctor.'"
Luxama was joined at the White Coat ceremony by his parents, grandparents, sisters and brother. His dream is to build a hospital in Haiti to provide care to his native land that is plagued by poverty, government upheaval, natural disasters and disease . "It feels amazing to be here at the College of Medicine," he said. "This is the first step."
Borick graduated from FSU with a degree in exercise physiology after professional ballet companies thought she'd never be a star because she is just under 5 feet tall. She said her professional dance career "really taught me the importance of hard work and dedication and that will translate perfectly into medicine. I'm going to be passionate and dedicated to helping my patients get better."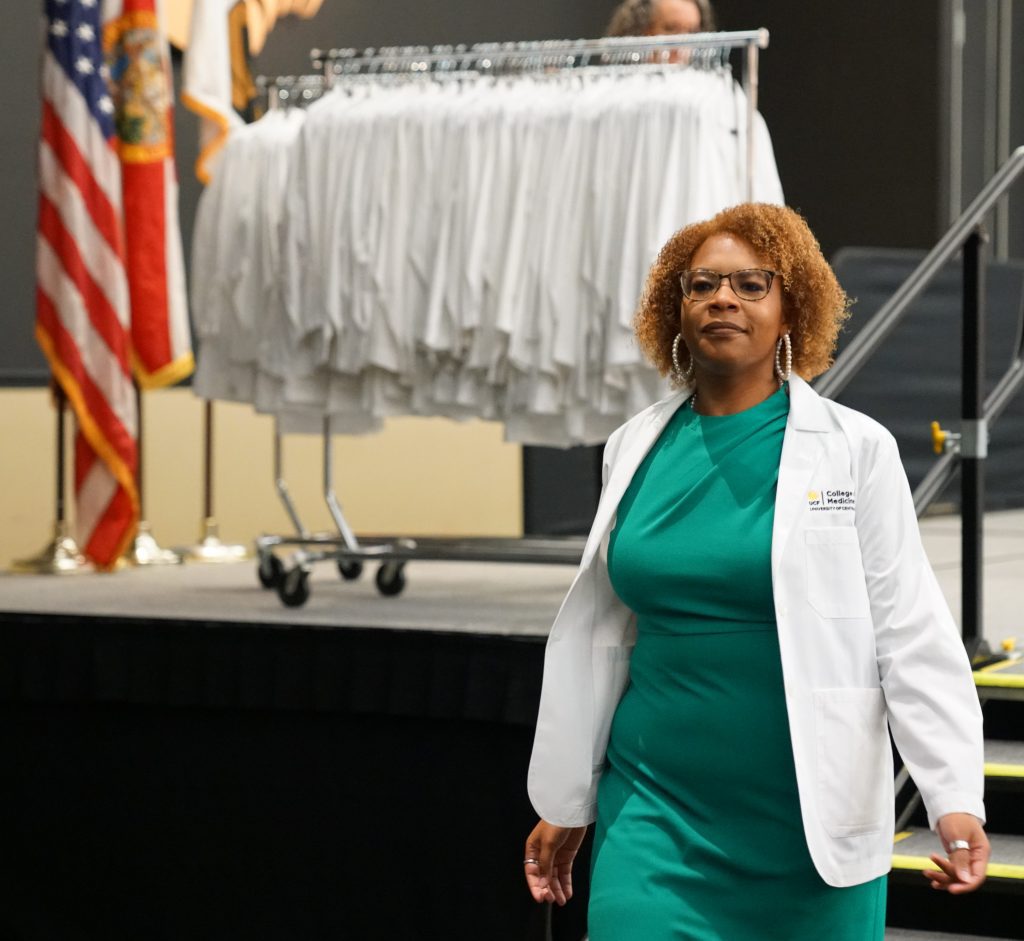 New medical student Larissa Dixon comes from a family of teachers and before medical school taught biology to middle school students in North Dade County, Florida. There, she founded a group called "Motivating Black Students into Medicine," where she presented science and lab experiences to inspire students to go into healthcare. "My passions are science and education," she said. "Medical school combines both. Today, I go from being a teacher back to being a student."
Jeremy Sheiber said he chose biomedical sciences as an undergraduate major at UCF because it would allow him to make a difference in the world. It already has. During the pandemic, he worked with UCF researchers creating a nanoparticle-based disinfectant that killed COVID. He volunteered on a medical mission trip to Haiti, where he helped treat patients in a church without electricity and running water. The medical team had to wear headlamps to see and cared for 500 patients in two days. The Orlando native said he chose UCF for medical school because he wants to give back to the city that helped raise him. "I came out of UCF's biomedical sciences program a totally different person," he said. "Now I want to give something back."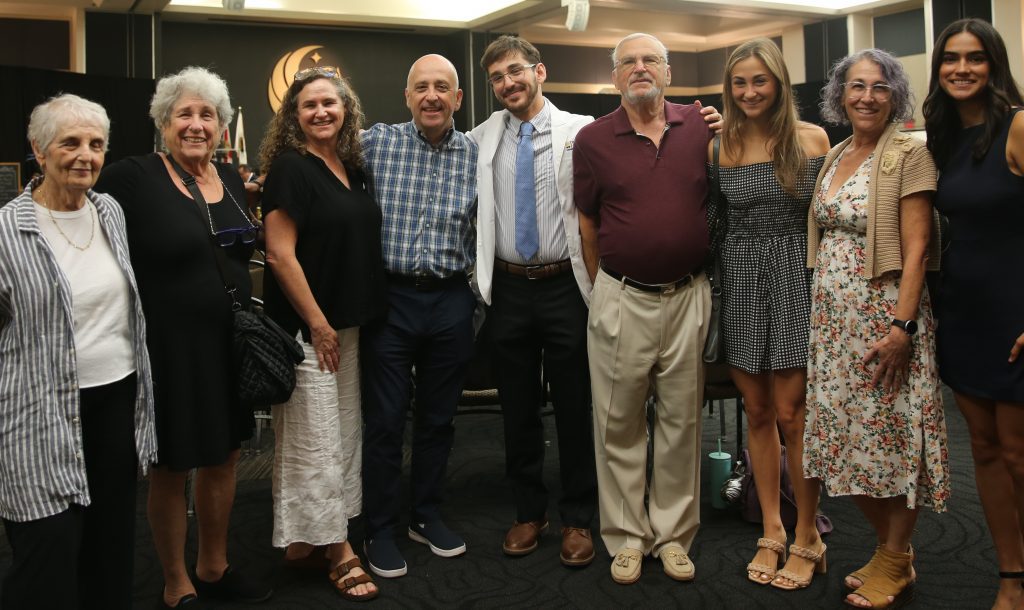 During the ceremony, the medical school also recognized those who had made gifts to pay for the students' white coats and stethoscopes, including Dr. Mark Trolice, founder and director of the IVF Center in Winter Park, FL, who contributed the largest gift in support of this year's White Coat event.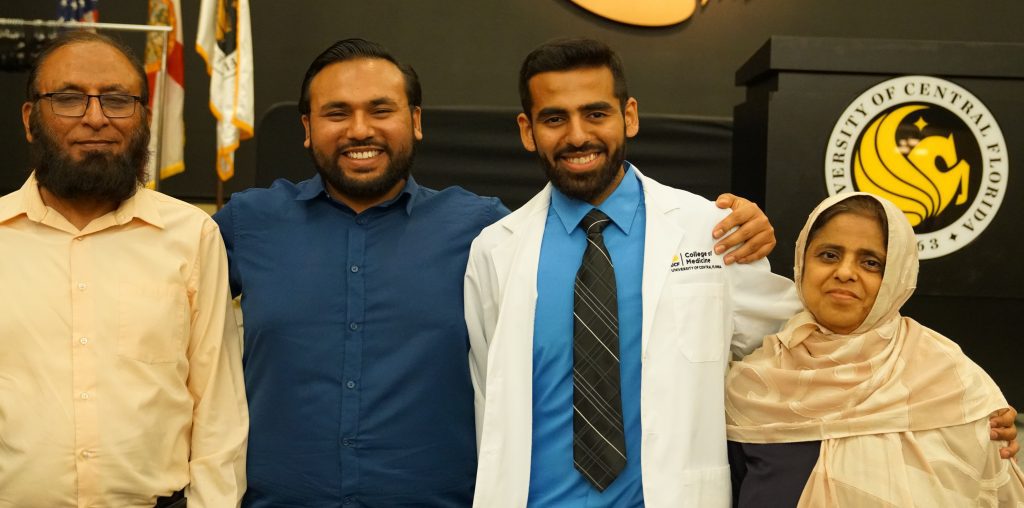 Post Tags
Class of 2027

new medical students

The Good Doctor

White Coat 2023