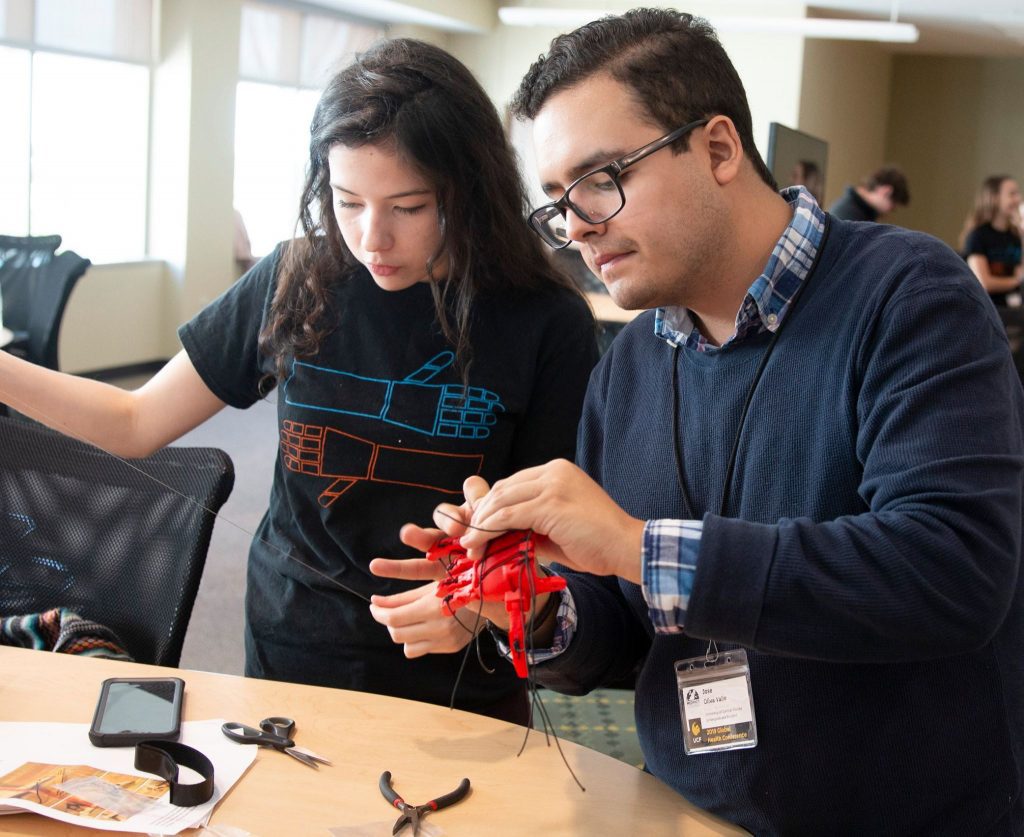 Recent advances in medical technology have expanded options for effective care – doctors can videoconference with patients a world away and drones can drop lifesaving medical supplies and equipment to remote areas.  But just because technology exists doesn't mean it's the best solution to improving health in impoverished areas of the world, a South African biomedical engineer told attendees at the College of Medicine's eighth-annual UCF Global Health conference.
The key is "responsible innovation," said Dr. Tania Douglas, South Africa Research Chair in biomedical engineering and innovation at the University of Cape Town.  "You have to think about how the technology is going to be implemented in the community, and how people are going to engage with it."
Dr. Douglas was the keynote speaker at the student-run Global Health event, designed to raise awareness of the world's health needs and ways to address them. This year's event on January 12 drew approximately 200 interdisciplinary healthcare students, faculty, practitioners and volunteers. The "Location & Innovation" theme highlighted the role technology plays in global medicine. Discussions centered on the state of global surgery practices, tracking of refugee and immigrant populations, the ethics of innovation and more. Attendees came from a host of Florida schools, the Mayo Clinic School of Medicine, and from as far away as South America and Asia.
"All of our workshops and simulations either demonstrate how certain technologies can be used globally, or how we can develop creative solutions to overcome barriers caused by a lack of technology," said second-year UCF medical student Anjali Cherukuri, co-director of the conference.
Technology can't be a cure-all, conference speakers emphasized. Some high-tech medical devices can be too expensive to purchase or operate in remote areas, so providers must work to improvise with more basic tools on hand. A simulation session showed students one of those basic tools – using an inflated condom to stop postpartum uterine bleeding. Other more traditional devices – like Bakri balloons – wouldn't be as cost-effective.
Sometimes technology violates cultural sensitivities. In a discussion on the ethics in innovation, Dr. Stephen Hugo Arce, a lecturer at the University of Florida's Herbert Wertheim College of Engineering, talked about plans to make  3-D printed prosthetics for residents who lost limbs in Haiti's 2010 earthquake. But while use of that technology was well-intentioned, Dr. Arce said the planners didn't realize the culture's stigma associated with losing a limb. "If you were missing a limb, the implications were that you were a sinner," he said. "So if you're wearing a device it draws attention to that, and people didn't want to wear devices."
Ultimately, healthcare professionals need to work with local communities to determine whether a technology solution is appropriate and sustainable, said Dr. Judy Simms-Cendan, the UCF College of Medicine's director of international experiences and faculty adviser for the Global Health event. "It's intoxicating to be able to bring ultrasound into an area where people could barely communicate by phone or have Wi-Fi until very recently," Dr. Simms-Cendan said. "But all the best intentions with technology don't always result in improved patient outcomes." Solutions should be developed with a "profound understanding of the needs of the people we're trying to serve based on open communication and partnership with the communities."
Attendees got hands-on experience working with medical devices and considering how and when they might be used in global settings. They practiced ultrasound on College of Medicine standardized patients – actors who pretend to have an illness – as well as computerized medical manikins. They triaged the wounded – volunteers covered in moulage makeup – in a mock war zone, with a drone dropping medical supplies from above. And working with UF's Generational Relief in Prosthetics (GRIP), student organization, they learned how to build prosthetic hands and how to solder and reconfigure gaming controllers to make them more accessible to use with a single hand.
All conference proceeds – roughly $1,500 – will be going toward purchasing new operating room equipment and supporting other services at the Fundación Yantaló Clinic in Peru, which cares for underserved populations in the rural San Martín region. For the past two years, UCF's Medical Students Providing Across Continents (MedPACt) has organized and staffed interdisciplinary care at the clinic. MedPACt also leads the Global Health Conference.
Dr. Simms-Cendan said the diversity of attendees – and their healthcare backgrounds – helped reinforce the message that "providing global medicine is a team effort to solve issues of culture, safety, ethics and technology. It's really important to see how those teams have to work together."
Gunika Datt, a senior UCF biomedical sciences student, hopes to attend medical school and said the conference reinforced her passion for global health.
"Coming to these conferences is kind of like a refresher for me to remember why I chose this field."
Post Tags
global health

Global Health Conference

Judy Simms-Cendan

MedPACt