College of Medicine

Communique

Internal Medicine Residency

Residents
Providing outstanding patient care means recognizing when systems and practices need fixing – and having the courage to speak up and take steps to solve the problem. That was the message from a recent Quality Improvement and Patient Safety forum for physicians-in-training through a partnership between UCF, HCA Healthcare and the Orlando VA Medical Center.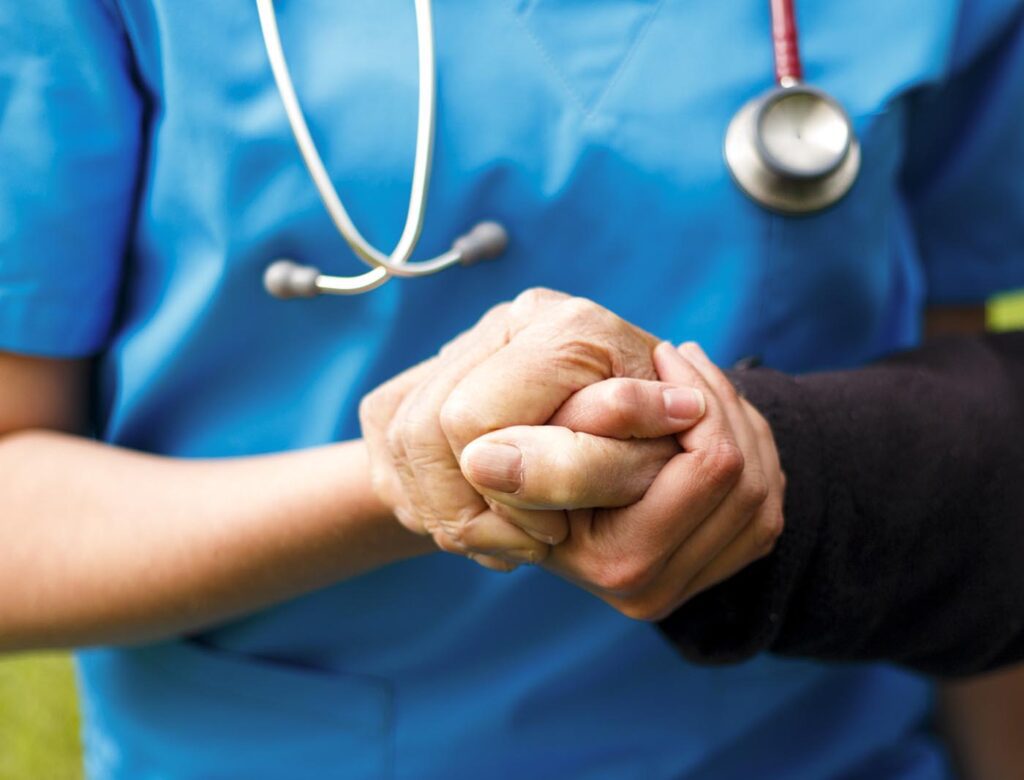 The "Keepers of the Cause" conference featured a QI expert from Harvard Medical School and the results of quality improvement projects residents and faculty had organized during graduate medical education training at the VA and HCA Florida Osceola Hospital.
Improving clinical processes leads to better, safer patient care, said Dr. Ashwini Komarla, a College of Medicine assistant professor who leads the quality and safety curriculum for UCF's inaugural internal medicine residency program based at the Orlando VA and HCA Florida Osceola Hospital. "Quality improvement training gives residents a different avenue of thinking about the care of patients and the world," she said. "We want to empower them to be problem-solvers."
Dr. George Alvarez serves as the program's chief resident responsible for quality improvement and patient safety at the Orlando VA in Lake Nona, one of the country's largest veteran's hospitals and the home to the VA's national simulation center. He will graduate this month and join AdventHealth in Orlando as a critical care fellow.
As a young physician leading other residents, he has seen the impact of quality improvement initiatives, especially as healthcare entities faced incredible pressures from COVID-19. One of his first QI projects was evaluating the practice of giving a patient oxygen any timer they requested it for shortness of breath. His project found that not all patients medically needed oxygen – and some, such as those with conditions like COPD, could be harmed by getting oxygen even though they had requested it. Through his review, the hospital established more specific protocols for when to provide oxygen. When COVID-19 hit, and hospitals began running out on oxygen, those protocols helped save supplies for the most critically ill patients.
His chief resident quality improvement and patient safety capstone project examined how to ensure every item on the hospital's crash carts – used in an emergency when a patient stops breathing or their heart stops – was properly labeled, up-to-date, in good repair and not expired. Like all QI projects, he said, improving processes required a teamwork approach. Who was formally responsible for routinely checking all the items in the cart? What were the logistics of keeping the carts stocked, especially at night and on weekends? Did every provider – including new hires – know exactly should be on the cart and how to quickly determine by checking labels that items hadn't expired? To help in that effort, Dr. Alvarez created an instructional video that is shared with all providers. His project was ranked among the top four nationally in all VA chief resident patient safety projects this year – and he has been asked to send his recommendations and video to veteran's hospitals across the country. The QI project worked – from September 2021 to May 2022, audits revealed not a single piece of equipment on the crash cart has been missing or expired.
"At the VA we talk about being dedicated to a 'Just Culture,'" he said, "which means openly discussing issues, not pointing a finger and saying it's someone else's fault, someone else's responsibility. By doing that, we can address issues and create better care."
Dr. Anjala Tess leads healthcare quality and safety initiatives at Harvard and is a national expert on patient safety. She served as the event's keynote speaker and told participants that all practices have "pain points" for providers, areas where processes – and, in turn, patient care – can improve.
"Everybody has something in their practice that could be made better," she said. "QI should happen not just in your back yard but over your shoulder."
The QI forum featured presentations on a variety of topics, including better ways to increase vaccination rates and provide improved care to patients with conditions ranging from liver disease to addiction. Here are the winners of the 2022 QI presentations:
Best Presentation: Linking and Engaging Veterans Who Inject Drugs Into Harm Reduction Services at the Orlando VA Healthcare System
Dr. Deanna Cordero Da Silva
Faculty Advisors: Dr. Jacqueline Byrd and Karen Slazinski
PGY-1 Project with the Most Potential: Increasing Utilization of the FIB-4 Score to Improve Appropriate NAFLD Consultation to the Orlando VA GI/Hepatology Service
Drs. Omar Masarweh, Teayoung Kim, Mohammed Rahhal, Fanny Stampfli, Stephanie Lopez Orizondo and Feras Al-Moussally
Faculty Advisors: Drs. Silvio De Melo, Juan Oharriz, Amar Mandalia and NP Shelly Scott
Most Likely to Impact Patient Care: Improving Recombinant Zoster Vaccination Rates in Patients Receiving Biologic Therapy in the Rheumatology Clinics at the Orlando VA Healthcare System
Drs. Kathlyn Camargo, Taylor Kann, Marilyn Mosquera and Ravi Shahu Khal
Faculty Advisor: Dr. Ashwini Komarla
Most Innovative: Project PrEP a Vet: Expanding HIV Prevention with Pre-Exposure Prophylaxis at the Orlando VA Healthcare System
Dr. Riley O'Donnell Turner
Faculty Advisors: Drs. Karen Slazinski and Jacqueline Byrd
Post Tags