Burnett School

College of Medicine

Faculty News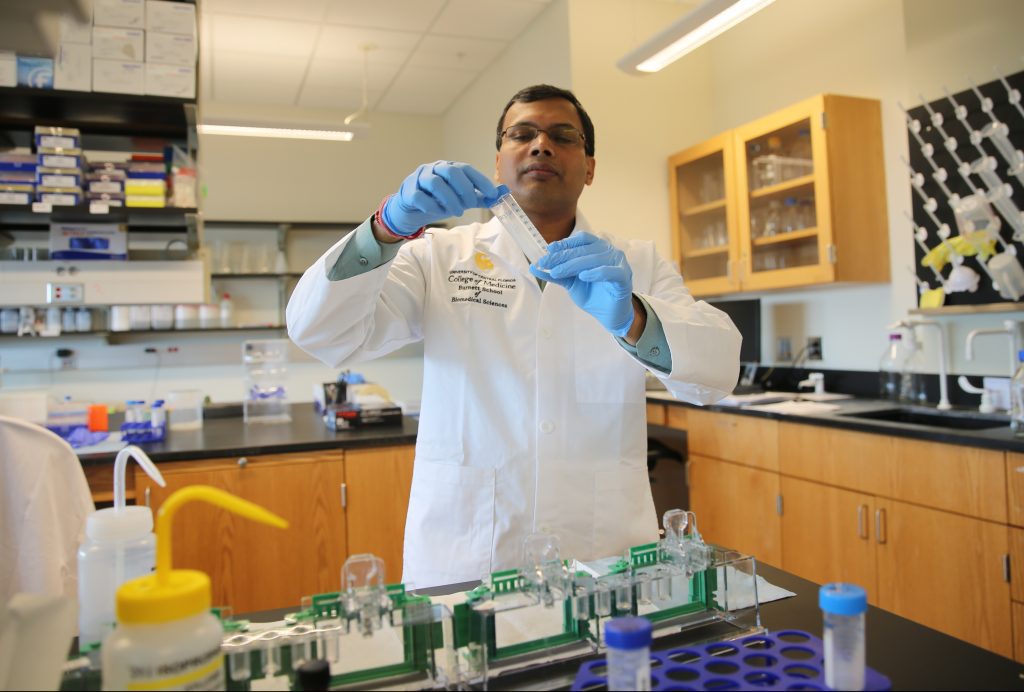 Thanks to antiretroviral drugs, HIV patients are living longer than ever before. But while these drugs powerfully suppress the virus, they can also have dangerous side effects, including cardiovascular disease.
College of Medicine researcher Dr. Manish Kumar Gupta is working to find a way to protect HIV patients from these side effects and recently a received a four-year $2.2 million grant from the National Institutes of Health to study heart damage in HIV patients and ways to reduce it.
"HIV is a global problem affecting almost 37 million people," Dr. Gupta said. "Since the discovery of antiretroviral drugs, mortality has reduced and people are living longer. And this is good news, but these drugs have many side effects. Antiretroviral drugs are very toxic to different organs in the body especially the heart. They have been associated with dementia, kidney problems and aging. But cardiovascular disease is the number one problem in HIV patients."
Recent studies have shown HIV patients have twice the risk of developing heart disease than do people without the virus and that cardiovascular disease is the cause of 20 percent of HIV patient deaths. Dr. Gupta theorizes that the combination of the HIV virus and antiretroviral drugs together cause damage to the heart. He wants to know how and why.
Antiretroviral drugs work by suppressing the virus and preventing it from replicating. But even in its suppressed form, the HIV virus still makes and releases proteins that are toxic to the body, Dr. Gupta explained. One protein of interest is called the HIV Nef protein. With the new grant, Dr. Gupta will examine how this protein changes and damages the function of cardiac muscle cells called cardiomyocytes.
"My aim with this study is to investigate what are the mechanisms and how the HIV and antiretroviral drugs work together to induce cardiomyopathy in patients," he said. "We want to understand how this damage is happening, what mechanism is causing it, and whether there is a way to reduce this damage and improve heart function."
With a better understanding of how heart damage occurs in HIV patients, Dr. Gupta plans to test existing FDA-approved drugs to see if they are effective in strengthening the heart function of HIV patients.
"Our hope is to identify a novel drug that can be used supplementary to antiretroviral drugs to help boost heart function and possibly reverse damage," he said "If we can do this, then we can help save lives."
Dr. Gupta previously was on the faculty of the Lewis Katz School of Medicine at Temple University. He said he came to UCF in part because of Orlando's high rate of new HIV cases. Numbers from the Florida Department of Health show that between 2015 and 2017, Orange County had a 22.8 percent increase in new HIV cases — the fastest growing rate in Florida and one of the highest in the nation.
"So ultimately, I hope my research and its outcomes will help to improve the quality of life of these patients," Dr. Gupta said.
Dr. Gupta completed his Ph.D. in microbiology at the Jawaharlal Nehru University in his native India followed by a post-doctoral fellowship at the Cincinnati Children's Hospital Medical Center. An interdisciplinary researcher, he has conducted studies on a range of health issues including tuberculosis, HIV and heart disease and has been published in several peer-reviewed journals.
Post Tags