College of Medicine

Global Health

Students
College of Medicine M.D. students, who have developed innovative global health conferences on skeletal budgets and taken their global health initiatives to the Dominican Republic and local farmworkers, presented their approach to worldwide service at a 2016 American Academy of Family Physicians conference in Atlanta.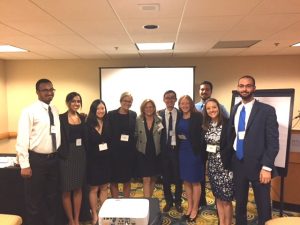 Students and their advisor, Dr. Judy Simms-Cendan, gave two poster presentations and a workshop that included information on using simulations for global health education and how to organize groups of interprofessional students both locally and abroad to care for people in need.
Dr. Simms-Cendan said students conducted their training sessions "as well as any seasoned faculty member. The faculty from other institutions were thoroughly impressed and reached out directly to our students for connecting with their own global health programs."
The UCF workshop "Transforming Global Health Education with the Utilization of Simulations and Workshops to Address Neglected Tropical Diseases" looked at how students used simulations during their 2016 global health conference on neglected tropical diseases. The day-long event for about 200 medical, social work, nursing and pharmacy students had volunteers moulaged with makeup to portray common dermatological presentations of tropical diseases. Cardiopulmonary mannequins portrayed chronic Chagas disease. Students set up a field hospital so participants could simulate rounds with medical students portraying patients. The goal of these simulations was to give students participants a first-hand learning experience with the manifestations of neglected diseases.
As part of the workshop, UCF students had participants break into small groups and brainstorm simulated experiences that would mimic global health issues and then share their ideas. As workshop leaders, College of Medicine students said they also received great ideas that can be applied to their 2017 Global Health Conference that will be dedicated to the impact of climate change on health.
"It was a humbling experience," said second-year UCF med student Michael Mankbadi, who helped lead the workshop. "We were able to show physicians, residents and fellow students how a very young school could put on a global health conference with very limited resources. Participants were happy to see students involved in this work. Many asked if we got class credit or grades for our efforts. They were excited and a little surprised that we do this on a voluntary basis."
The student posters focused on how interdisciplinary students organized medical outreach to impoverished areas. "A Model of Sustainable and Interdisciplinary Approaches to Patient Health in Underserved International Communities" identified how UCF medical, nursing and engineering students joined University of Florida pharmacy students, their faculty and local physicians and dentists to travel to the Dominican Republic and set up clinics at churches and schools in rural areas. The presentations identified how UCF medical students created electronic health records to track the care of patients over time and how students developed the language and cultural competency skills to care for patients. Another poster, "Addressing Health Care Needs in Apopka, Florida Through Medical Service Learning," examined how teams of interdisciplinary students established clinics for local farmworkers. There, students saw about 200 patients – ranging in age from a few months old to over 80 years – during a two-night clinic. Students are planning a similar event in November.
The American Academy of Family Physicians (AAFP) was founded in 1947 to promote the science and art of family medicine. It is one of the largest medical organizations in the United States, with over 100,000 members. Its Center for Global Health Initiatives was created in response to members' high and growing interest in global health and to promote patient centered care on a global scale. The center held its annual workshop September 8-10.
Post Tags