College of Medicine

Diversity

Faculty News

Students

UCF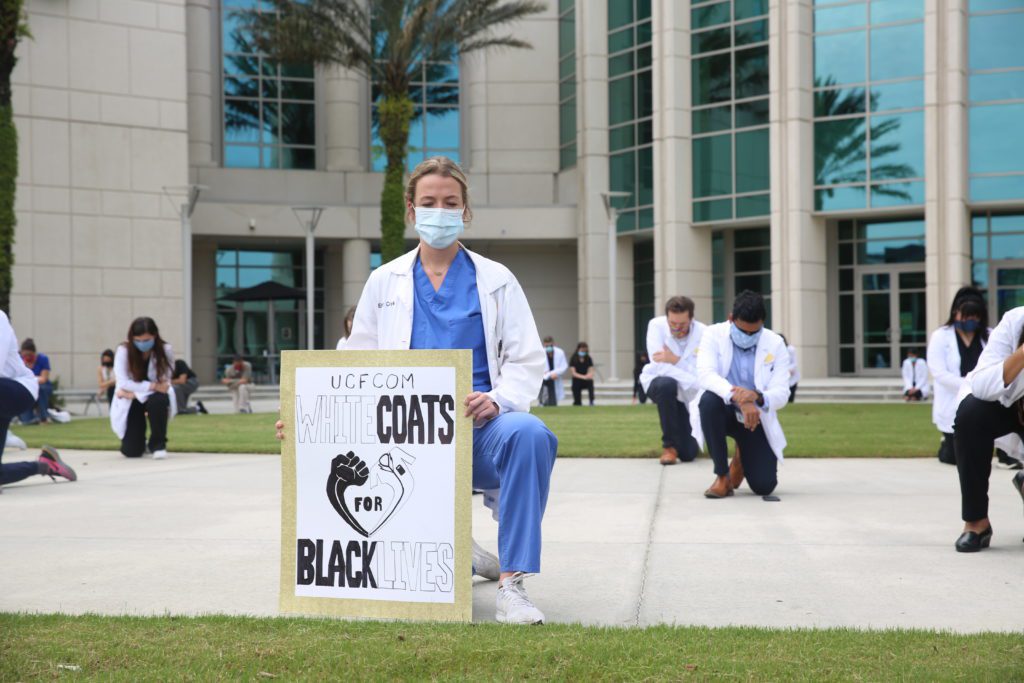 UCF medical students Lake Lindo and Joshua Salzman have known each other since kindergarten – they grew up together in Orlando, played YMCA basketball together. And on Tuesday, Lindo, who is black, and Salzman, who is white, knelt next to each other on the College of Medicine's green for 8 minutes and 46 seconds to honor the life of George Floyd and protest police brutality.
They were part of a "White Coats for Black Lives" event organized by students and attended by community physicians and medical school staff and faculty, including Dean Deborah German. Participants kneeled in silence for the amount of time a Minneapolis police officer knelt on Floyd's neck during an arrest on May 25, killing him.
Lindo and Salzman said they talk often these days about how their life journeys – similar in many ways – are vastly different because of race. "As a white male, it's important for me to publicly acknowledge racism," Salzman said. "My experience may not be the same as Lake's but at this point in our history, as a nation we all must act. We have been silent for too long."
Lindo also received his undergraduate degree at UCF and helps lead the university's chapter of the Student National Medical Association, which represents minority medical students. As a leader in the medical school's Arts in Medicine program, he's organizing a chalk art event where people can share their support for equality, justice and humanity. "I appreciate that people came together today to show unity," he said. "This is a difficult time."
White Coats for Black Lives is a national movement as healthcare providers and medical students support Black Lives Matter. One UCF student sign read, "Racism is a public health crisis."
"It was important for us to do this event to not only stand in solidarity with the black community and Black Lives Matter movement but to showcase that we as a school are committed to doing our part to dismantle systemic racism within the institution of healthcare," said rising fourth-year student Yasmeen Elsawaf, who helped organize the event. "We recognize this is a public health issue that affects our black healthcare workers and black patients daily so we need to speak up and advocate for this community."
Dr. Katherine Daly leads counseling and wellness services for UCF medical students. She said she attended "White Coats for Black Lives" to offer support, noting that black medical students feel increasingly isolated because they are so underrepresented in medical school as the nation battles racism, racial protests and COVID-19. "For many students there is a kind of collective grieving," she said. "It's important we are all aware of that pain."
Rising second-year medical student Shani Pennant agreed.
"It's very important to know that we have a show of solidarity, and that the medical community stands behind us, especially with all the health disparities that we face as African Americans here in America," she said.
"For everyone to come out and show that Black Lives Matter, that they actually can stand for us and that they're willing to put their face to the cause, to me, is invaluable," Pennant said. "It also gives me a chance to show my face, to show that black people can be doctors too. We have the ability to do anything if given the chance. And I think that's a very important message to send to the community and to other people in the United States."
Medical student Spencer Adams brought his son Matthias to the event. The 4-year-old beamed as he wore his tiny white coat, proclaiming "I'm a doctor." He took a knee with his father and appeared to be praying. Adams said it was important to show his son love in action – not just in words.
"I want him to know that it's not enough to just sit around the kitchen table and talk about racism and inequality," the rising third-year student said. "We must take action. That's what love directs us to do."
Post Tags
black lives matter

diversity

inclusion

Joshua Salzman

lake Lindo

students