College of Medicine

Communique

Faculty News

Global Health

Medical
Dr. Marcy Verduin has spent her career leading medical students and caring for patients with mental health conditions. Now she is sharing that expertise with the world.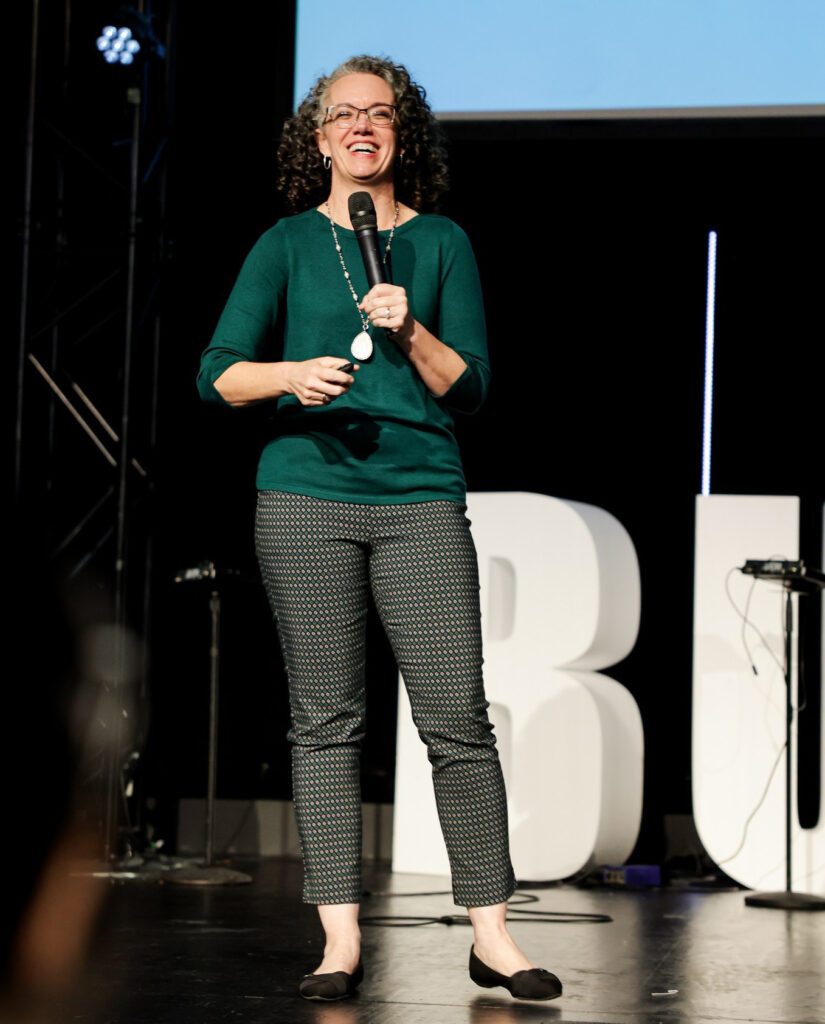 Dr. Verduin, associate dean for students at the College of Medicine and professor of psychiatry, is speaking to international audiences in person and via Zoom about depression, anxiety, PTSD and how to seek help for those conditions. To date, she has reached several thousand people, including members of the clergy, business people, non-profit leaders, medical and nursing students in the Philippines, Japan, New Zealand, Australia, Fiji and Nigeria
Her message: The brain can become diseased like any other organ in the body, and no one should be stigmatized for seeking mental health care. Mental health conditions are much like diabetes, she told a Nigerian audience of 300 at a recent webinar sponsored by Rehoboth Dream Solid Foundation, a non-profit that advances social and economic well-being among the less privileged.
"Mental illness is not in your head, a moral failing, laziness, sin or lack of faith," she told them. "You can't ask your pancreas to make more insulin (if you are a diabetic), as much as you can't say 'don't be depressed.'"
Stigmatization and lack of access to care are key issues across the globe in treating mental health conditions. About 1-in-4 people in Nigeria suffer from some sort of mental health issue, from general anxiety to suicidal thoughts. Yet the nation has only about 300 mental health professionals to serve a population of 218 million, so many people go without help or don't even know they have a problem. One of Dr. Verduin's goals in her presentations is to help laypeople understand more about mental health so they can recognize issues in themselves, their family members, friends and colleagues.
The idea of her seminars began with her pastor, Rev. Keith Tower of HighPoint Church in Orlando, who realized that religious leaders were increasingly counseling their members about depression, anxiety, stress and loneliness during the COVID pandemic. Pastor Tower helped organize the Every Nation Church Conference in 2021 that addressed the pandemic's emotional impact on clergy and their congregants. "We needed help for the helpers, who help others, and so they can also help themselves," he said.
Dr. Verduin, a nationally recognized psychiatrist and academic leader, spoke for two hours and in front of 500 attendees at the Every Nation conference. She showed brain scans to illustrate what happens to the brain during depression and the changes that can happen after therapy. That talk inspired the presentations she is now making worldwide.
During the webinar in Nigeria, guest Omon Anenih-Mordi, an accomplished interior designer, spoke about her struggles as a high-performing businesswoman who had struggled with anxiety and depression for years.
"Some people don't know what it is or think it's normal and a cross to bear," she said, "but it doesn't have to be that way."
Anenih-Mordi explained that in rural areas of her country mental illness is even less understood. "They see mental diseases as being possessed by evil spirits or don't accept clinical help as they do not admit that they struggle."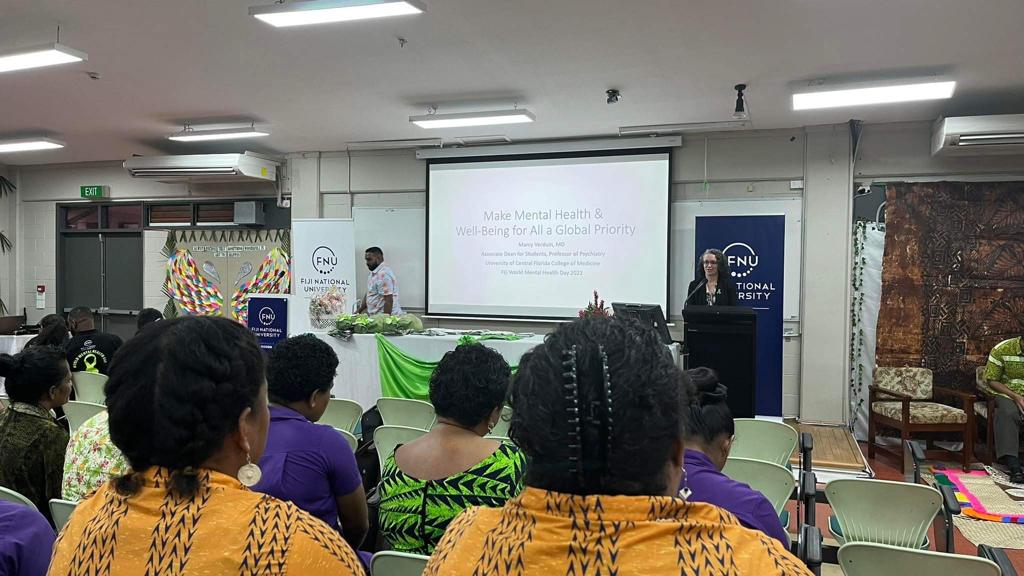 Dr. Verduin tried to dispel those ideas by explaining mental disorders and the physical symptoms that can accompany them, including heart palpitations, headaches, loss of appetite, insomnia and a weakened immune system. She said COVID-19 brought mental health to the forefront for many.
"We take good mental health and well-being for granted," she said, "but COVID- 19 showed us how serious mental health is, from, grief, loss, lockdown. It was the perfect storm for developing new mental health symptoms, and isolation may have helped us recognize our own mental health for first time."
In Fiji, she was the chief speaker for World Mental Health Day. Dr. Verduin spoke about the importance of combatting the stigma associated with mental health at an event attended by students, faculty, leaders from the Ministry of Health, the World Health Organization and the United Nations. She was also the plenary speaker at the BUILD Oceania Conference, a gathering of religious leaders and volunteers from that region in Australia and spoke about overcoming trauma at community events
She provided symptoms and explained treatments – including counseling and medication — and gave advice on knowing when to seek outside help. She talked about realizing it's OK to say you're not OK, that everyone struggles, and that gratitude can be a powerful anecdote to overwhelm and stress.
"I am simply blown away by the opportunity to share my passion for mental health with so many people around the world," she said. "I love helping people find freedom from the unnecessary shame that all too often accompanies mental health challenge."
Dr. Deborah German, vice president for health affairs and dean of UCF's College of Medicine, applauded Dr. Verduin's efforts. "Dr. Verduin is an extraordinary teacher at our medical school," she said. "Now she is broadening her reach and is using her expertise to educate communities across the globe on the importance of mental health to overall well-being. She is showing our students first-hand what it is to be one of The Good Doctors – a UCF tradition."
Dr. Verduin is a founding faculty member at the medical school and has worked with veterans at the Orlando VA Medical Center who suffer with mental health conditions including addiction. She is also a psychiatry consultant at UCF Health, the College of Medicine physician practice.
She is the past president of the Association for Academic Psychiatry, is currently the second Vice President of the American College of Psychiatrists, and the Chair-Elect of the national Group on Student Affairs for the Association of American Medical Colleges.
Post Tags