Burnett School

Cardio-Metabolism Division

Faculty News

Research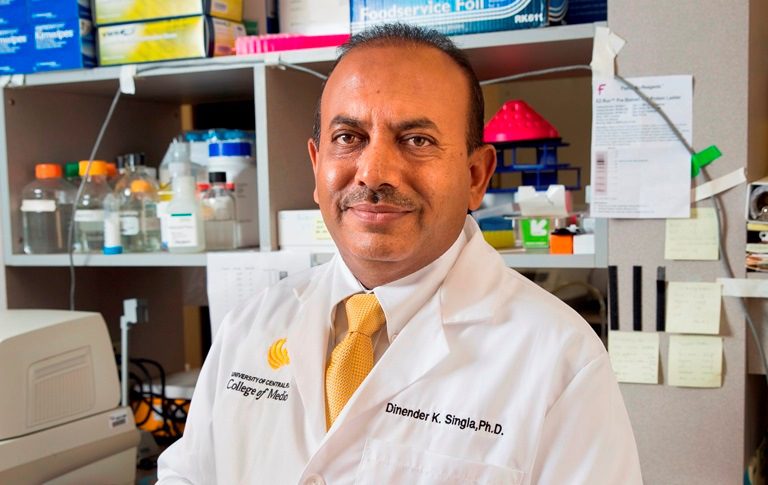 Brain fog, difficulty concentrating and forgetfulness are common complaints among many cancer patients who have undergone chemotherapy. But while "chemo brain" affects about 75 percent of cancer patients, according to the American Academy of Neurology, the connection between cancer treatment and cognitive function has remained unclear – until now.
College of Medicine researcher Dr. Dinender Singla has received a supplemental grant from the National Institutes of Health to explore how Doxorubicin — a commonly used chemotherapy drug – negatively impacts the brain. Dr. Singla, who holds the AdventHealth chair in cardiovascular science, theorizes that inflammation induced by exposure to Doxorubicin causes "chemo brain" and later in life may cause Alzheimer's disease and dementia in cancer patients treated with the drug.
To confirm this theory, Dr. Singla recently received a $370,000 addition to his $3 million grant from the NIH to study Doxorubicin and its harmful effects on the heart and muscles. It was during that research that Dr. Singla noticed cell death in brain cells exposed to Doxorubicin and wanted to take a closer look.
Doxorubicin is one of the most effective anti-cancer drugs but has been proven to have harmful side effects including heart and muscle damage. With more cancer survivors living longer, physicians have also noticed cognitive decline in these patients that has adversely impacted their quality of life.
"There are well published studies in clinical patients that show an increase in brain tiredness, decrease in attention and ability to execute functions, cognitive decline and dementia," Dr. Singla said. "This is caused by various neurochemical alterations, oxidative stress and abnormalities in the brain which is linked to cell death and dysfunction."
In his preliminary studies, Dr. Singla measured the pathology and brain function of mouse models treated with Doxorubicin. He found that exposure to the treatment caused a "tangling" of neurons, vacuoles or holes in brain cells and the presence of Hirano bodies – proteins usually found in the nerve cells of Alzheimer's patients.
"We also observed a significant decrease in brain weight and size, suggesting atrophy or shrinkage in the brain," Dr. Singla added.
As Alzheimer's and dementia are age-related conditions, the next phase of the study will examine the role of aging in the development of cognitive decline in piatients receiving Doxorubicin.
Knowing the mechanisms of how Doxorubicin affects the brain will help researchers to develop therapies to prevent or even reverse chemo brain. Dr. Singla said his lab will explore the use of stem cells as a potential solution. His lab is currently researching the use of stem cell therapy to repair heart and muscle damage after chemotherapy.
"Thanks to Doxorubicin, cancer patients are living longer," Dr. Singla said. "Recent data reported by American Cancer Society suggest that there are approximately 15 million cancer survivors in the U.S. who have received chemotherapy, and a significant number of this population are young adults with many years ahead of them. So, our goal is to understand their pathology and provide new therapeutic options so their quality of life can be improved."
Post Tags