Burnett School

College of Medicine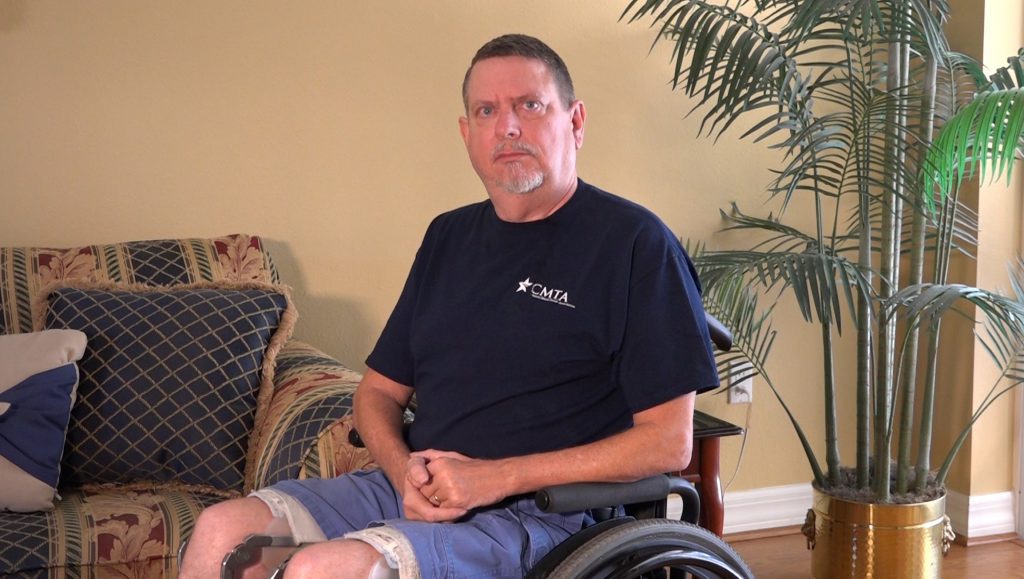 Ed Linde always wore long pants as a young man "to hide my skinny legs and cover my braces" because of Charcot-Marie-Tooth, or CMT. The neurological disorder is more prevalent than Lou Gehrig's disease, and it runs in families – Linde's mother, uncle, sister niece and, most recently, his son suffer the condition's nerve and muscle degeneration.
A UCF College of Medicine researcher recently discovered that a deformity in the way motor neurons connect with muscles during a person's first years of life may be connected to the peripheral nerve damage CMT patients eventually suffer. That nerve damage causes muscles to atrophy and normal movement to become difficult.  By understanding that process, Dr. Stephen King hopes researchers are a step closer to creating better treatments for the disease, which affects one in every 2,500 Americans but has no cure.
CMT nerve damage is usually in the arms and legs, resulting in small, weakened muscles. Many patients have deformed feet, with high arches and hammertoes, which make walking difficult. Linde's symptoms began at age five. He underwent physical therapy and wore splints at night. At eight, doctors fused the three joints of his ankle, leaving it difficult for him to walk. At 30, he received his first pair of leg braces. Later, he started walking with a cane, and now uses a wheelchair.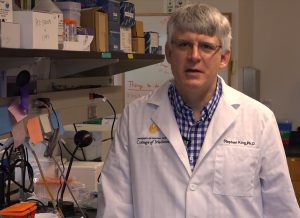 Dr. King, an associate professor at the College of Medicine's Burnett School of Biomedical Sciences, said a genetic mutation in a cell protein called dynein is associated with CMT symptoms. Dynein normally helps move structures within cells, and it's not yet clear what causes the gene to mutate. But that mutation causes malformations in the juncture between neurons and muscles.  Dr. King was able to re-create the genetic mutation in his lab and apply it to a mouse model. That allowed him to see how CMT develops and causes worsening movement problems over time, the first step in developing potential targets for treatment.  "I think this may give us a better handle on understanding how the disease starts, and what may cause the ultimate degeneration later," he said.
Dr. King's work is supported by a grant from the National Institutes of Health and was published earlier this year in Scientific Reports.
One of the challenges of CMT is that it is often misdiagnosed; doctors originally told Linde's mother she had polio before diagnosing her CMT. Today, Linde, a technical product manager, helps lead Tampa Bay's Charcot-Marie-Tooth Association, which is dedicated to educating the public and physicians about the disease and raising money for a cure.
Linde has stayed active despite his condition but described the pain of watching his 28-year-old son's disease progress so quickly. The father hopes his active lifestyle will be an inspiration to others.
"It's one thing for me to have it, and I've accepted it," he said. "But to pass it on and watch your child with the struggles and difficulties that come with it – it's hard. It's very easy to get depressed at a young age when you can't do what you want to do. People my son's age need to see that I don't let the disease hold me back."
Linde is president of the Florida Wheelchair Bowling Association, rides a motorcycle and still enjoys dancing with his wife of 30 years, Vicki. "When I couldn't stand any more, or walk, I went out and took wheelchair dancing lessons," he said.
He's cautiously optimistic that biomedical research like Dr. King's will lead to better treatments for CMT patients.
"I would say to him, 'how can we support you?' It's a common disease, but not one that's regularly heard about," he said. "So, we need to bring awareness of new medical research to our community. There is no cure yet, but hopefully someday there will be."
Post Tags
Charcot-Marie-Tooth disease

CMT

Dr. Stephen King