Burnett School

Cancer Division

College of Medicine

Communique

Diversity

Faculty News

Research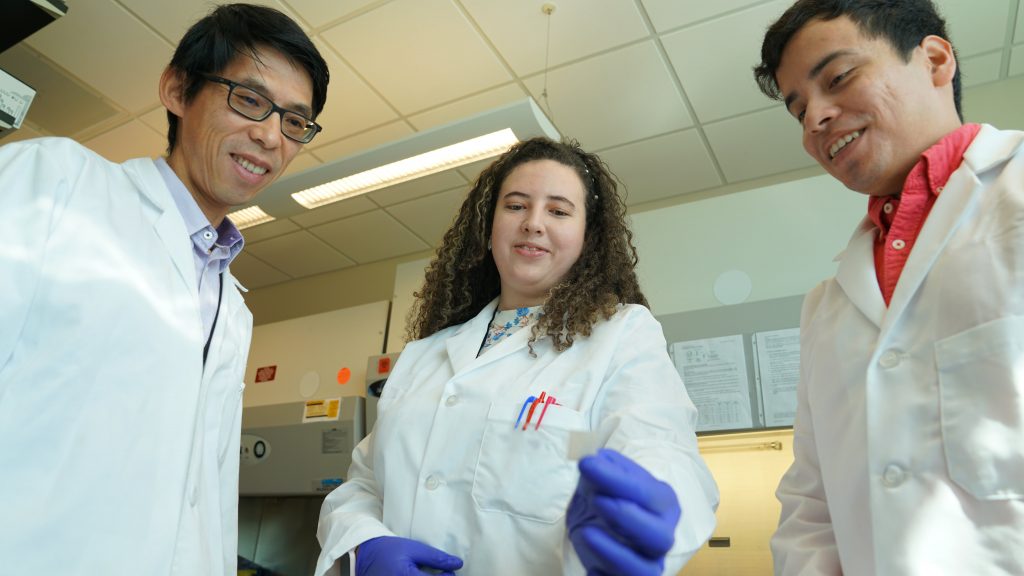 A UCF researcher is developing a novel therapy to combat lung cancer — the third most common cancer in the United States.
The research, published in the British Journal of Cancer, was an international collaboration led by Dr. Wencai Zhang, a College of Medicine cancer researcher, along with scientists from UCF's College of Engineering and Computer Science, Harvard Medical School, the National Research Council from Italy and Yale University School of Medicine.
Dr. Zhang and his team are focusing on using acadesine, also known as AICAR, a substance produced naturally by the body that helps regulate metabolism. They have shown AICAR can target a specific protein in the body that causes lung tumors to grow and also can help kill drug-resistant cancer cells.
Killing approximately 15 people an hour, lung cancer is deadlier than any other cancer in the United States. Lung cancer is usually caused by a mutation in EGFR (epidermal growth factor receptor), a protein that helps cancer cells to grow. About 10-15% of lung cancer patients in the U.S. have EGFR-positive lung cancer and usually have minimal to no smoking history.
The mutation in the EGFR gene can make normal cells grow too much, which can ultimately cause cancer. Current therapies use tyrosine kinase inhibitors to block mutant EGFR signaling in patients with EGFR mutations. While these therapies have improved survival rates, lung cancer cells are evolving to become more drug-resistant.
That's why Dr. Zhang is investigating acadesine as a new therapeutic. AICAR can be manufactured in the lab and is already used clinically to treat and protect against cardiac disease from blocked arteries and is being studied as a therapeutic agent to treat metabolic disorders like diabetes.
"Our data has demonstrated that treatment with AICAR or acadesine, dramatically reduces tumor growth by inducing cell death and increasing DNA damage in EGFR- mutant lung cancer cells," Dr. Zhang said.
Dr. Zhang and his team found that the AICAR binds to MUC1-CT, an oncoprotein that plays a critical role in lung cancer progression, making it a promising drug target for killing tumors.
"Lung cancer patients with a higher expression of MUC1 usually have a shorter survival rate," he said, "So finding new compounds that directly block MUC1-CT will offer novel opportunities to treat MUC1-dependent lung tumors."
The next steps in the research will be to utilize AICAR to create better molecules that can effectively target oncoproteins in lung and other cancer types.
Dr. Zhang joined the College of Medicine in 2019. He received his Ph.D. in Medical Science at Fudan University. His research is focused on studying molecular mechanisms of tumor initiation and progression in lung cancer.
Post Tags
cancer research

lung cancer