College of Medicine

Communique

Faculty News

Hospital

UCF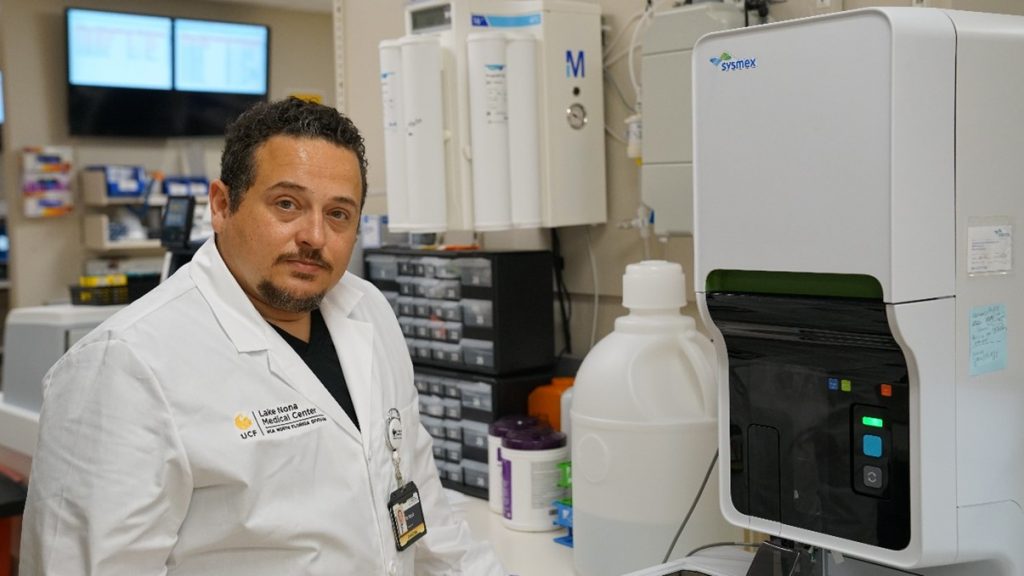 UCF researcher Hatem Kaseb is advancing medicine's understanding of the genes involved in Acute Myeloid Leukemia (AML), one of the most aggressive and deadly forms of the disease. In this study, Dr Kaseb and his colleagues assessed NPM1 genetic mutations in Non-AML Myeloid Neoplasms, assessing the role of this mutation in AML disease progression.
In collaboration with the Cleveland Clinic and Wake Forest Medical School, Dr. Kaseb and his team reported novel mutations in the NPM1 gene that can help identify better and earlier the specific type of leukemia a patient could have, leading to better patient outcomes.
Their findings were recently reported in Genes, Chromosomes and Cancer, one of the highly regarded journals in cancer genetics.
The differences between leukemias are dramatic in terms of severity and mortality. Acute Myeloid Leukemia has a five-year survival rate of less than 30 percent and may be as low as 15 percent in patients over age 60. In contrast, the five-year survival rate for the milder Chronic Myeloid Leukemia (CML) is almost 90 percent. Dr. Kaseb's focus is finding better ways to diagnose the exact type of leukemia.
"AML cans be caused by a lot of precursor non-AML myeloid neoplasms, which in turn are caused by mutations in certain genes, like NPM1," explained Dr. Kaseb. "If we look at these gene mutations and compare these to mutations in patients with non-Acute Myeloid Leukemia, we can see clear and significant differences."
Identifying these differences is key, and physicians must be sure the detection method they are using is effective.
"There is a proposal to assess leukemia using immunohistochemical markers instead of examining the genes because it is cheaper and is easily accessible. However, our research shows that a lot of these genetic mutations would not be detected by this approach. If we let these mutations pass us by, we miss the opportunity to catch and properly treat the leukemia."
Dr. Jane Gibson, UCF's newly named Pegasus Professor, is a cancer geneticist at the College of Medicine. She said her colleague's discovery could get help acute leukemia patients get diagnosed sooner and keep chronic leukemia patients from getting unnecessarily harsh treatments.
"If you have a more aggressive leukemia, you want to meet that with a more aggressive type of chemotherapy, but that treatment ends up being more toxic for the patient as well," she said. "However, if we can examine your genes and see that it is likely a less aggressive form of leukemia, you may not have to do such a harsh treatment."
Dr. Kaseb said that as knowledge of gene mutations continues to expand, scientists will have a better and more accurate understanding of diseases like cancer.
"10 years ago, we thought 'you have a mutation in this gene, that's it, it's either good or bad.' Now we understand that it is not that simple," he said. "We are seeing that different forms of gene mutation can be favorable in one way and unfavorable in another way. Further, the number of significant gene mutations in a patient may help understand the patient's disease. While this means these issues are more complex than we realized, and can feel like a step back, it is a step toward improving our understanding."
Next, Dr. Kaseb and his team plan to expand this research and continue to grow our understanding of the complex topic of genetic mutations.
Dr. Kaseb said he was especially honored to be published in Genes, Chromosomes and Cancer, which was founded by the late Dr. Janet Rowley, one of the pioneers of cancer genetics and the first researcher to link leukemias to chromosomal alterations. "Dr. Rowley was the first scientist to discover that cancer is a genetic disease," he said.
Dr. Kaseb is a board-certified pathologist who comes to UCF having been trained in the Cleveland Clinic, where he first began this research. He completed his M.D. at the Cairo University School of Medicine and his Ph.D. in human genetics at the University of Pittsburgh. His past work in gastrointestinal pathology has been published in the highly regarded natural sciences journal Nature Communications.
Post Tags
Leukemia

Research

UCF Lake Nona Medical Center