mili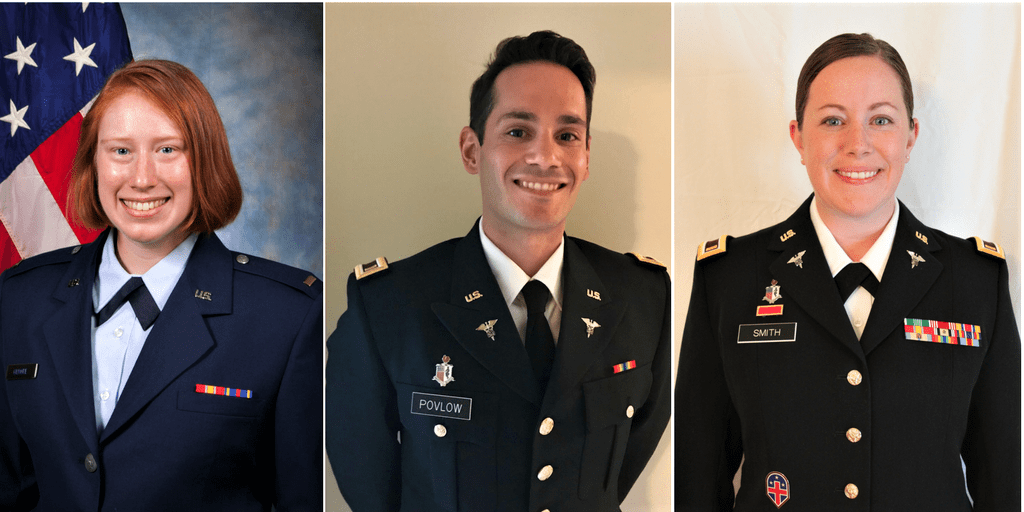 Michael Povlow has always had "inner calling" to serve his country and that's why he joined the Army before going to medical school.  And when he graduates next May, he will have the opportunity to do even more. Povlow has selected to do his graduate medical education training in radiology while caring for the nation's military at the San Antonio Military Medical Center.
"These are the people who deserve my care the most," he said. These are the men and women are putting their lives on the line every day and for me to just be able to do something for them, to help them heal from their injuries and really take care of them the best way that I can is exactly what I want to do."
Povlow, a second lieutenant, is one of three UCF College of Medicine students who matched into military residencies on December 13.  All three were recipients of the military's Health Professions Scholarship, which covers tuition and living expenses for medical students who agree to serve their country for one year for each year of scholarship. Students match into residencies at military hospitals or do their service after civilian residencies.
Military match is typically held several months before the National Match Day in March, where thousands of medical students nationwide learn where they will do their residency training. For the match, medical students select their preferred residency program while residency programs at universities and hospitals list their top picks. Then a centralized computer spends weeks sorting and coming up with the best "match."
Second lieutenant Melissa Smith served as combat medic and later an army nurse prior to medical school. She matched into the Madigan Army Medical Center in Washington where she will train in urology.
"I love Army medicine and it's a big honor to be a part of the medical corps, so to be able to go back and serve as an Army physician makes me very I'm very excited," she said.
"After being a nurse for so long, I wanted to be able to make health care decisions for my patients instead of just following instructions. I love working in urology, because it can really have a big impact not only on an individual's health but also quality of life."
Smith spent a year in Iraq working in the Intensive Care Unit at a combat hospital. While serving she met her husband, Arron, who is also at UCF med student now in his third year.
"I think it's really special that I got to go through medical school with my husband. It's awesome that we got the opportunity to go to the same school and we really had a good time at UCF," she said.
Second lieutenant Lindsay Gilmore joined the Air Force as her way of honoring her grandfather who once served in that branch, and is looking forward to serving military families. She will also train at the San Antonio Military Medical Center in pediatrics.
"I absolutely love working with kids – I'm the absolute happiest around them," she said.  "But with pediatrics, it's not about just treating a child, it's about having an impact on the entire family."
During an away rotation in July, she got the opportunity to work in San Antonio and worked alongside several physicians that she says she now looks up to as mentors.
"I'm very excited about being able to work with them during residency as well as after residency," she said.
But like most medical students, leaving UCF in May will be a bitter-sweet moment for Gilmore who says the last four years have been an "absolutely amazing time".
"I feel like I grew up a lot over the last four years. UCF really challenged and pushes me academically to do my absolute best and there were resources there to help me along the way," she said.
Post Tags
lindsay gilmore

michael povlow

military

MILITARY MATCH

military residency

residency