College of Medicine

Student Affairs

Students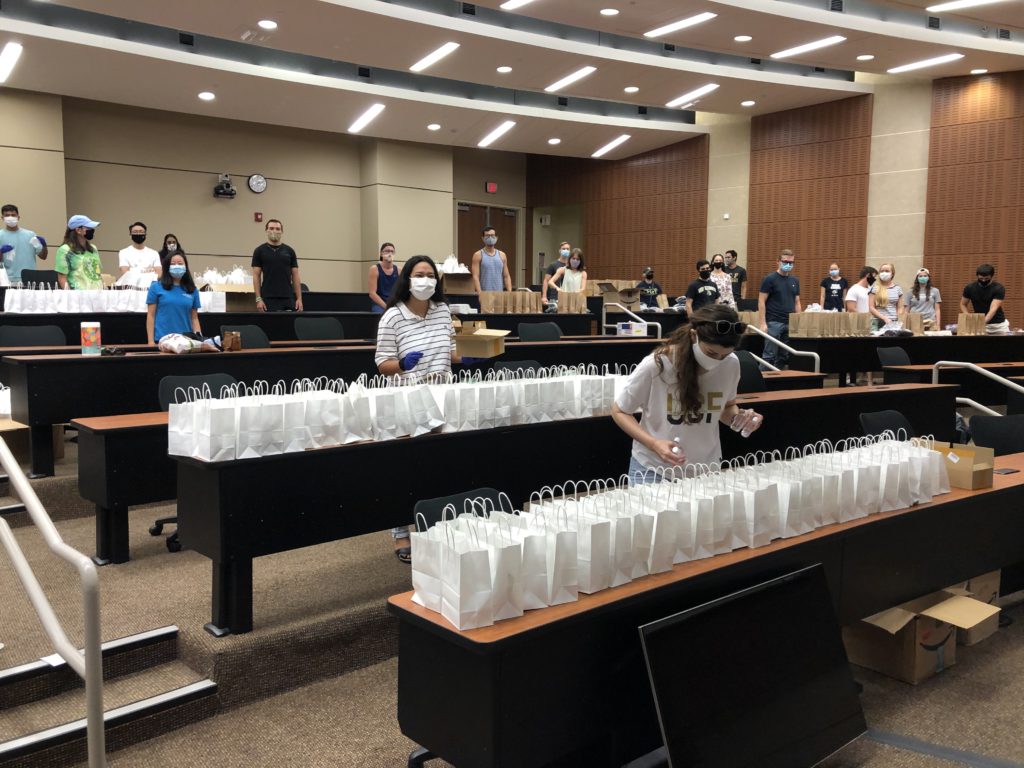 With physical distancing restrictions in place and student outreach like the KNIGHTS and Chapman Clinics reducing services during the pandemic, UCF medical students have come up with new ways to serve the community.
To help reduce the spread of the coronavirus, students have created "COVID Combat Kits" containing digital thermometers, facemasks, hand sanitizer and hygiene products to give to vulnerable populations. Funding for the kits came from the Rotary Club of Lake Nona through a grant from the Penelope and Winton (Lt. Col. USAF Ret.) Wilson Fund at the Central Florida Foundation to buy 500 smart thermometers. The thermometers work with cell phones to collect data from temperature checks that county health departments can use to monitor potential virus outbreaks.
On Saturday from 10 a.m. to 2 p.m., medical students will distribute up to 150 kits at a drive-through event at Shepherd's Hope, a non-profit clinic in Winter Garden.
"We are all chomping at the bit to help the community," said Sarah Baker, second-year medical student who is leading the initiative. "We had more than 50 students show up to package hundreds of kits last month, which was a great turnout."
The goal is to get free COVID-19 preventative supplies to more families in need, keep coronavirus infection rates down and remind people to maintain hygiene precautions.
"With the growing rate of unemployment and the increasing loss of healthcare coverage due to COVID-19, it is vital that organizations in the community join forces to meet the needs of the uninsured and under-insured," said Abby Rice, vice president of operations at Shepherd's Hope.
COVID Combat Kit distributions are also planned for the college's student-run clinics such as KNIGHTS, a clinic for Orlando's uninsured at Grace Medical Home, a clinic serving the Apopka Farmworkers Association, and the Chapman Compassionate Care clinic that serves downtown Orlando's homeless.
The long-term plan is to distribute as many as 17,000 smart thermometers in five Central Florida counties to provide data on the spread of the virus and serve as an early warning system on the community's health.
"I've always been passionate about health care for the underserved," said Baker, who worked in public health for 12 years before starting her medical education at UCF. "It's important to provide the most vulnerable populations with tools to protect themselves and their families."
Post Tags