College of Medicine

Diversity

Global Health

Medical

Student Affairs

Students

UCF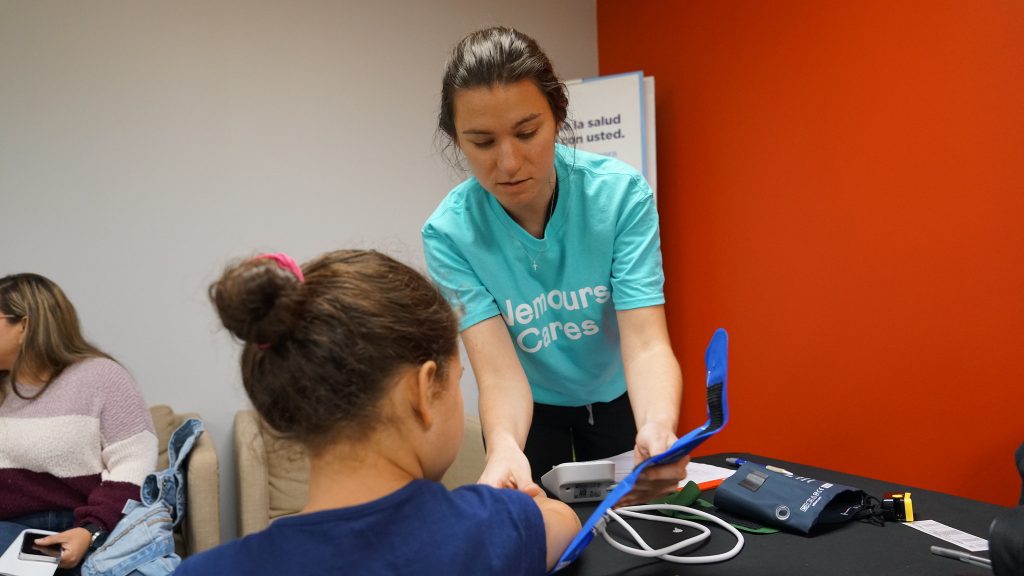 Second-year medical student Carolyn Rapp, who has volunteered to bring health services to Orlando's uninsured adults and children, has earned the prestigious 2023 Excellence in Public Health award from the United States Public Health Service (USPHS) Physician Professional Advisory Committee. The award recognizes medical students across the nation who advance public health and exemplify its mission to protect and promote the health and safety of our nation.
"Addressing health disparities has always been the underlying theme for every project I've been a part of, starting with my FIRE (Focused Inquiry and Research Experience) research which focused on racial disparities in breast cancer survival rates," said Rapp.
Rapp volunteers at UCF's Apopka Farmworkers Clinic and the Nemours Children's Health Mobile Clinic.
Once a month on Saturday mornings, Rapp takes time out of her busy class schedule to volunteer at the Nemours Children's Health Mobile Clinic, which offers health checks to underserved children, many of whom are Spanish speakers. She greets the young patients and chats in Spanish as she takes their vitals.
During her second year as the service co-director of the Apopka Farmworkers Clinic, Rapp recognized that English language proficiency was a huge barrier for Spanish speakers seeking healthcare.
"Having doctors who can even attempt to interact with patients in their native language improves trust and the patient care experience. Medical Spanish can help students improve their confidence in communicating with patients and encourage them to put their skills into practice no matter what level of Spanish they have," she said.
To encourage fellow students to learn medical Spanish, Rapp took on the role as the first College of Medicine Vanguard Medical Interpreting Coordinator, focusing on the training, certification and scheduling of student Spanish interpreters for student run-clinics. She also led the pilot course for medical students to gain Spanish language proficiency certification through an online credentials course.
 Dr. Analia Castiglioni, director of the Apopka Farmworkers Clinic and leader of the medical school's Clinical Skills and Simulation Center, praised Rapp's work, saying it is already positively impacting patient care.
"She secured funding for the Medical Spanish Interpreter Certification tests for 22 medical students, growing the pool of medical Spanish for COM's service-learning clinics," said Dr. Castiglioni. "Carolyn has been instrumental in the efforts to promote language interpretation resources as part of the UCF College of Medicine."
Rapp's Spanish language program was presented nationally at the Southern Society of General Internal Medicine in February 2022.
"The impact of her work goes beyond her tenure as a student at the COM, having set a path for others to engage in Spanish interpretation and better care for patients in our community," said Dr. Castiglioni.
Dr. Marcy Verduin, associate dean of students, praised Rapp's commitment to serving the community. "This award showcases the incredible accomplishments that Carolyn has had in her commitment to public service. Whether conducting research on health disparities or piloting a new project to get medical students certified as Medical Spanish Interpreters, her passion and commitment for serving others is palpable. This award is a tremendous honor for both Carolyn and the UCF College of Medicine."
Help us attract the best and brightest students by making a gift to the medical school during UCF's Day of Giving celebration on April 13. To give now, please visit https://dayofgiving.ucf.edu/vip. In the search bar, type College of Medicine and you'll see many specific funds, including scholarships.
Post Tags