College of Medicine

Faculty News
As a UCF medical student, Michael Metzner lived his belief that art plays a major role in healing. Today, as a surgeon, he's taking that passion to prime time as medical advisor for ABC's hit drama Grey's Anatomy.
Linda Klein, the show's co-executive producer calls Metzner "the best thing that has happened to Grey's Anatomy in a long time." And its lead actress, Ellen Pompeo, praises the young physician's collaborative spirit, work ethic and his "intense passion to heal."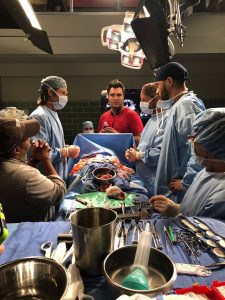 Metzner's role is to ensure that what happens on the television drama is medically accurate – that diagnoses, surgical procedures, symptoms and dialogue are based on real science. He's helped write scripts and has even appeared as an extra. "I tell people I'm the biggest method actor they'll ever meet," he quips.
Metzner graduated from the UCF College of Medicine in 2016. During his tenure at UCF, he led the Arts in Medicine student group, produced a multi-act musical for the holiday showcase, and secured a donated piano for Nemours Children's Hospital that he played for patients and their families. He matched into a surgical residency at University of Texas Health San Antonio and was in his second year of training when his residency director learned that Grey's was seeking a physician to serve as a Medical Communications Fellow. Dr. Daniel Dent immediately thought of Metzner, who spent time as a concert pianist, painter, photographer and stage performer before coming to medical school.
"Our program is very supportive of physicians being involved in the arts," says Dr. Dent, who leads UT Health San Antonio's general surgery program and notes that Sir Arthur Conan Doyle – who penned Sherlock Holmes – was a physician. "Many of us work to improve health care and educate the public, but through the medium of television, Michael has found a way to reach far more people than one can reach by publishing in a medical journal."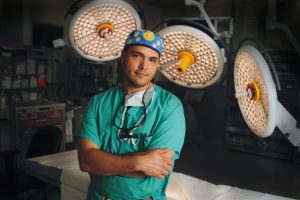 Metzner is living in Los Angeles and will have about two years on the show as part of UT's research curriculum for residents. A typical day starts on the set around 7 a.m. with rehearsals. On a recent day, actors, producers and Metzner went through a scene where physicians were performing laparoscopic surgery. The director wanted to know, "Are the actor's hands in the right place for such a procedure?" "Is the patient situated correctly on the operating room table?" "Are the nurses and the anesthesiologist doing the right things?" Moments later, Metzner was running to the writer's room to be sure that an upcoming script's medical terms were accurate. Hours after that, in post-production, Metzner worked with editors to be sure their changes weren't making the scene medically inaccurate.
He can't talk about future episodes but for a past show, the writer's came up with a theme of "untethered" and asked Metzner to come up with an appropriately themed medical condition. He did – a wandering spleen. The episode featured a pregnant patient whose wandering spleen ruptured, requiring Grey's Anatomy physicians to deliver the baby moments before the mother died.
"I believe arts are a complement to any scientific study," Metzner says, "which is why this experience resonates with me so much." He said helping to create a medical drama has also helped him process his experiences as a resident. "As a surgical resident, I've had plenty of traumatic cases," he said. "And you don't have time to reflect when you're in the middle of them because all of your focus is on the emergency. Grey's has given me the opportunity to process those experiences and see them as a bystander. It's been a cathartic experience that's helped me be more connected to the humanity of medicine."
After residency and fellowship training, Metzner hopes to continue combining surgery with the arts – perhaps as a physician who also produces and writes pieces for television or film. If he combines art and medicine in Hollywood, he'll have plenty of well-known references on his resume.
"I don't know how I did this job the last 15 years without Michael," says Klein.
And Pompeo, who gives Metzner grief for the script's complicated medical terms she has to pronounce, says, "Michael has been incredible to work with. He cares deeply about doing his job to perfection, is a great listener, a great collaborator and an enthusiastic member of our team."
Dr. Deborah German, vice president for health affairs and dean of the College of Medicine, said she was proud of Metzner for following his dream. "Michael's work is a reflection of his longstanding passion," she said. "He exemplifies the goal that we have for each and every one of our students: Follow your passion and pursue your dream. Then you will make your greatest contribution to mankind."
Post Tags
acting

art and medicine

Dean Deborah German

Grey's Anatomy

Michael Metzner

residency