Faculty News

Health Sciences Campus News
Construction of our new UCF Lake Nona Medical Center has begun and it seems appropriate at this time of thanksgiving to share the opportunities that our new hospital will bring to us all.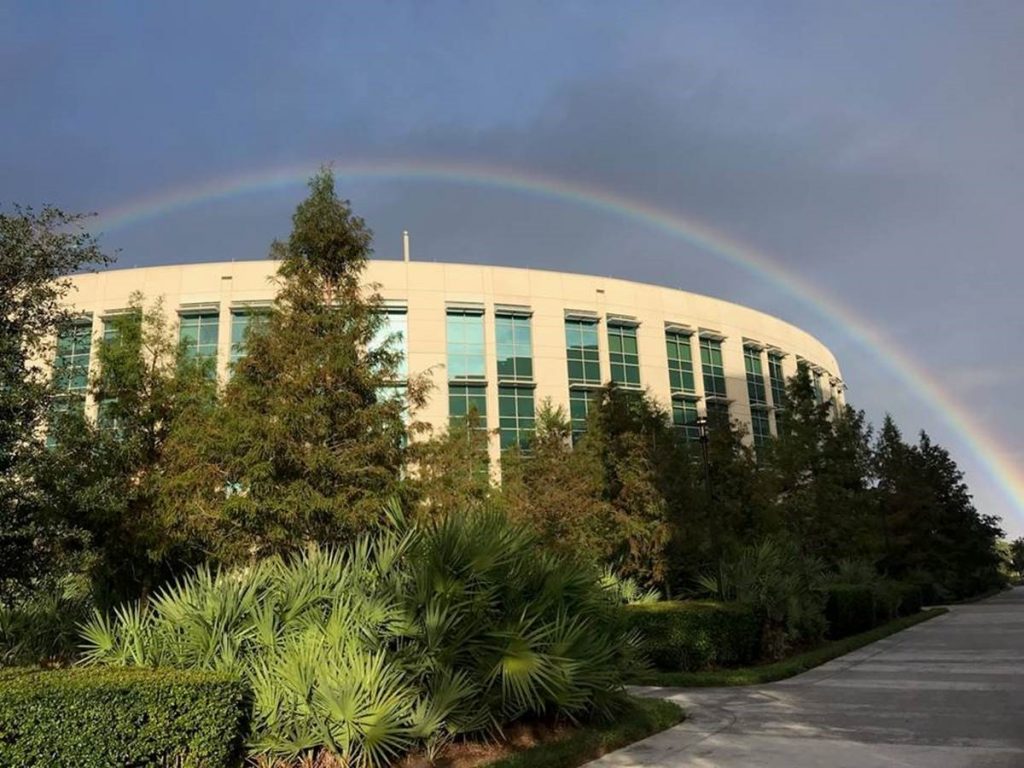 Our October 25 groundbreaking ceremony looked like it might be in a downpour with storms threatening. As we worried about bringing the event inside, an early morning rainbow appeared over our Medical Education Building and that was the beginning of a beautiful day.
President Dale Whittaker commented, "The UCF Lake Nona Medical Center embodies a bold, collaborative spirit that will make Orlando a destination for how health and wellness should be taught and practiced in the 21st century." The hospital provides the foundation necessary to create UCF's new Academic Health Sciences Center that will, over time, bring many of our university's health-related programs to Lake Nona.
The Association of Academic Health Centers defines an AHSC as having at a minimum (1) a College of Medicine, (2) at least one other health profession degree-granting program and (3) a university-owned or affiliated teaching hospital. With the hospital we have all three. We achieve more than the minimal criteria with many health professions degree granting programs and our new UCF Lake Nona Cancer Center, which will take shape over the next two years. We have the opportunity to create a new AHSC for the 21st century. We will expand opportunities in research, education and patient care.
The AHSC was the topic at a recent UCF vice presidents' half day retreat. They wanted to learn more about our AHSC's needs and the opportunities it presents to our university. I shared with them data on how Academic Health Sciences Centers impact patient care, research, education, population health and the physician shortage. We talked about how teaching hospitals have lower mortality rates — even though they care for more complex patients, how they provide care for vulnerable populations and address the needs of diverse, disenfranchised populations, and how they provide the bulk of the nation's residency and fellowship training for graduated physicians. (The mean number of residents at teaching hospitals is 245. The mean number of residents at non-teaching hospitals is zero. We already train 360 residents and will grow to more than 700 in the next two years.)
As part of the presentation, I showed the vice presidents this animation https://youtu.be/C5tRCLENzCU that shows how our future AHSC could look. It will have the teaching hospital and cancer center, along with our partners at the VA and Nemours Children's Hospital. In addition to the College of Medicine and the Burnett School, we'll have buildings for Nursing, CHPS and maybe a College of Dentistry. We'll have centers of excellence in areas such as cardiology, neurology, infectious disease, global health, population health, clinical photonics, health related engineering and more. If we can dream it, and find the right partners, we can do it.
None of this would be possible without you.
Thank you for what you do each day.
I wish each and every one of you a Happy Thanksgiving.
Deb
Post Tags