College of Medicine

Faculty News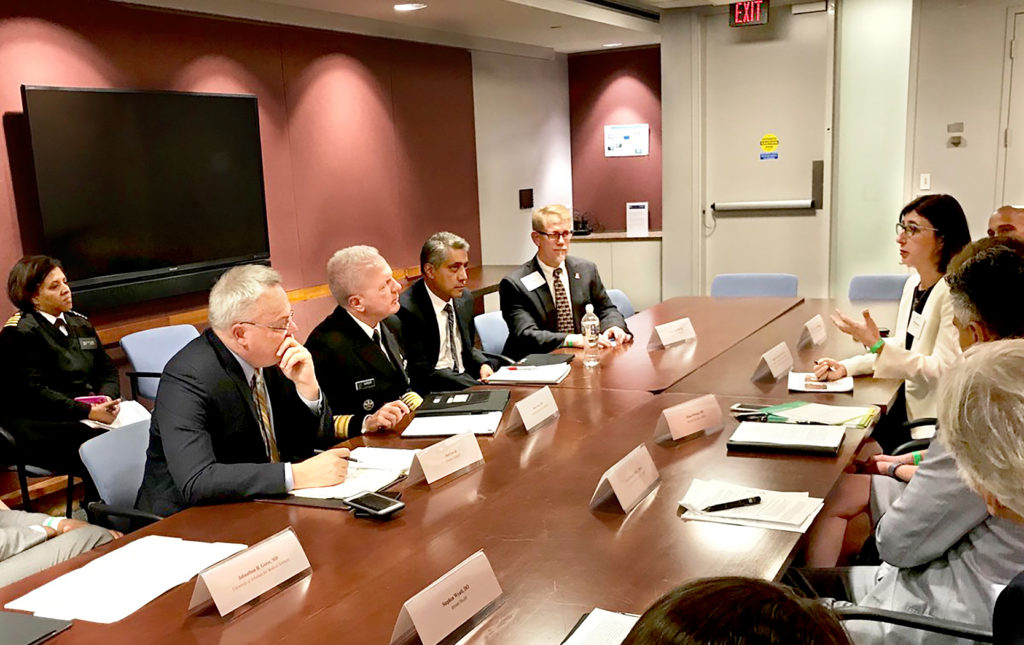 UCF College of Medicine was one of four medical schools in the nation invited to a listening session with White House representatives October 2, on how medical education is addressing the opioid epidemic.
Associate professor of family medicine Dr. Magdalena Pasarica was among a small group of experts including physicians and medical educators invited by leaders of the US Department of Health and Human Services and the White House Office of National Drug Control Policy in Washington, D.C.
The session was held to discuss strategies that medical schools and teaching hospitals are using to enhance content in pain management and addiction across the continuum of medical education. Other medical schools represented were Indiana University, Howard University, and University of Arkansas. Representatives from the Association of American Medical Colleges also attended the session.
"It was a great opportunity for us to have an audience with leaders in medical education and policymakers at the national level," said Dr. Pasarica. "We provided them with examples of what has been working for us and what's missing, and we're hoping this will assist policymaking. They were very impressed with what we do, so it was very encouraging."
During the session, Dr. Pasarica described the longitudinal integration of the opioid curriculum that she helped develop along with Dr. Martin Klapheke, assistant dean of medical education, who was previous invited to share UCF's curriculum with leaders in Washington D.C. in 2016.
"We integrate opioid education across all four years of medical school and even into residency," Dr. Pasarica said, "and we even offer continuing medical education for physicians already in practice."
UCF is one of 60 medical schools in the nation – and the only one in Florida – that made a pledge in 2015 to teach medical students, in all years, about the dangers of prescribing opioids in an effort to curb the growing epidemic of prescription opioid and heroin abuse. According to the Centers for Disease Control, more than 60 percent of drug-related deaths in the U.S. involve an opioid, and in Florida, at least five people die from an opioid overdose every day.
Most heroin addicts became addicted after misusing prescription opioids like OxyContin and Vicodin, and so the College of Medicine revised its curriculum about a year ago to give students more information on when and whether to prescribe opioids, in cases such as for chronic pain and arthritis.
They learn how to devise strategies to reduce the risk of addiction. Students train in resuscitating overdosed patients and how to educate family members of addicted patients. They also learn about alternatives to painkillers such as biofeedback and exercise therapy.
"While we train our students from a medical the point of view, we also teach them to teach the families on how to respond when someone has an opioid overdose and how to do the initial resuscitation before they call 911," said Dr. Pasarica.
The White House representatives also endorsed UCF's contribution in creating and sharing educational resources. Dr. Klapheke and Dr. Pasarica have collaborated with faculty from other medical schools to create online learning modules to teach opioid risk mitigation to medical students. Available on the MedEd Portal, the modules have been downloaded and used in over 50 countries.
"We're trying to fight this epidemic with education," Dr. Pasarica said. "Though opioid addiction is not new, it's of much more significance now as the rates of addiction. are very high. So we need to have extra education in this particular field so that when our students become physicians they know how to deal with this problem."
Post Tags