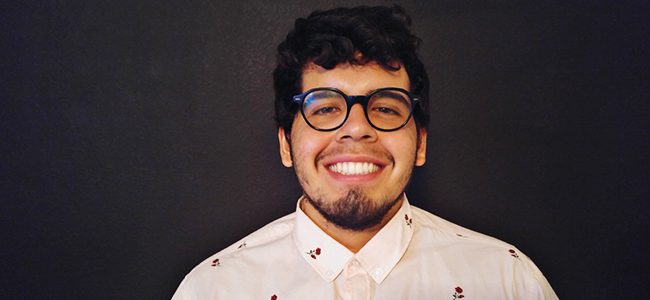 For Pablo Chusan, a UCF psychology and chemistry double major, the road to college started with the College of Medicine's Health Leaders Summer Academy in 2012.
The program, held each year at UCF's main campus during the summer, provides a week of hands-on education for about 30 Orange and Osceola County high school students from underserved areas who are interested in pursuing a health sciences career. This year, the camp runs from July 10-21.
The summer of 2012 had Chusan attending PATHS, a small professional and technical magnet high school based in Kissimmee. As a student there, he had access to medical assisting classes at the nearby Technical Education Center of Osceola (TECO), an adult training institution for entry-level skills in the business, culinary and health science fields. Being a self-described "nerd", he took full advantage of the opportunity to get his foot in the door.
"I'm from humble means," Chusan said. "I came from New Jersey when I was six, and I've known I wanted to go into the health field since about the same time. Before I could spell the word 'doctor' I knew that was what I wanted to be."
"At first I was attracted to the glamor – doctors are super cool and smart. But once I started getting deeper into it, I saw how much they really help people. A doctor may treat one person, but that person has a whole family. You can literally change their lives."
Chusan's guidance counselor recommended he apply to UCF's Health Leaders program.
"When I first saw UCF's campus, it was so big and beautiful, and I was mesmerized for a while," he said.
"I had never seen a real college. People were all here in the pursuit of knowledge. It was pretty humbling."
As part of the Health Leaders Summer Academy, high school students are exposed to lab research at the main campus and the Health Sciences campus at Lake Nona. They also tour local hospitals. Chusan remembers the impact the visit to Nemours Children's Hospital in Lake Nona made on him.  He noticed a mother walking alone with her young son, a patient in a hospital gown.
"I noticed she was in tears, but trying to hide her sadness from him," he said. "And I was like, wow, that must be so tough."
"A mom should never have to worry about a sick child. You just want to be one of those people who can help."
The experience with the Health Leaders Summer Academy left Chusan inspired to help kids. Shortly afterward, he applied to and got accepted to UCF – the first person in his family to make it to college. He's currently conducting research on ADHD and eventually wants to become a child psychiatrist.
"I remembered watching the doctors at Nemours, and how much they affect people's lives, and it just put me in my place," he said. "It just helps put into perspective why you're doing all of this. Being in school is one thing. Seeing what school leads to is a totally different thing."
Post Tags