College of Medicine

Faculty News

UCF Health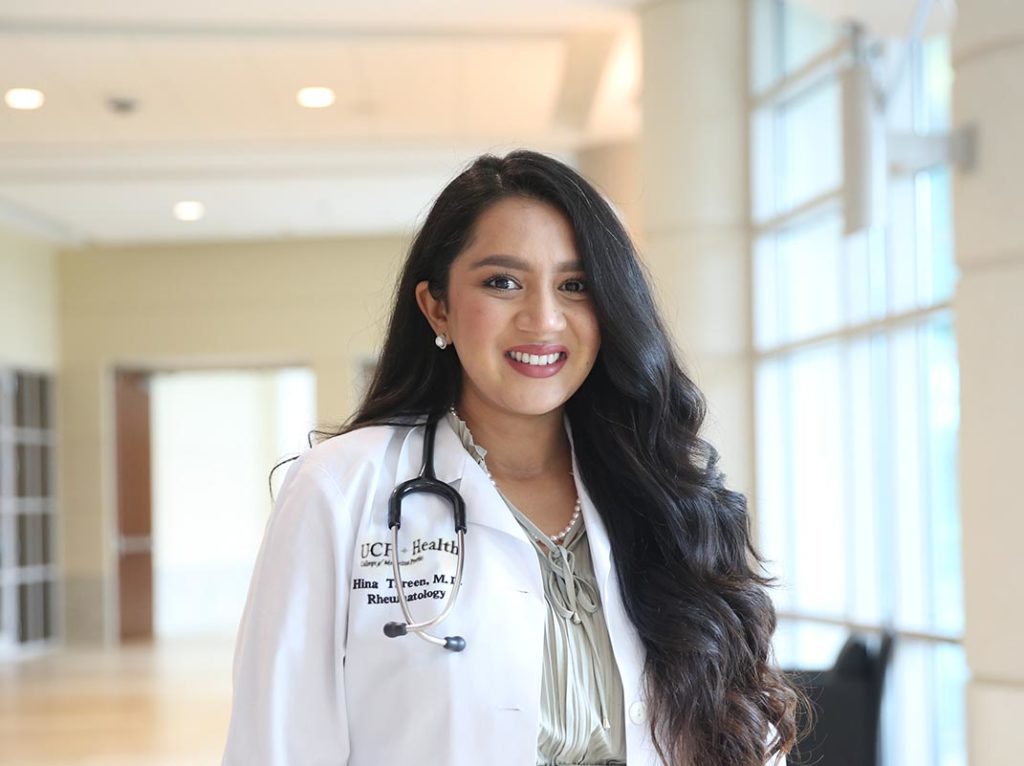 UCF Health recently welcomed another rheumatologist to the practice who, in addition to caring for patients, will join our three existing rheumatology faculty to train tomorrow's specialists. Dr. Hina Tareen joins the UCF College of Medicine physician practice after completing her rheumatology fellowship and internal medicine residency at the Baylor College of Medicine in Houston, Texas
Dr. Tareen received her M.D. at Texas A&M Health Science Center College of Medicine, and her undergraduate degree in biology and health care ethics at Texas Christian University. She is board certified by the American Board of Internal Medicine. During her training she received the Arnold P. Gold Foundation Humanism in Medicine award for exhibiting humanism, compassion, excellence in clinical care, dedication and leadership.
Dr. Tareen was drawn to rheumatology because she said the specialty allows her to develop life-long relationships with patients as she works with them to manage their chronic conditions. "I love when they know me and I know them," she said of her patients. "Rheumatologic conditions can be complicated. People often come to the rheumatologist when they've been to many other doctors and still don't know what's wrong. I enjoy helping them figure it out."
She has grown up watching a family of physicians who have a passion for health care and service, which geared her and her siblings to all pursue careers in medicine. She chuckles that grandparents always wanted their first grandchild to be a doctor – addressing the birthday card for her first birthday to "Dr. Tareen." Dr. Tareen's mother is a clinical dietitian and she said volunteering in hospitals and health fairs during her teens heightened her interest in patient care.
Dr. Tareen said joining UCF allows her to fulfill another passion – teaching and learning. "I always wanted to be in academic medicine," she said. "I love to teach and teaching challenges you. It keeps you informed of all the latest developments in your specialty. So teaching makes you a better physician."
Dr. Shazia Bég, medical director for the rheumatology service line who also is associate program director of the College of Medicine's rheumatology fellowship, said this was a perfect time to add Dr. Tareen to UCF Health. "We are delighted to have Dr. Tareen join our practice at a time when we are busy expanding our service line," she said. "We are working hard to increase patient access and are developing exciting new resources for our patients."
Dr. Tareen also is an artist, who enjoys drawing and painting and playing tennis.
Post Tags
Dr. Hina Tareen

rheumatology