College of Medicine

Faculty News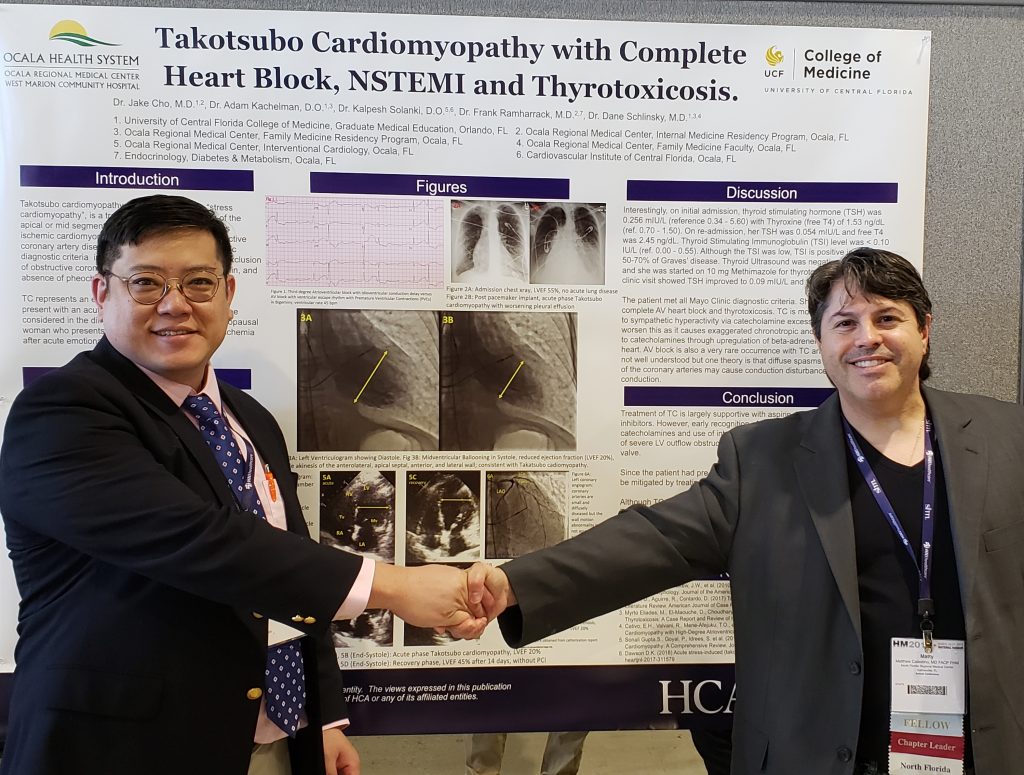 UCF/HCA consortium residency programs in Central and North Florida conducted more than 300 scholarly research projects in the last year – scholarly work that residency leaders say is making the young doctors better caregivers.
The UCF College of Medicine and HCA's North Florida Division have partnered to begin residency programs at Osceola, Ocala and North Florida regional medical centers and will soon begin residencies at West Florida Hospital in Pensacola. The Orlando VA Medical Center also participates in several of the programs. The consortium puts a big emphasis on residents doing research and scholarly activities as a way for young physicians to create new scientific knowledge and share best practices.
A recent report on the consortium's research efforts showed that from 2017 to 2018, UCF-HCA residents in the North Florida Division increased their scientific efforts four-fold. In 2018, those physicians-in-training conducted 324 research projects. Twenty percent of those studies were published in medical journals or books and 43 percent were presented at a scientific meeting. About half of those studies are ongoing.
Some residents conducted case reports – highlighting and researching a unique or unusual case they treated. Others conducted quality control studies on ways to improve patient outcomes. Others did research using HCA's national patient database. With more than 34 million patient encounters a year at 179 HCA hospitals in 21 states, HCA's database has been the foundation for nationwide studies, including a landmark 2013 study that reduced potentially deadly MRSA infections by 44 percent in hospital intensive care units.
"Scholarly activities and research help our physicians learn how to critically evaluate the scientific literature and medical studies," said Dr. Hale Toklu, director of graduate medical education research for the North Florida Division. Dr. Diane Davey, UCF's associate dean for graduate medical education, added "Research helps you become a better physician because you are able to more critically evaluate new evidence and provide the best patient care. Physicians experienced in research will be able design high quality patient safety and quality improvement studies in their own practices in the future."
A recent Society for Hospital Medicine (SHM) conference organized by the residency consortium illustrated the importance of resident research. Dr. Matthew Calestino, who leads the consortium's Transitional Year residency at North Florida Regional in Gainesville, organized the first annual North Florida Chapter SHM Scientific Symposium in Jacksonville. The SHM represents those who care for hospitalized patients – including physicians, nurses, nurse practitioners and hospital administrators — and is focused on improving the quality of in-patient care. UCF HCA residents Dr. Hiren Patel and Dr. Jake Cho won the top two poster awards. Research posters at the event came from the Internal Medicine residents at the University of Florida's Jacksonville location, Orange Park Medical Center, Ocala Regional Medical Center, Oak Hill Hospital and the greater Orlando program anchored at Osceola Regional Medical Center as well as Internal Medicine, Transitional Year and Psychiatry residents from North Florida Regional Medical Center. In 2018, the recent report showed, North Florida Regional Medical Center led all UCF-HCA consortium locations with its number of research projects, and the internal medicine program headed by Dr. Christopher Bray had the highest number in the consortium.
Dr. Toklu said research during residency is associated with superior clinical performance. By doing research and participating in scholarly activities, young physicians gain insight into how diseases progress, preventative medicine and differential diagnosis.
Post Tags
Dr. Diane Davey

graduate medical education

Research

scholarly activity

UCF-HCA Residencies

UCF-HCA residency consortium