College of Medicine

Faculty News

Student Affairs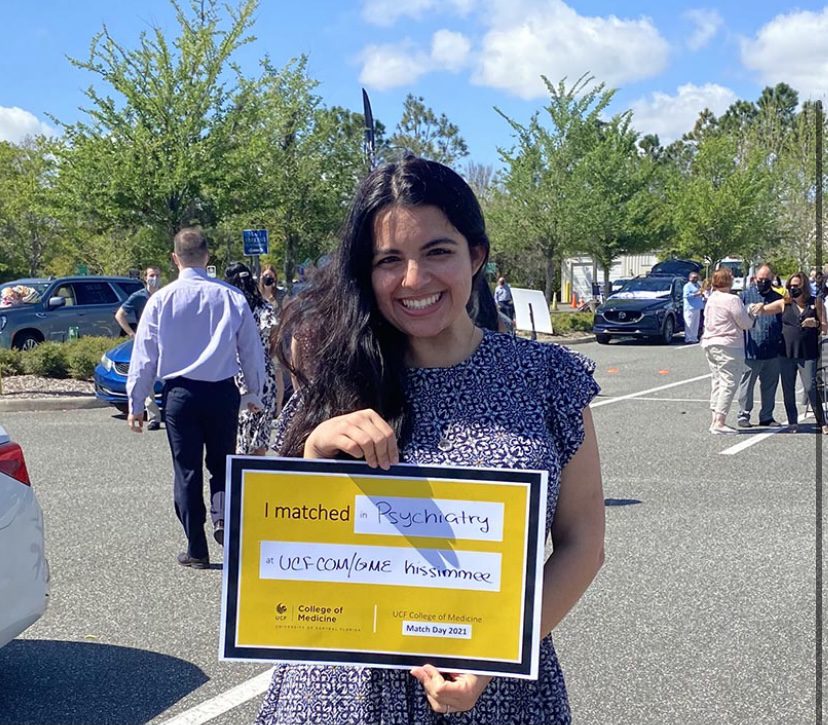 UCF-HCA Healthcare's graduate medical education (GME) program gained 190 new residents on March 19's National Match Day, including 11 graduating seniors from the UCF College of Medicine.
The UCF students matched into specialties including emergency medicine, internal medicine, orthopedic surgery, surgery and psychiatry in HCA hospitals across the state. This summer, when residencies and fellowships begin, UCF-HCA will have 512 physicians in its training programs, including two new programs at West Florida Hospital in Pensacola. The partnership is one of the fastest growing GME sponsors in Florida.
"I am pleased that we are seeing more UCF students matching in programs across Central Florida including general and orthopedic surgery in Ocala," said Dr. Diane Davey, associate dean for graduate medical education. "We hope these students will choose to practice here in Florida after their residencies and help us address major doctor shortages in many specialties including psychiatry."
Mabit Gonzalez is one of those UCF psychiatrists in training. After graduating in May, she will do her residency at HCA's Osceola Regional Medical Center in Kissimmee and also see patients at the Orlando VA Medical Center in Lake Nona. She was delighted with her match results, saying the UCF-HCA program was her top choice.
"I really love Orlando," said the Miami native. "I did a rotation at Osceola and loved the residents and the faculty. The program felt like I belonged."
Gonzalez says she has always been passionate about helping people with mental health challenges, noting that a close friend suffers from depression. And her UCF faculty mentor, Assistant Dean Martin Klapheke, is an award-winning psychiatrist who helps run the UCF-HCA psychiatry residency program.
"I am so excited by this opportunity," she said. "Dr. Klapheke is who I want to be when I grow up."
UCF started its first residency program in internal medicine in 2014 through a partnership with HCA and the VA. The UCF-HCA consortium now has 28 programs in greater Orlando, Ocala and Gainesville, plus the new programs in Pensacola. In addition to residencies, UCF-HCA offers fellowships in rheumatology, endocrinology, vascular surgery, surgical critical care and hospice-palliative care.
Post Tags
HCA

Match Day

residency match