College of Medicine

Faculty News

Internal Medicine Residency

Residents

Student Affairs

Students
On Match Day, UCF medical student Carla Gonzalez thought about her mentors and teachers who had guided her during two psychiatry rotations at HCA Florida Osceola Hospital. And when noon struck, she learned she will join them again as a resident physician.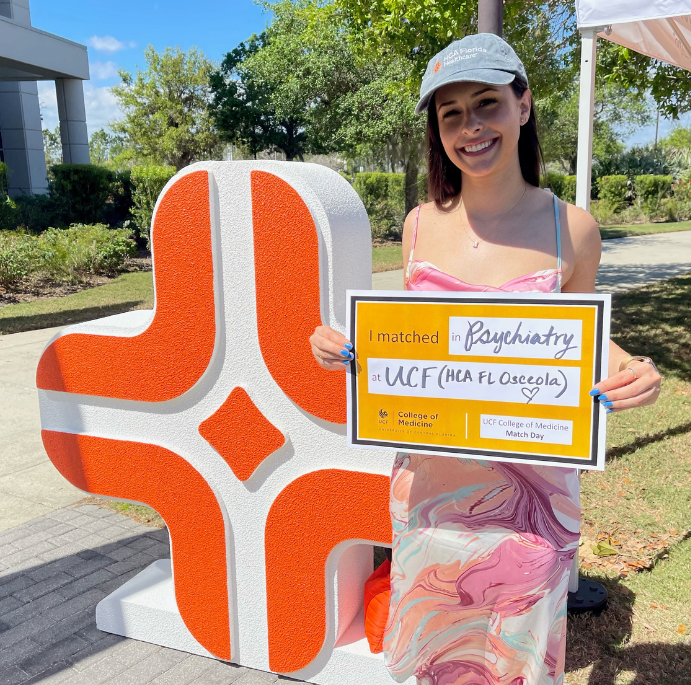 Gonzalez was one of 211 medical students who learned on National Match Day Friday that they will join UCF-HCA residency programs across Florida. The number includes eight students from the College of Medicine Class of 2023.
The UCF-HCA graduate medical education consortium has 34 accredited programs across Florida, from Tallahassee to greater Orlando and is one of the fastest growing in the state. This summer, when new residents begin their training, UCF-HCA will have almost 600 doctors in its programs.
The majority of physicians begin their practices where they complete residency training and the goal of the UCF-HCA consortium is to bring more doctors to Florida and also have them stay to train future physicians. "Our goal is to recruit our best and brightest medical students into our sponsored residency programs, and then recruit them to be our faculty members," said Dr. Stephen Cico, assistant dean for graduate medical education at the UCF College of Medicine.
Residents in the Greater Orlando UCF-HCA psychiatry program care for patients at the Orlando VA Medical Center and HCA Florida Osceola Hospital. The program began in 2018 with six residents and five faculty. Since then it has added more faculty, built a new clinic, added several elective rotations, won a national award for its curriculum and has placed residents into fellowships at places such as Johns Hopkins. The first graduates of the program all passed their specialty board exams, "boosting our confidence in the strong educational program we provide to our residents," said Dr. Anuja Mehta, the program's director. "This year's match is very special. We will have the privilege to train two of our own UCF College of Medicine students."
As she was waiting to open her match envelope at noon on Friday and learn her residency location, Gonzalez said Match Day was the "culmination of everything we've worked for," and noted that the class had faced the challenge of and uncertainties of training during the COVID-19 pandemic.
After matching, she celebrated with UCF-HCA residency leaders and donned a HCA Florida healthcare baseball cap, a gift from the team at UCF Lake Nona Hospital, the UCF-HCA partnership academic hospital next door to the medical school.
She talked about how the UCF-HCA psychiatry residency she was joining had brought her mentors, teachers and friends. "It was such a nurturing experience and they treat you as a person, which is very important to me."
Post Tags
Match Day 2023

psychiatry residency

UCF-HCA residency consortium