College of Medicine

Communique

Faculty News

Residents

Student Affairs

Students

UCF Health
UCF's College of Medicine graduated its 1,000th physician Friday with steamers, cheers, tears and military salutes.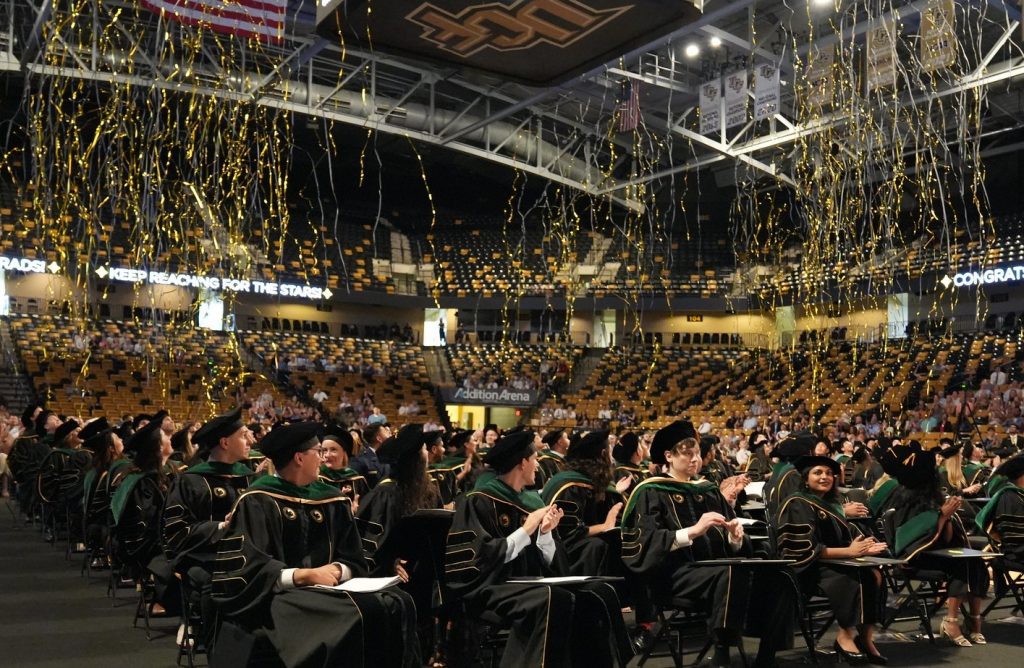 "You are my 1K graduates," Dr. Deborah German, vice president of health affairs and founding dean, told the Class of 2023. "I couldn't be prouder of the work you have done. When I came here in 2006 to build this medical school, it was hard to even imagine graduating 100 UCF-trained physicians. And look where we are now."
In deciding how to recognize the milestone, medical school leaders didn't want to analyze lists of graduates to pick one individual as the thousandth, Dr. German said, because with few exceptions, everyone in the class had gone through their medical education journey together.
"You received your white coats together…You entered your clerkships together where you delivered your first baby, participated in your first surgery, counseled your first psychiatric patient," she said. "Together you cared for others during a worldwide pandemic…Our community is healthier today because of the work you did together.
"Your entire class – each and every one of you – are the thousandth graduate in my heart."
After the last of the 123 new Physician Knights received their diploma, Dr. German asked for a round of applause and then – unbeknownst to the students – black and gold streamers fell from the ceiling.
After that celebration, the ceremony included the military promotion of Gustavo Marino, the 39th UCF military officer to become a Physician Knight.
Next, the new physicians go onto residency training at top hospitals around the city, state and nation in specialties that include pediatrics, internal, family and emergency medicine, OB-GYN, surgery and anesthesiology. A record 12 graduates matched into psychiatry, saying they want to help address the nation's mental health challenges.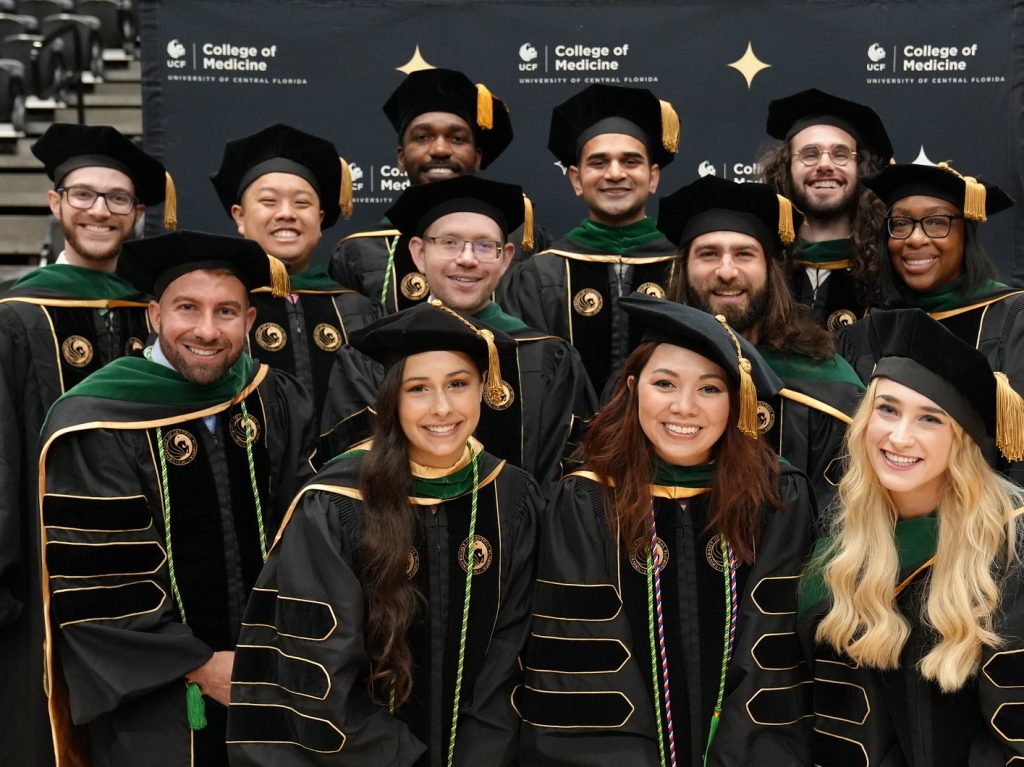 Asked why they had chosen the UCF College of Medicine and the graduates' answers were remarkably similar: the people. They talked about the medical school's collaborative, supportive, engaging "vibe," how faculty and staff were committed to helping students achieve their dreams. They talked about the unique opportunity to build a young medical school and a growing Medical City at Lake Nona.
Amy Morrison did her undergraduate work at Cornell and after graduating from UCF, she will enter a general surgery residency at Orlando Health. The six physicians in her cohort are women and she hopes to become an inspiration for other females to enter a specialty that is dominated by men.
"I felt like I fit in from the first time I walked in the building," she said of UCF. "I met my best friend during my admissions interview. And I was inspired to be part of growing a Medical City."
Sarah Baker entered medical school at age 41, after having three children and working in public health in Florida's Lee County. With her M.D., she is returning home to Southwest Florida to do her residency in internal medicine at NCH Healthcare System. As part of commencement, she gave her children certificates of appreciation for their love and support during her journey. "This diploma belongs to them and my husband as much as it does to me," she said.  Baker said the medical school's culture supported her as a student with more life experience than most. "I never felt nontraditional at UCF," she said. "Everyone in this class is my family."
Dr. Yanisa Del Toro is medical director of UCF Health, the College of Medicine's clinical practice, and as a UCF faculty member, she leads internal medicine clerkship training at the clinic and also is an advisor and mentor to students. She served as grand marshal for commencement and helped hood each of the doctoral candidates before they received their diplomas. As she did, many of the graduates stopped and hugged her. "That's because so many have passed through my hands," she said.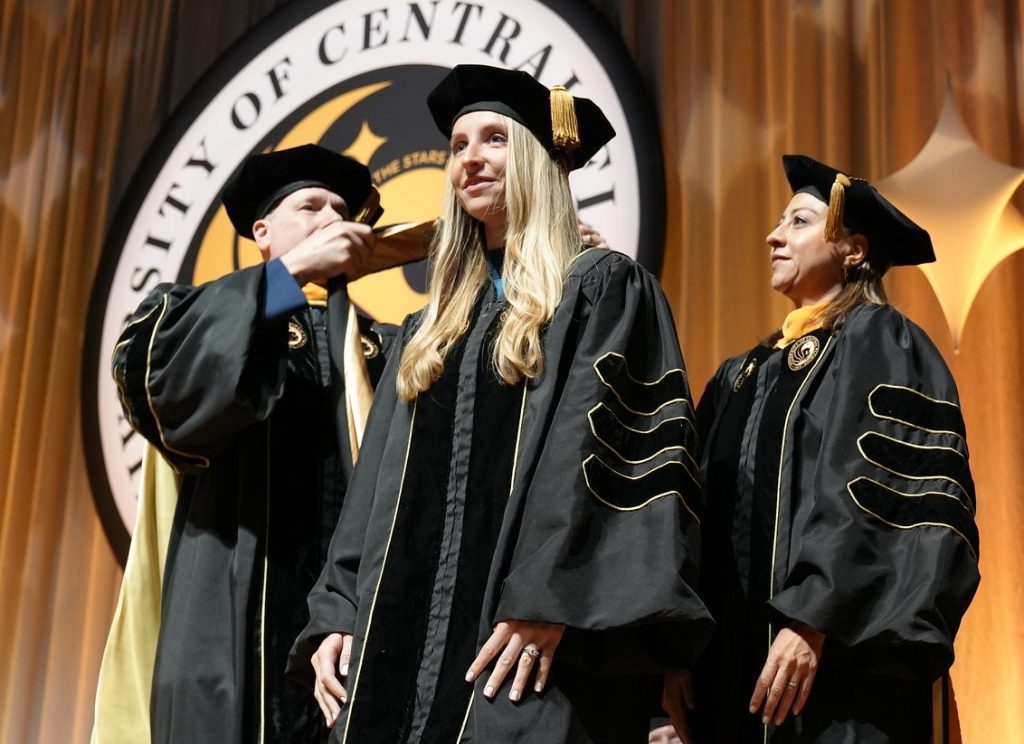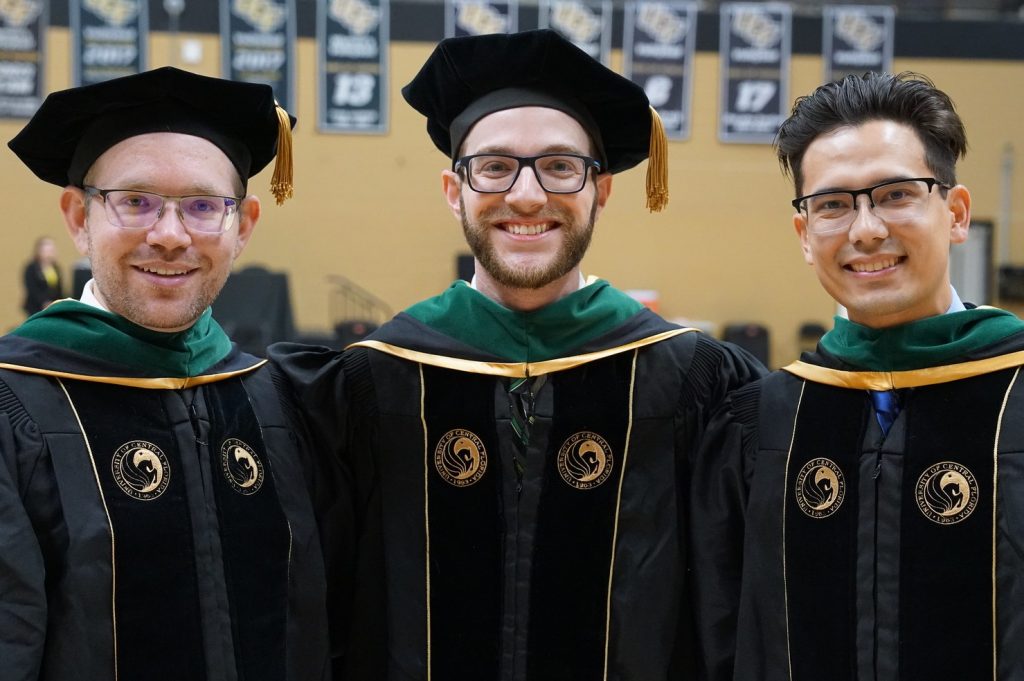 Post Tags
1K graduates

Commencement 2023