Burnett School

College of Medicine

Faculty News

Infectious Disease Division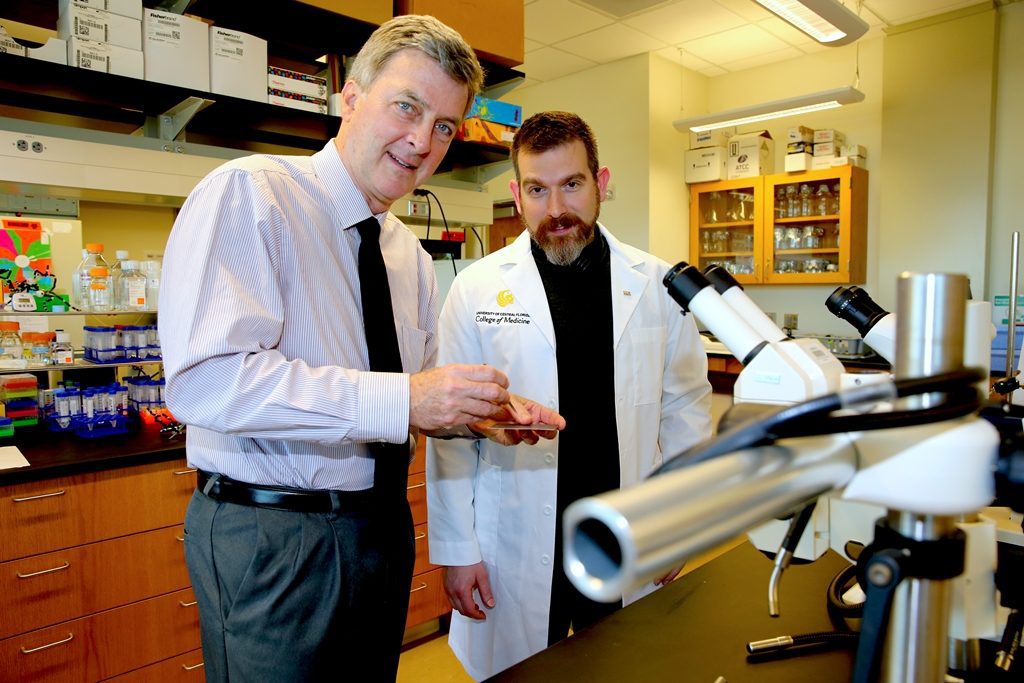 UCF scientists received almost $1.3 million in state funds Wednesday to research the Zika virus with the goal of understanding its effects on human health and developing a vaccine for the mosquito-borne illness.
The funding was part of Gov. Rick Scott's authorization of $25 million in state funds to develop better testing and prevention for the mosquito-borne virus that authorities say has infected almost 5,000 people in the U.S. and more than 1,000 in Florida. The governor announced 24 grants across Florida.
People infected with Zika can suffer from common flu symptoms, but pregnant women are at particular risk for devastating birth defects from the virus. The spread of the disease prompted Gov. Scott to declare a health emergency in parts of South Florida last year.
College of Medicine researchers Drs. Griffith Parks and Bradley Jay Willenberg received UCF's largest grant — $500,000 – to determine how Zika fends off the body's innate immune response and how the mosquito's saliva might act to block the body's ability to stop the infection.
When a person is bitten by a Zika-carrying mosquito, the virus is met by the body's "innate immunity," the first line of defense against pathogens. If that immunity works, the virus doesn't take hold and the person doesn't get infected. But Dr. Parks has discovered that Zika is adept at fighting off this immunity process by binding to certain proteins in the body. Dr. Parks, who is director of the College of Medicine's Burnett School of Biomedical Sciences, and a virus specialist, said the grant will help his lab identify the molecular process the virus uses for protection as a step to developing a vaccine or drug therapies.
"Viruses are smart and opportunistic," he said, "and they've had hundreds of millions of years to hone their skills against us."
Dr. Parks is collaborating with Dr. Willenberg, who in a separate project is designing a mosquito surveillance tool that may assist in the Zika fight. The tool attracts the insects, feeds them a special gold nanoparticle-colored sugar water that diagnoses those carrying a disease, and turns the infected mosquitos a different color as a warning system to residents.
Through that research, Dr. Willenberg developed an understanding of how mosquitoes feed and the role their saliva plays in spreading disease. In this new collaboration with Dr. Parks, Dr. Willenberg will use microscopes and tiny tweezers to remove the salivary glands of mosquitoes and help analyze the interactions between innate immune compounds, mosquito saliva and Zika infection. He and Dr. Parks hope that will uncover the mechanisms that maintain Zika infection inside humans despite the activity of the innate immune system.
"This is very interesting and important research because the interactions of the innate immune system with Zika-rich mosquito saliva is the first link in the chain of human infection from a mosquito bite," Dr. Willenberg said.
Recently medical experts have identified Zika infection in pregnant women as a cause of serious birth defects, including microcephaly, a significant reduction in the size of the baby's head and brain, leading to severe brain impairment.
"We must remain vigilant and continue to do everything we can to help protect pregnant women and their developing babies," Gov. Scott said in announcing the grants. "I look forward to seeing the innovation and progress of Florida's world-class research institutions as we continue to work together in the fight against Zika and to find a vaccine."
Dr. Parks said the College of Medicine's research shows the importance of scientific collaboration in addressing a public health issue. "We have an engineer and a virologist who have now become The Zika Team," he said. "This is a great example of how the whole is greater than the sum of its parts. You put two perspectives together and the result is better."
Several other UCF researchers also received funding to tackle different aspects of the disease. They include Drs. Qun Huo from the NanoScience Technology Center and Karin Chumbimuni-Torres and Yulia Gerasimova from the College of Sciences, Department of Chemistry.
Post Tags