Keeping school stress at bay is a priority for UCF's Counseling and Psychological Services (CAPS) and for the group's latest event, canines were just what the doctor ordered. On Friday, March 8, the program's "Paws-a-tively Stress Free" offered College of Medicine students the opportunity to take a break from studying to spend time with therapy dogs.
For two hours during lunch, M.D. students petted, played and cuddled with dogs big and small. Some pups were lapdogs, others active sporting breeds. Students who gathered around as the dogs showed off tricks like sitting, jumping and rolling over. Many commented that the animals reminded them of their own pets back home. Each dog is trained to be friendly and calm with humans and each has a special talent for stress relief, especially during medical school exams.
"Obviously dogs are so accessible and friendly," said Animal-Assisted Therapy Program Coordinator Mandi Bailey. "We want to encourage students to reach out and seek help if they need to."
Most of the pups are owned by private handlers throughout Central Florida. But one pet is virtually employed at UCF Counseling Services. Bodhi, a 1-year-old Havanese, works at CAPS three or four days a week helping students.  His handler, Valeska Wilson-Cathcart says Bodhi has a strong following among students, and even has his own Facebook page. "Bodhi loved coming here today and meeting with different medical students, so hopefully we'll have more opportunities like this," Wilson-Cathcart said.
Bailey added that she hoped the puppy program helped "de-stigmatize mental health services, which is one of our primary goals." She says events like this allow students to see Counseling and Psychological Services in a non-threatening way, and be more open to reaching out for help if they need it.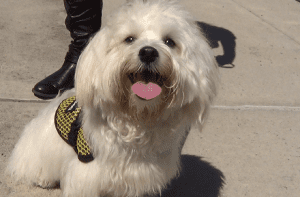 Friday's event was organized by Student Academic Support Services Coordinator Latisha McCray, who previously worked on UCF's main campus and was accustomed to seeing animal therapy events on a regular basis. Her department provides resources to students, with the goal of optimizing their success in the classroom. "We wanted to offer the students some of the wellness programs they have on main campus, by doing something that everybody loves, and the puppy day was just a natural fit for that," she said.
So far the feedback on "Paws-a-tively" stress free has been overwhelmingly positive. "The students filled out a survey after the event," McCray added. "Many students said that they felt happier, that they were less stressed and that they were a bit more prone to seek out counseling services because of the dog therapy." She hopes to organize more events like this, and says that many students are already inquiring about when the puppies will be coming back.
Post Tags