College of Medicine

Faculty News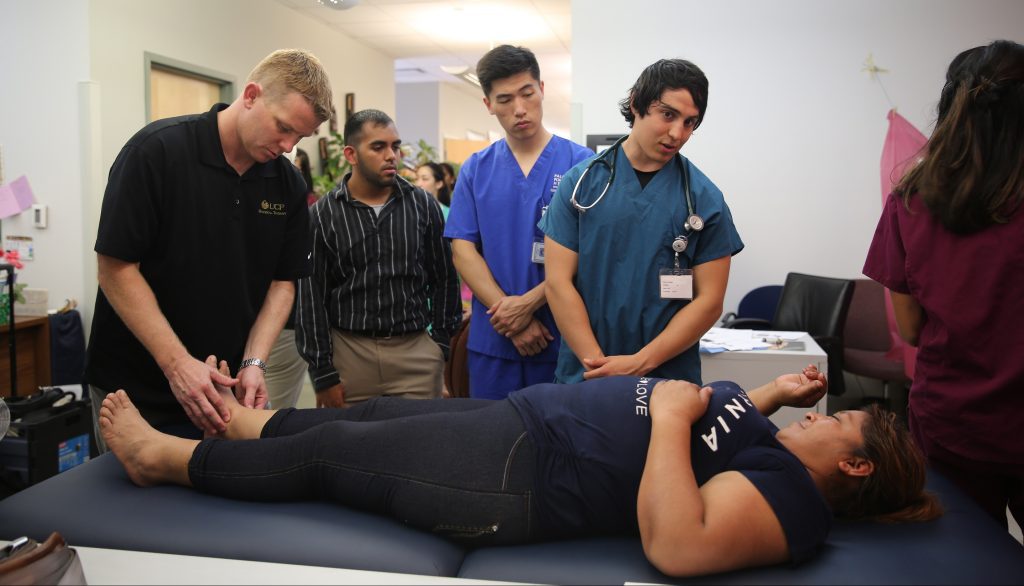 A UCF collaboration that provides free healthcare to uninsured farmworkers in Apopka has received an inaugural national award from the U.S. Public Health Service and Interprofessional Education Collaborative.
The two organizations selected UCF as the recipient of their first Public Health Excellence in Interprofessional Education Collaboration Award that honors interdisciplinary healthcare teams that significantly impact the community they serve.
Since last summer, students and faculty from UCF's medical, nursing, physical therapy and social work schools and the University of Florida's pharmacy school have worked together to provide free care in internal medicine, pediatrics, OB-GYN, dermatology, ophthalmology and occupational medicine. At each of the four clinics held so far, the team has treated between 40 and 80 patients ranging from 2 months to more than 70 years in a makeshift clinic at the Farmworker Association of Florida office in Apopka.
Dr. Heather Peralta, a UCF nursing faculty member who lives in Apopka, helped organize the interprofessional effort. "Watching all of the students work seamlessly together for the good of this under-served population is something that I will treasure as an instructor, as a nurse, and as an Apopkan," she said. "Big things can grow from tiny seeds."
National officials said they selected UCF's program because it exemplified excellence in teamwork to serve a medically underserved community. "Interprofessional health care practice is achievable and it works," said Dr. Richard W. Valachovic, president of IPEC and president and CEO of the American Dental Education Association. "We applaud the students and faculty of the University of Central Florida… for showing that if we educate health professionals together, patients and the entire health care system benefit."
Dr. Judy Simms-Cendan, director of international experiences, and associate professor of obstetrics and gynecology at the College of Medicine, helped organize the farmworker clinics after leading medical mission trips to the Dominican Republic for the last several years.
"It was a great teaching opportunity and a really rich environment to learn in for all the students involved," Dr. Simms-Cendan said of the Apopka effort.   "Students got to see, for example, how the social workers knew how to refer people for resources, learned how to do assessments, how to triage, and how to take vitals. You learn so much in a real environment like this where everyone is pitched in with the same goal of caring for people."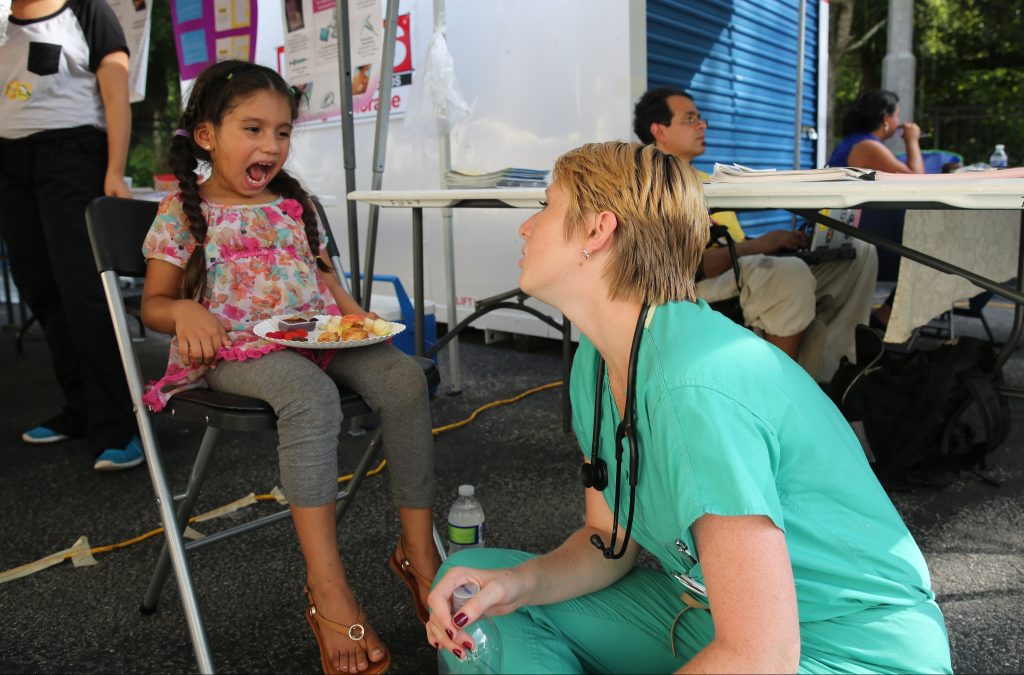 Jeannie Economos, the Farmworker Association's pesticide safety and environmental health project coordinator, said the clinics helped farmworkers deal with chronic conditions like hypertension and diabetes and treat health issues related to their exposure to pesticides and other chemicals.
"This award is indeed an honor to everyone who worked with such compassion and dedication to pull it all together to make the clinics happen and to build the partnership to bring this important service and benefit to the community," she said."
Farmworkers and their families received medications dispensed by UF pharmacy students who worked to find the most effective, lowest-cost drugs for those with limited incomes. Dr. Erin St. Onge, UF's assistant dean and campus director, said she hopes the collaboration will be a model for others.
"Receiving this award in its inaugural year makes the honor feel extra special," she said. "We are excited to share our experiences with others so that this concept may be duplicated elsewhere as there are so many patients who don't receive adequate health care in the U.S. for various reasons."
UCF project members will be recognized June 7 at the headquarters of the Association of American Medical Colleges in Washington, DC.
Post Tags