Burnett School

College of Medicine

Students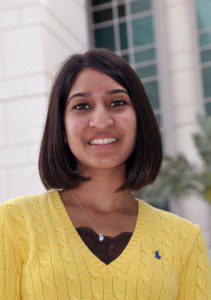 Two College of Medicine students are among 25 UCF students who have been awarded the 2012 Order of Pegasus, the university's most prestigious student award.
Sarina Amina, an M-3 M.D. student and Alana Persaud, an undergraduate in the college's  Burnett School of Biomedical Sciences, were recognized for academic achievement, outstanding university involvement, leadership and community service.
Sarina, an Orlando native who graduated from the University of South Florida, is currently in her neurology rotation at Osceola Medical Center. She has taken a leadership role in numerous organizations at the College of Medicine, and balanced that with volunteer activities, ranging from serving at a home for abused women and children to helping organize a charity banquet for high school students.
"Since this is the highest award given to any UCF student, I am extremely honored to receive this distinction. I think that this award is not only important to me, but also important to all of my wonderful mentors and colleagues who have helped me along the way to achieve my goals," Sarina said.
When asked about the best piece of advice that has helped her through medical school, Sarina said:
"At the White Coat Ceremony, one of my donors whispered into my ear that I should always remember to treat patients as people. This has been the guiding principle for me throughout my medical education and will continue to guide me throughout my career. "
Alana is a senior majoring in molecular biology and microbiology, and plans to attend medical school and focus on cardiology.  She has maintained a 4.0 GP A while staying involved in campus groups such as the Student Conduct Review Board and volunteering with organizations like Florida Hospital. During her sophomore year, Alana said she volunteered in the laboratory of Dr. Alexander Cole at the Burnett school and researched staph bacteria. She said she enjoyed laboratory research because it "brings work to life."
"When I first came to UCF, the team leaders at the Honors College told us to get involved with activities," she said. "Getting involved can help point the way in your life because you'll find out what you want to do. The Order of Pegasus Award means you've made a difference at UCF."
Post Tags