Burnett School

College of Medicine

Communique

Faculty News

Infectious Disease Division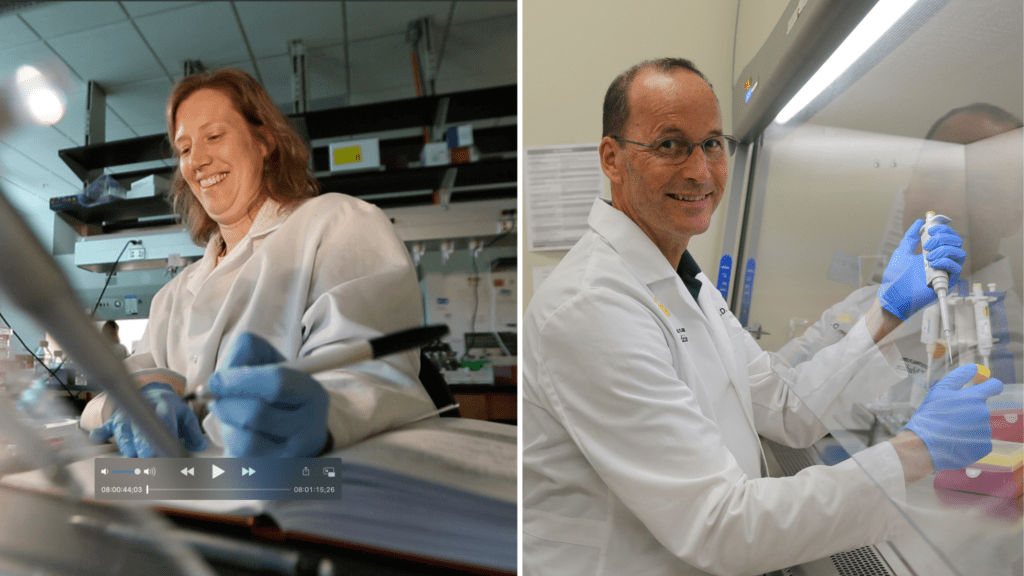 Two College of Medicine faculty members have been awarded for their outstanding research contributions. Infectious disease researcher Dr. Mollie Jewett and research chemist Dr. Otto Phanstiel are this year's recipients of UCF's Research Incentive Award.
The award recognizes faculty who have an outstanding research, scholarly, or creative record that advances the body of knowledge in their field. Recipients receive a one-time award of $5,000 as well as a salary increase.
Dr. Jewett, who is the head of the Division of Immunity and Pathogenesis Research at the Burnett School of Biomedical Sciences, has dedicated much of her career to understanding Lyme disease, an infection caused by a bacterium transmitted to humans through the bite of infected blacklegged ticks.
Funded by the National Institutes of Health, her current research is focused on designing therapeutics to prevent the bacteria from replicating within the host, which can slow or prevent an infection.
"We've found a number of factors that are important for having how the bacteria is scavenging different kinds of nutrients that allow it to basically survive in the host," Dr. Jewett explained. "So if we can figure out, fundamentally what the bacteria needs to eat and how it's getting these different kinds of important nutrients that it needs, and we could stop this process, then it's going to help prevent the bacteria from being able to expand its population."
Dr. Jewett said she was honored to receive her second RIA and thanked her research team for advancing the work in her lab.
"Research doesn't happen in a vacuum," she said. "And so, it's really important to remember that my success is really built on the commitment and enthusiasm and hard work of all the people that work in my lab. I'm just really thankful and grateful for all the work that they've done, particularly in this difficult past year."
Dr. Phanstiel is a medicinal chemist who has been a faculty member at UCF since 1995. His research is focused on developing new therapies to fight cancer and infectious diseases. His lab developed a new anti-metastatic compound based upon a natural product, which blocks the spread of aggressive pancreatic cancers. He also developed a novel immunotherapy which unleashes immune cells to attack pancreatic cancer.
One of his current projects is geared at developing anti-aging treatments that stimulate cells in the body to renew themselves.
"We've discovered a small molecule that we think will help expand lifespan," he said. "It works by changing the metabolism of cells in favor of a cell-recycling process known as autophagy, which literally means self-eating. Your cell is literally eating itself and resynthesizing new proteins harvested from the old proteins in the cell. So it's like a recycling process that is present in all cells, and we figured out a way to stimulate that with a small molecule."
Dr. Phanstiel said he was honored to receive such a competitive award and thanked UCF for its support of scientific research.
"Research is really difficult work with long hours and lots of brainpower dedicated to develop these ideas," he said. "While I'm deeply honored to have received this award, none of this would be possible without the hard work of my students in the lab, working day and night to try to get these ideas into reality. I am also extremely grateful for the support of my family, especially my wife, Nicole."
Post Tags