College of Medicine

Faculty News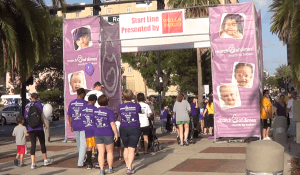 Downtown Orlando was filled with music and cheers of thousands of people, all gathering for a great cause. The annual March of Dimes "March for Babies" was held on Saturday, April 27 in Lake Eola Park.
More than 3,500 participants marched to raise money for the healthy March of Dimes, which supports mothers and babies to help ensure full-term healthy pregnancies.
Across the country, more than 7 million people participate in the march, bringing in millions of dollars for research and prenatal services for mothers. These efforts are particularly relevant in Florida, where more than 615 babies are born prematurely every week, and more 1,500 are born to mothers who received inadequate prenatal care.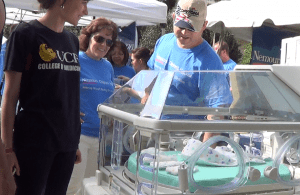 This UCF College of Medicine participated in the March for Babies, along with dozens of teams from across Central Florida. Dr. Deborah German, vice president for medical affairs and dean of the UCF College of Medicine led the College of Medicine team with a help from her 6-month-old grandson, Patrick. In March, Patrick was a special guest at the UCF March of Dimes Kick-Off event, representing what all expecting moms and dads hope for: a healthy baby. "Children are our future, and we need the next generation to be healthy and strong," Dr. German said. "The money we raise as a College of Medicine team will help the half million babies born prematurely each year, babies who can have significant, life-long health challenges."
According to March of Dimes Central Florida Division Executive Director Misty Maaya, Orlando runners raised $561,000 for healthy babies last year. The figures are still coming in for this year, but she says they are well on the way to reaching the $625,000 goal.
"We had great weather, a great turnout, which is always exciting," she said. "On top of that, we saw a lot of new participants and teams come out this year." Her team is hoping that participation will get even stronger next year.
Post Tags