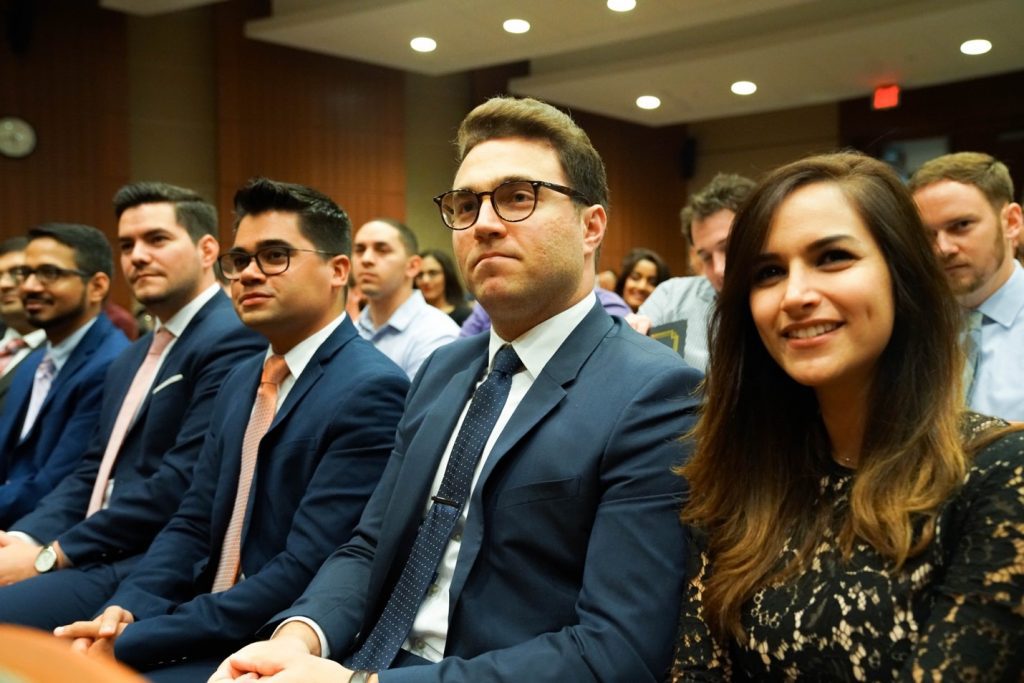 While June 13 marked the College of Medicine's third Orlando residency graduation, it was also a night of firsts.
The event graduated seven Emergency Medicine residents — the first to graduate from this specialty as part of a UCF-HCA Healthcare residency consortium that began in 2014 — along with 14 Transitional Year, 20 Internal Medicine, three Obstetrics/Gynecology residents and four Internal Medicine chief residents.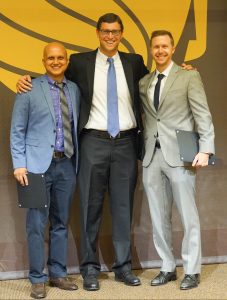 In addition, Dionardo Medina Ecarnacion and Daise Vieira made program history by becoming the first graduated UCF-HCA fellows, both in endocrinology.
Dr. Suzanne Quinn-Martinez, the endocrinology fellowship director, shared some emotional words before handing out the fellowship diplomas.
"I consider all of you my extended family," Dr. Quinn-Martinez said. "But the fellows are more of my immediate family … We never had a bad day. We couldn't have asked for two better people to start out with."
Orlando-area residents train at Osceola Regional and the Orlando VA medical centers. The young program has graduated 97 residents and two fellows to date.
Dr. Michelle Ozcan, program director for the OB/Gyn residency program, said being a newer program works in UCF's favor.
"We are innovative and flexible with the ways in which we can provide the necessary training and even new experiences that may not be available in other programs or communities," she said.  "We are better able to mold and tailor our training for today's generation of incoming residents."
Vishal Patel, who graduated as an Internal Medicine chief resident, agreed. "[This program] gave me a chance to have my input heard and a chance to help build something, rather than going somewhere where they've been doing the same thing for hundreds of years," he said. Dr. Patel is moving to New York City to begin a pulmonary and critical care fellowship at Mount Sinai.
Doctors cannot practice straight out of medical school and must complete residencies for three to seven years depending on their specialty of choice. Following residency training, some enter fellowships to develop more specialized expertise.
Of the 34 finishing their UCF-HCA residencies, 11 are staying in Florida. Others are heading to practice or continue onto fellowships at places like Harvard Medical School and the Cleveland Clinic.
Program leaders say the growth of UCF and HCA's graduate medical education programs will help alleviate the state's physician shortage.  The consortium has 25 residency and fellowship programs in greater Orlando, Gainesville and Ocala and will soon expand to Naples. By July, the program will be training 445 residents and fellows.
"With the shortage of physicians in Florida calculated to near 7,000 by the year 2025, increasing training of the new generations of doctors is more important than ever," Dr. Ozcan said.  "Medical schools have been increasing their class sizes and opening new campuses, but the number of residency slots has lagged behind — often leaving a portion of these incredibly intelligent and highly educated medical students without residency slots."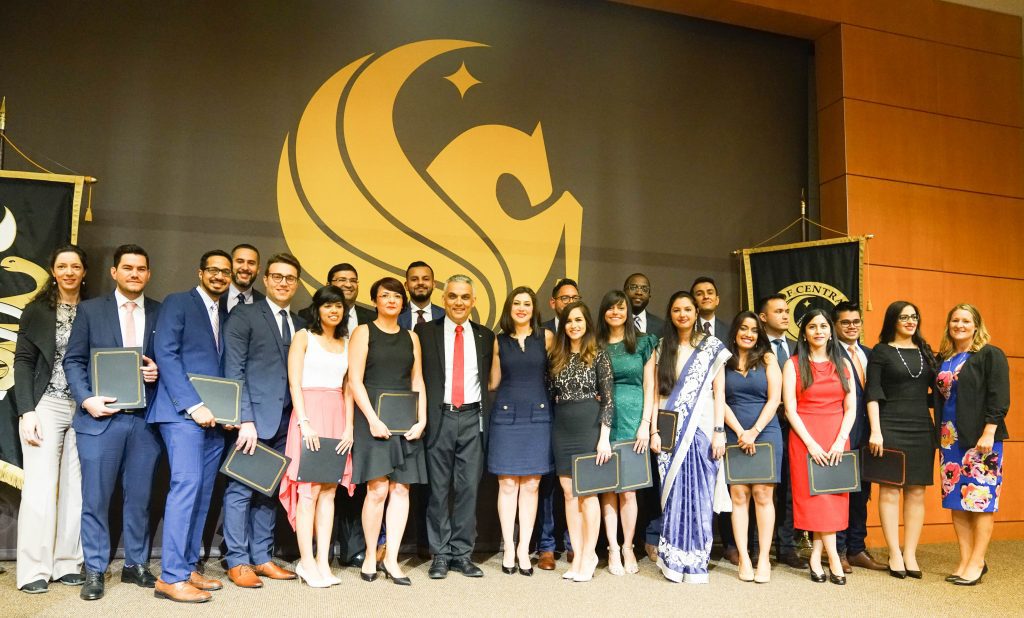 Dr. Abdo Asmar, program director of the Internal Medicine residency, expressed his confidence that the graduating physicians will bring outstanding patient care to help the Central Florida community and beyond.
"I have a lot of emotions, but two I am very sure of," Dr. Asmar said. "The first is that I'm full of pride, and the other that I'm certain of is that you're all walking out of here with great skills."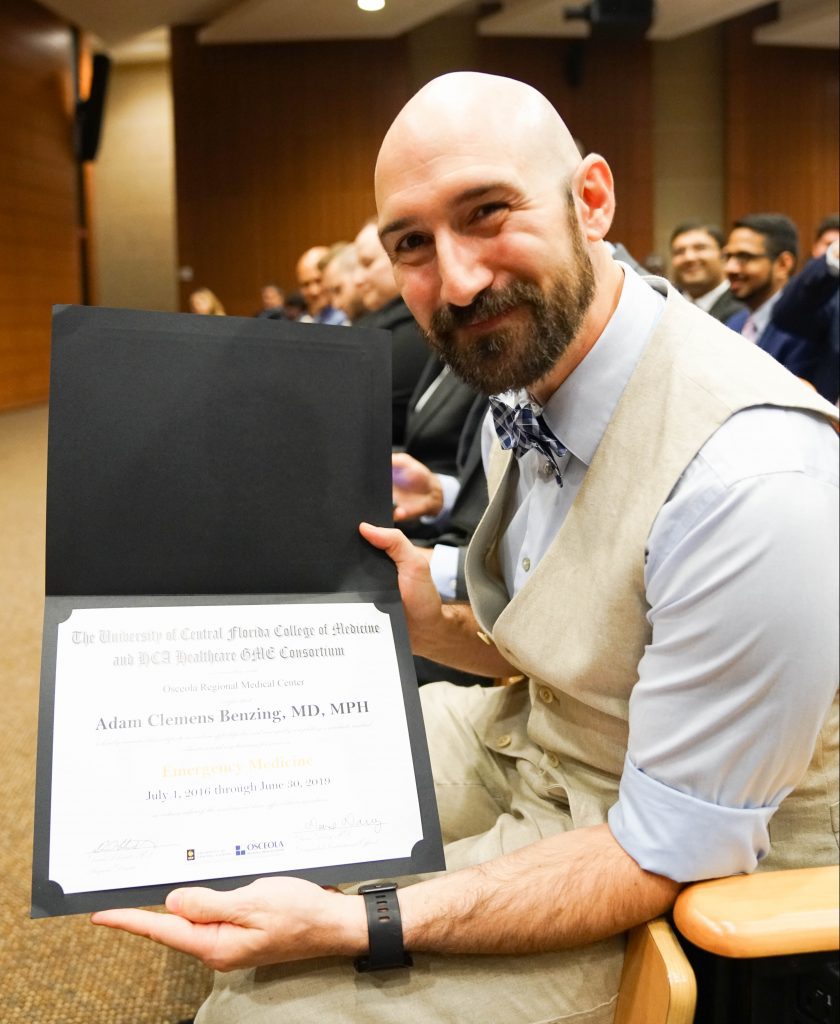 The ceremony also included awards for faculty who stood out in clinical skills, professionalism, education of medical students and overall excellence. The awardees are:
Obstetrics/Gynecology
Osler Award – Dr. Sara DeNardis
Internal Medicine 
Osler Award Inpatient – Dr. Omar Qazi
Osler Award Outpatient – Dr. Munima Shaikh
Osler Award Subspecialty – Dr. Loui Abdelghani
Osler Award Subspecialty – Dr. Hammad Bhatti
Emergency Medicine
Osler Award – Dr. Sanjiv Gray
Clinical Excellence & Professionalism Award – Dr. Tracy MacIntosh
Educational Excellence Award – Dr. Ariel Vera
Transitional Year
Osler Award – Dr. Dhruv Patel
Endocrinology
Osler Award – Dr. Suzanne Quinn-Martinez
Has the UCF College of Medicine Positively Impacted You?
The UCF College of Medicine is a research-based medical school with a culture based on partnerships and collaboration. As a founding member of Orlando's Medical City we are proud to be your community medical college.
Find out how to give back to your medical school, today!