College of Medicine

Faculty News

Internal Medicine Residency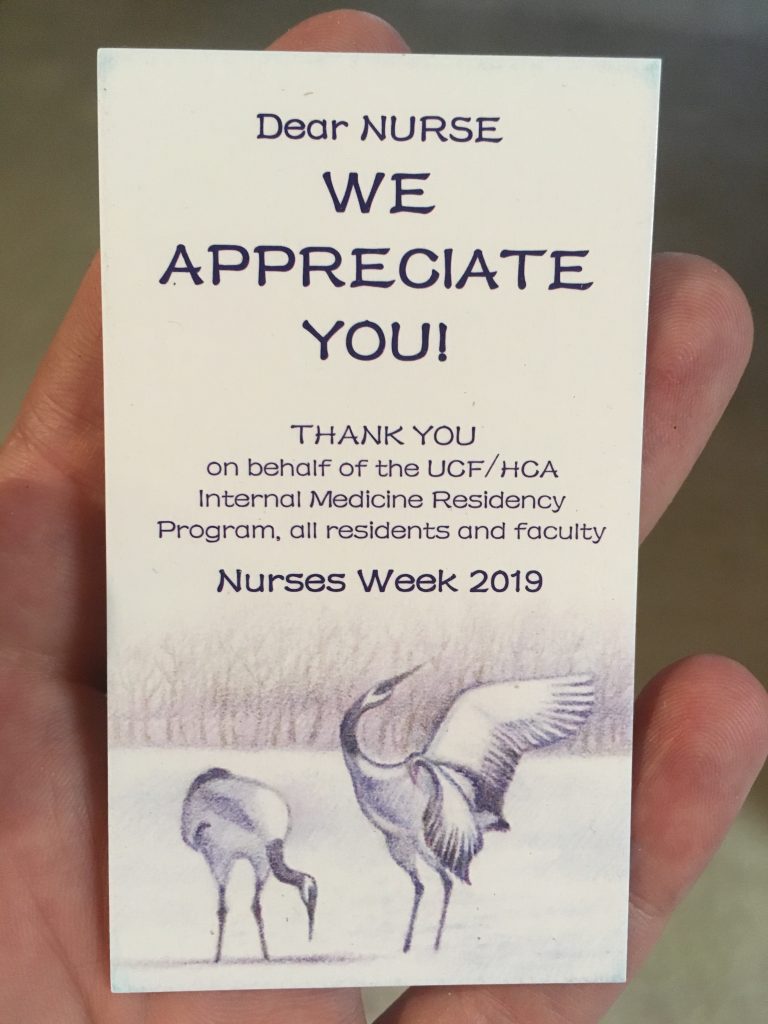 "Thank you" is such a simple expression but one that can be easily forgotten in the intense world of in-patient hospital care. And nowhere is that communication more important than between nurses and doctors. Nurses too often feel invisible to physicians – even though they have closer relationships with patients and are responsible for providing minute-to-minute care.
During Nurses Appreciation Week recently, College of Medicine resident physicians did something to change that dynamic. At the Orlando VA and Osceola Regional Medical Centers where they treat patients, the young doctors handed out cards that read, "Dear Nurse, We appreciate you. THANK YOU on behalf of the UCF/HCA Internal Medicine Residency Program, all residents and faculty" and thanked each nurse they encountered.
Dr. Abdo Asmar, who leads the internal medicine residency program, came up with the idea to encourage interprofessional connections and help residents understand the importance of other care providers. "If the doctor is the leader of the care team, then he or she should be the one who leads in showing gratitude and appreciation," he said. "We need to role model that a single act of kindness goes a long way. At the end of the day, everyone wins – especially the patients we share."
Maxine Rehder is a nurse manager for inpatient medicine at the VA. She said nurses were thrilled with the cards. Some were brought to tears and many placed the cards at their work stations. "Nurses were talking about it all day long," she said. "The thank you cards were meaningful to so many people. That simple card told all of us, 'They see me. The doctors see me.'"
A team including Rehder and Asmar is working to increase and improve communication between residents and nurses. The more nurses and physicians work together, the more they will understand each other's roles, Asmar said, and improving interprofessional teamwork will ultimately improve patient care.
Rehder agreed. "The doctor who gave me my thank you card knew my name – and that matters," she said. "This is a sign of the progress we're making."
Post Tags