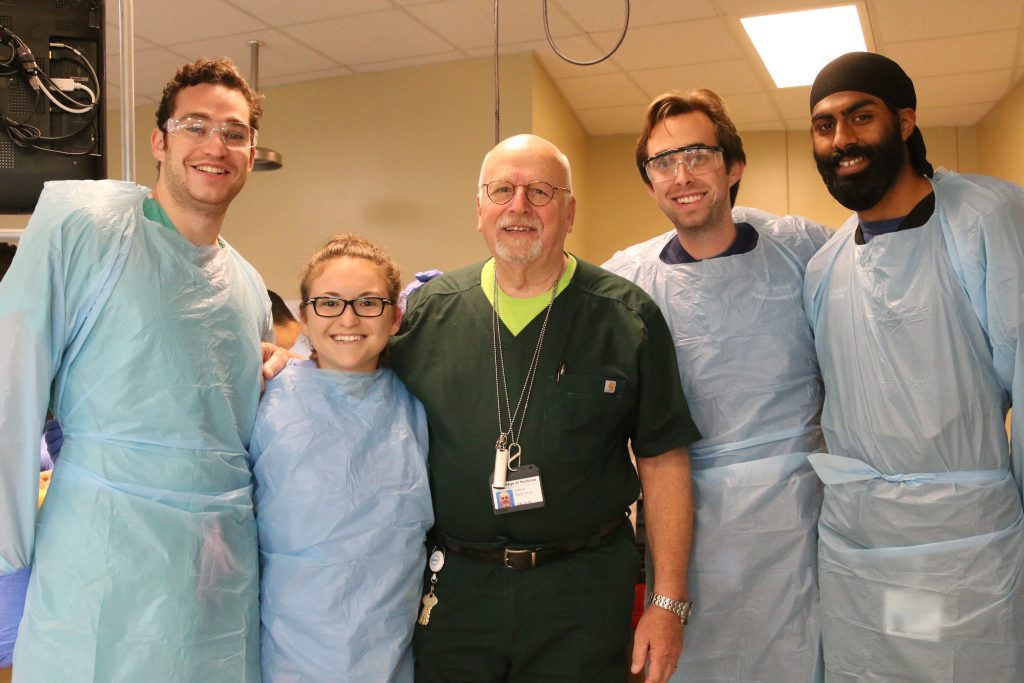 After ten years at UCF training future physicians on the intricacies of the human body, Dr. Andrew Payer anatomy professor at the College of Medicine will hang up his lab coat as he heads into retirement.
During his last official class on January 19, Dr. Deborah German, vice president for medical affairs and dean of the medical school made a surprise visit to thank Dr. Payer for his stellar contribution. She described him as a "serial pioneer" who has devoted the last decade of his career to building the ideal anatomy lab.
"When Dr. Payer came here, we hadn't built this building yet, so his first year here he had to design this course and help design this building and the lab," she said. "I'm so happy that he came here, because I don't think that anyone else could have done the work he did to get this off the ground."
As one of the founding faculty members at the college, Dr. Payer built an innovative state-of-the-art facility he calls the 'lab of his dreams'. Its technology includes a digital anatomy table, which allows students to virtually isolate and visually dissect countless 3-D layers of a digital body. He also introduced Apple AirPlay technology to his lab that allows him to capture images of unique pathologies with his iPad and project them to every computer screen in the room.
"The great thing about the last ten years at the UCF College of Medicine was that every day was new, because we were constantly improving the layout of the lab, the way we teach and the technology we use," Dr. Payer said.
"It isn't like the way people think, that anatomy is a 'dead science'.  Yes, it's looking at the same anatomy, but all the technology that we now use help the students learn the anatomy better. That's the fun part of the program."
His other legacies will include the college's willed-bodies program which allows individuals to donate their bodies to science for the training of future physicians.  The curriculum he designed also instills a spirit of inquiry among students. The students spend 17 weeks working with their cadavers and are not told the cause of death. It is their job to decipher how the patient died by examining the organs and tissues for signs of disease and abnormalities. They then present their findings to a panel of judges that have included former Orange-Osceola chief medical examiner, Dr. Jan Garavaglia, known for the Dr. G: Medical Examiner reality television series.
A Pittsburgh native, Dr. Payer came to UCF from Florida State University, where he was a founding faculty member for nine years, and the University of Texas Medical Branch where he taught for 28 years.
"I was a high school teacher for many years. While teaching junior college in Chicago, I realized that with just a bachelor's degree, I couldn't move up very high in the college teaching environment. That's when I found an opportunity for a fellowship at the Loyola University School of Medicine in their Ph.D. program for anatomy. I just thought it would be an interesting science to get into, and here I am."
At UCF, Dr. Payer taught first year medical students the Structure and Function module in the year-one medical curriculum that integrates clinical anatomy, embryology, microanatomy, physiology and neuroscience.
"We feel privileged to have been in his last class," says Kevin Petersen, first-year med student and class president.  "The last seven weeks have been a phenomenal experience and I wish him the best of luck in his retirement."
"Dr. Payer has really taught us all so much about anatomy and the human body, but also about the humanism of medicine," Petersen added. "The first day of class, we all came in very apprehensive and kind of shocked, but it was good having him talk to us about the human side of medicine, that these are really our first patients – people who have donated their bodies to science to help us learn and that we have to respect them."
Students will also remember him for his love for his dogs and his "dry sense of humor" as first-year medical student, Talia Helman describes it.
"Dr. Payer is pretty funny and he blames all his mistakes on his little chihuahua," she said. "But he is always so engaging and always ready to help you and direct you in the right way. He is just an awesome professor and he creates such a cool and collaborative environment."
So what's next for Dr. Payer? "Anything I want to do!" he said. "I'm having fun here and when I stop this, I will be having fun doing other things. I'll be back every once in a while so it's not like I'm leaving it completely."
"I'm looking forward to trying some new things. I used to be an amateur astronomer, and I'm joining up with the local astronomy society here. I love fishing –  I've got a fishing boat. My wife and I love to travel. So, there are a few things that can fill up my day."
Dr. Payer's last official day at COM is March 30.
Post Tags
Anatomy

anatomy lab

ANdrew

Andrew Payer

kevin petersen

Payer

Talia Helman

willed-bodies program