College of Medicine

Global Health

Students
A village of future healthcare leaders and their teachers cared for Central Florida's neediest families July 26 and 28, helping almost 200 Apopka-area farmworkers with medical, nursing, physical therapy, social work and pharmacy services.
Students and faculty from UCF's medical, nursing, physical therapy and social work schools and the University of Florida's pharmacy school provided the free care in internal medicine, pediatrics, OB-GYN, dermatology, ophthalmology and occupational medicine.
They saw patients ranging from 2 months to more than 70 years in a make-do clinic at the Farmworker Association of Florida office.
"This has been the most unbelievable night," said UCF Nursing faculty member Dr. Heather Peralta, who lives in Apopka and helped organize the event. "This is such authentic learning. This is my dream, my community. This is what health care should be."
The idea for the clinic was as interdisciplinary as the care. UCF nursing students work with the Farmworker Association but wanted to do more and bring together a range of health services under one roof. They met medical students at a UCF Service Learning event months ago. The M.D. students are leaders of MedPACT (Medical Students Providing Across Continents), which has done medical mission trips to the Dominican Republic.
The groups began brainstorming. "And then everything just exploded," Dr. Peralta said.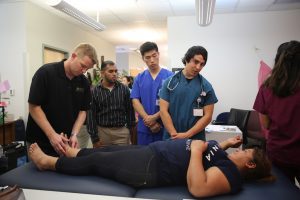 The medical and nursing students got help from other UCF health-related programs plus UF pharmacy students who already do educational and volunteer work with UCF med students. Colleges brought tents, equipment, educational materials. Physicians and staff from Florida Hospital, Grace Medical Home, Orlando Health and the Orlando VA joined, supervised care and helped make referrals. So did doctors from UCF Health, the College of Medicine physician practice. Community business and groups helped provide dinner for the patients.
Some students said they were initially worried about the collaboration: Their training, skills and healthcare languages are different. But as dozens of patients flooded intake tables on the clinic's first night, students said they just jumped in and figured it out together. "You can't know everything," said UF pharmacy student Felix Sanchez. "That's why this is so important. You combine what they know with what you know – for the good of your patient."
"What they know" comes in a variety of forms. Sanchez is bilingual, so in addition to dispensing medications, he translated in the pediatric unit. Because farmworkers knew limited if any English, Spanish speakers were in high demand. Pharmacy students came armed with lists of prescription drugs that could be purchased for just a few dollars. When one patient needed an epi pen for a life-threatening food allergy, pharmacy students grabbed their phones and quickly found coupons to help defray the cost. Students from every program were assigned to each clinic site, from triage to makeshift internal medicine exam rooms. "That's what made it such an incredible interprofessional learning experience," said Dr. Judy Simms-Cendan, associate professor of obstetrics and gynecology and director of international experiences at the med school who also helps lead interprofessional education efforts.
Social work students talked about their role in listening to patients for subtle clues about lifestyle. "You listen for key words," said Nerisa Irving, a senior social work major. "It's not so much about talking, it's about listening" for clues about homelessness, domestic abuse, alcoholism, grief, financial stress. Transportation was a big issue for many patients. One woman had never left her tiny community of farmworkers. The thought of traveling to downtown Orlando on a bus for a follow-up medical appointment – and making three different transfers – was terrifying. Teams worked with the Farmworker Association to arrange a ride.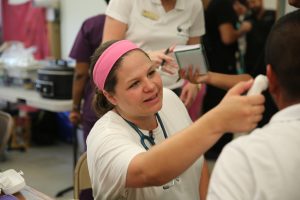 Most of the farmworkers are from Mexico, El Salvador, Honduras and Guatemala. While many came to Apopka originally to work in the citrus and vegetable industries, development has taken much of that agricultural land. Today, many work in the businesses like nurseries that make Apopka "The Indoor Foliage Capital of the World." They're exposed to pesticides, chemical fertilizers and growth hormones, said Jeannie Economos, the Farmworker Association's pesticide safety and environmental health project coordinator. She added that in addition, many workers live near "toxic" areas like a landfill. Such exposure can cause skin, eye and respiratory issues, she said, and long-term health effects on both the worker and future generations.
"My number one goal with this clinic is that students see the needs of a low-income, minority, farmworker community," she said "and that this experience gives them a new perspective on environmental health and the role of toxins in the environment. I want that on people's radar screens."
Second-year medical student Allyson Brown said her eyes were opened to the difficulties low-income families face in getting healthcare. "You understand when you sit down and start talking to people," she said. "You see that in a lot of ways medicine is simple. People need care and just need someone to go to. So you don't judge when someone says they haven't visited the doctor in 10 years."
Post Tags