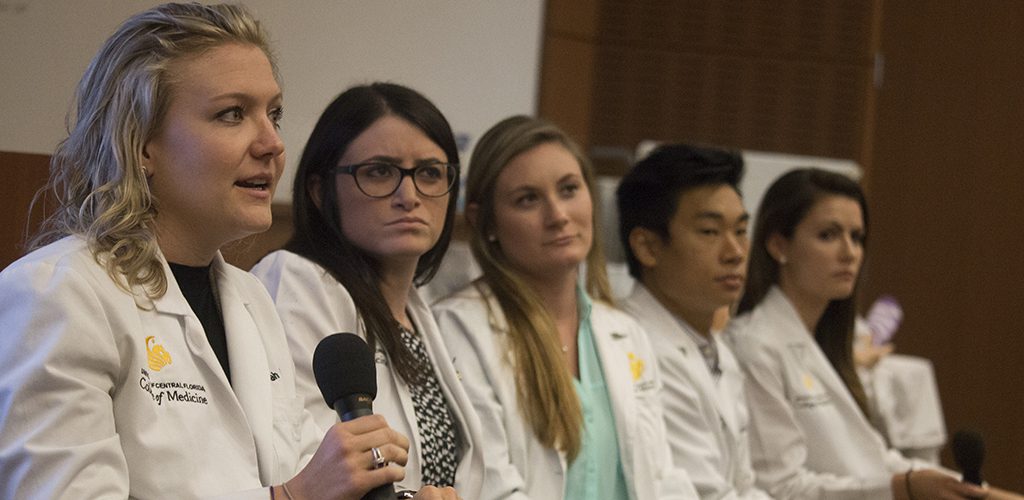 Ninety-two prospective med students from across the country got a taste of the College of Medicine's innovative curriculum at the annual Second Look event April 10.
The event is an opportunity for students to evaluate the college one last time before making the final decision on their medical futures. Students who have been accepted to multiple medical schools must choose one program by May 1, said Laurel Poole, assistant director of admissions.
"However, they may still receive more offers until the start of school, so their final decision isn't made until they are sitting in a seat on the first day of orientation," said Poole. "Once they attend White Coat, they are a UCF M.D. student."
UCF's Second Look featured an overview of the curriculum, a visit to Florida Hospital Celebration and a dinner with faculty and Dean Deborah German.
"Because we're a younger school, our success is dependent upon your success," said Dr. Marcy Verduin, assistant dean of students. "We will only achieve our vision to be this century's premier medical school if our graduates are successful. And so, because of that, we're going to give you all of the resources that you need so that you can achieve your dream."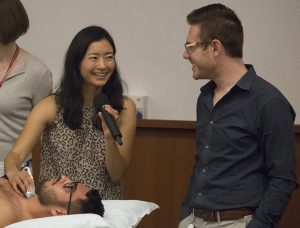 Prospective students said they were drawn to UCF's integrated curriculum, which has students working with real, simulated and virtual patients from their first year of medical school. Students said that approach brings to life the reason they want to enter medicine.
Hannah Prock, an applied physiology and kinesiology senior at the University of Florida, said family was a big part of her decision to study medicine. "A close relative died at the beginning of my college career. Having that happen at that time in my life sparked my interest in helping others deal with those situations in the future.
"What really interested me in UCF was how modern and new it was, and how the program is very integrated and very focused on interaction with patients, especially from the start of the first year."
For Ciara Sanon, a senior chemistry major from UF, the bond between doctor and patient is what draws her to medical school.
"As your doctor, once I walk in the room with you, I'm your physician. I'm your advocate," she said. "That's something that I think is really beautiful."
"One of the things that I noticed right away about UCF was how happy I saw that the students were. The sense of camaraderie I felt here was really strong. The school is new, but they're not set in our ways. And even though the curriculum right now is fantastic, they're only looking to improve."
Faculty members showed off the college's tight integration of the latest technology into the curriculum. While Dr. Andrew Payer, professor of anatomy, exhibited the digital dissection capabilities of the Anatomage table, Dr. Christine Bellew, assistant professor of pediatrics, conducted a cardiac ultrasound demonstration using a standardized patient. Associate Professor of Physiology, Dr. David Harris, showed two volunteers how to properly "read" the vital signs of a SimMan® 3G medical manikin in a high-fidelity patient simulation.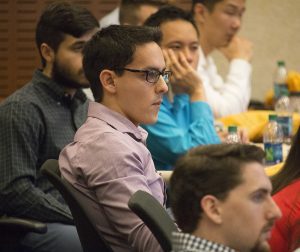 "While you're reviewing the anatomy of a patient for class," said Dr. Payer, "you'll be able to go to our simulation area and put your hands on an ultrasound unit and actually see that heart or liver that you're studying about."
"Ultrasound was something that I was interested in before, but I've always found interpreting the images frustrating and really hard to pick up on my own," said Laniel Romeus, a UF psychology major. "The fact that it's integrated early in the curriculum here really jumped out and appealed to me."
Before heading to Florida Hospital to gain a better understanding of the clerkship experience, students had the opportunity to ask questions of a panel of third- and fourth-year med students.
One of the panelists was fourth-year Sarah Hart, who recently matched into a plastic and reconstructive surgery residency at the University of Michigan.
"It feels like just yesterday I was sitting in the seats of room 104 staring in awe at the fourth- year students," she said. "By the time of Second Look, I had decided UCF was the medical program for me. So as I sat in the scheduled activities I was looking around excitedly wondering who my classmates were going to be and who would become my friends."
"As I reflect back, I can vividly remember meeting many people who are now going on to do incredible things. Friends I met that first weekend have matched into their dream programs for dermatology, general surgery, OBGYN, orthopedics and psychiatry."
Molly Orban recently matched into her "dream program" in ophthalmology at the Medical University of South Carolina's Storm Eye Institute. Reflecting on her own Second Look experience, she said it played a crucial role in her decision to attend UCF.
"I left having felt strangely at home and happy at the COM. Those were not feelings I got at other schools," she said. "There was so much more involvement in our second look event than in that of other schools – the dean, lots of core faculty, the Student Academic Support Services office and the students themselves. It seemed like everyone was so happy and excited to show off the school."
"That was a great sign for me and it made me really feel like UCF COM would be invested in me. And that turned out to be true! I wouldn't change my decision for anything."
Post Tags